LEHIGH VALLEY — With a pair of goals and a fight this past week, Lehigh Valley Phantoms forward Nic Aube-Kubel has been named the PSECU Player of the Week.

On Friday night, after the Phantoms found themselves down 1-0 midway through the first, Aube-Kubel received a pass from defenseman Mark Alt and was able to convert to tie the game up at 1 heading into the first intermission.  The 21-year-old winger from Sorel, Quebec, skated in on the left side and released a shot from the faceoff dot that went past the glove side of Springfield goaltender Samuel Montembeault.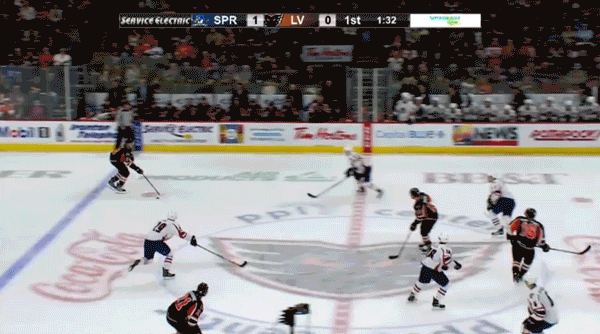 With the goal — his 10th of the season — Aube-Kubel surpassed his career-best in goals and became the fifth player on the Phantoms roster to hit double-digit goals during the 2017-18 campaign.
In Saturday's 2-1 victory over the Hershey Bears, Aube-Kubel came to the defense of his linemate Danick Martel after a hit in the neutral zone sent Martel to the ice.  Aube-Kubel dropped the gloves with Colby Williams and, in total, received 17 penalty minutes which included the fighting major.
The next day, the Phantoms traveled to Hershey for the second half of the weekend's home-and-home series with the Bears. The team took another 2-1 victory over its rival, this time in overtime, which included another goal from Aube-Kubel.
While on a three-on-one rush into the zone, forward Mike Vecchione passed the puck across the ice to Aube-Kubel who chipped it past Pheonix Copley, on the backhand, to tie the game up with the Bears at 1 at the 8:59 mark of the second period.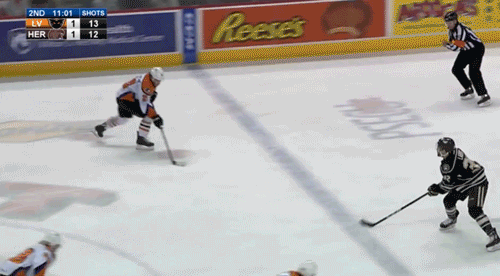 T.J. Brennan would go on to score the game winner in overtime for the Phantoms, giving Lehigh Valley a 2-1-0 record on the weekend which included the home-and-home series sweep of the Bears.
Aube-Kubel currently has 24 points (11G-13A) over 40 games this season which surpasses his career-high total from the 2016-17 season of 18 (9G-9A) in 71 games.  The winger was also tied with Mark Alt for the team's lead in shots this weekend having directed eight pucks on the cage over three games.
Reserve your season tickets and group outings for the 2017-2018 season of Phantoms hockey. For more information on how to reserve your seat at PPL Center to the hottest ticket in town, call the Phantoms front office today at 610-224-GOAL [4625]!
Prior PSECU Players of the Week
1-8-18 T.J. Brennan
12-18-17 Corban Knight
12-11-17 Tyrell Goulbourne
12-4-17 Corban Knight
11-27-17 Greg Carey
11-20-17 Mike Vecchione
11-13-17 Phil Varone
11-6-17 Chris Conner
10-30-17 Oskar Lindblom
10-23-17 Dustin Tokarski
10-16-17 Mike Vecchione / Philippe Myers
10-9-17 Danick Martel