January 16, 2018
This Week
Wednesday, January 17 (7:05 p.m.) – Lehigh Valley Phantoms @ Wilkes-Barre/Scranton Penguins
Saturday, January 20 (7:00 p.m.) – Lehigh Valley Phantoms @ Hershey Bears
(2018 Capital BlueCross Outdoor Classic @ Hersheypark Stadium)

Upcoming
Coming off a sweep of their home-and-home series with the Hershey Bears, the Lehigh Valley Phantoms (23-12-2-3, 51 pts., 0.638 pts. pct., 2nd Atlantic Division) are back in action for a pair of games this week as the team hits the road to face each of its in-state rivals. The Phantoms enter the week with the most standings points (51) and tied for the most wins (23) in the tightly-contested Atlantic Division.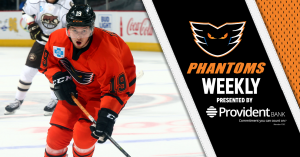 Lehigh Valley returns to action this Wednesday, January 17 as the Phantoms invade Mohegan Sun Arena in Wilkes-Barre/Scranton for a 7:05 p.m. clash with the Penguins. Wilkes-Barre/Scranton (23-10-2-1, 49 pts., 0.681 pts. pct., 1st Atlantic Division) won a pair of road games last weekend and enters the week in the midst of a seven-game winning streak. After a 6-2 triumph at the Belleville Senators last Friday, the Penguins finished their swing through Canada with a 4-3 win at the Laval Rocket on Saturday. During Wilkes-Barre/Scranton's recent surge, the Penguins have outscored their opposition 30-11 and have allowed more than two goals against just once since a 5-4 setback to the Phantoms back on December 27.
Wednesday's clash will mark the eighth of 12 total meetings during the 2017-18 regular season between Lehigh Valley and Wilkes-Barre/Scranton with the Phantoms having posted a 4-2-1 mark in seven prior rivalry showdowns. Lehigh Valley has claimed three straight meetings with the Penguins and has posted a 2-2 mark in four previous get-togethers at Mohegan Sun Arena. Phantoms' forwards Chris Conner and Corban Knight along with Wilkes-Barre/Scranton's Jean-Sebastien Dea lead all scorers in the season series with eight points apiece.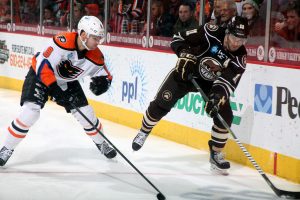 Lehigh Valley then caps this week's action on Saturday, January 20 with the highly-anticipated 2018 Capital BlueCross Outdoor Classic when the Phantoms head outside to battle the rival Hershey Bears at Hersheypark Stadium. Hershey (17-17-3-3, 40 pts., 0.500 pts. pct., 6th Atlantic Division) dropped a trio of one-goal decisions last week falling in both halves of its home-and-home series with the Phantoms after falling in a 2-1 overtime decision to the Springfield Thunderbirds last Wednesday.
Saturday's contest will be the ninth of 12 meetings this season between the Phantoms and Bears with Lehigh Valley having gone 6-2 through the first eight collisions. The Phantoms have claimed four of the last five head-to-head showdowns and are 2-2 in games played in Hershey this season. Lehigh Valley's Phil Varone (3 goals, 6 assists) and Hershey's Chris Bourque (3 goals, 6 assists) lead all scorers in the season series with nine points each.
Phantoms By The Numbers
Forward Phil Varone enters the week leading all Phantoms and is third among all AHL skaters in scoring with 40 total points (11 goals, 29 assists). Tied for third among all AHLers with 29 assists, Varone notched his 100th career AHL goal in Friday's setback to the Springfield Thunderbirds.
Forward Oskar Lindblom (right) enters the week second among all Phantoms and tied for seventh among all AHL rookies in total scoring with 27 points (12 goals, 15 assists). The first-year winger enters the week having tallied 13 points (7 goals, 6 assists) over his last 15 games.
Varone, Lindblom and Nic Aube-Kubel enter the week as the only Phantoms to have appeared in each of the team's 40 games to date. Aube-Kubel is currently tied for sixth among all Lehigh Valley skaters in scoring with 24 total points (11 goals, 13 assists).
Forwards Matt Read and Colin McDonald are the only players on Lehigh Valley's roster to have skated in a professional outdoor game heading into Saturday's 2018 Outdoor Classic. Read appeared with the Flyers during the 2012 NHL Winter Classic at Citizen's Bank Park in Philadelphia (January 2, 2012) and also with Philadelphia last year during the Stadium Series at Heinz Field in Pittsburgh against the Penguins (February 25, 2017). Meanwhile, McDonald was a member of the New York Islanders when they faced off against the New York Rangers at Yankee Stadium on January 29, 2014.
Lehigh Valley is 21-1-2-1 when scoring three or more goals this season and is 19-2-0-2 when allowing three goals against or fewer.
The Phantoms are currently second in the AHL with 12 one-goal wins this season. Lehigh Valley is an impressive 12-1-2-3 in games decided by just a single goal this year.
With Sunday's victory in Hershey, the Phantoms improved to 13-4-1-1 when scoring a power play goal this season.Last WeekFriday, January 12: Springfield Thunderbirds 6 – Lehigh Valley Phantoms 2Phil Varone netted a historic marker with his 100th career AHL conversion and Nic Aube-Kubel added his 10th goal of the season but the visiting Springfield Thunderbirds were able to escape downtown Allentown with a 6-2 win over the Phantoms. Springfield's Chase Balisy tallied a pair of goals while forwards Ryan Horvat and Anthony Greco each chipped in four assists to pace the Thunderbirds' offense.

Friday's game came in front of a standing room-only sellout crowd of 8,486 fans inside PPL Center as the Phantoms enjoyed their fifth capacity crowd this season.

Saturday, January 13: Hershey Bears 1 – Lehigh Valley Phantoms 2

Matt Read (5th) netted the game winner just prior to the midway point of the third period and goaltender Dustin Tokarski turned in an impressive 29-save performance as the Phantoms doubled up the rival Hershey Bears 2-1 in front of 8,789 fans inside PPL Center. T.J. Brennan (6th) also scored for Lehigh Valley as the Phantoms improved to 11-5-2-1 in games played in downtown Allentown this season.

Saturday's crowd was the team's sixth standing room-only sellout this season and marked the largest crowd to enjoy a Phantoms game this year.

Sunday, January 14: Lehigh Valley Phantoms 2 – Hershey Bears 1 (OT)

T.J. Brennan (7th) buried the game-winning goal just 44 seconds into overtime as the Phantoms completed a sweep of their weekend home-and-home series with the Hershey Bears with a 2-1 triumph at the Giant Center in Hershey. Brennan's goal was part of a multi-point effort as the All-Star blueliner notched a goal and an assist while Nic Aube-Kubel (11th) landed Lehigh Valley's only regulation strike.

Goaltender Alex Lyon backstopped the victory by turning aside 28 of Hershey's 29 total shots in earning his 10th victory of the season. With Sunday's triumph, the Phantoms improved to 6-2 against the rival Bears this season.

Broadcast Coverage

Service Electric's TV2 Sports will be broadcasting live each of the Phantoms' 19 home games throughout the 2017-2018 regular season. If you can't make it out to the rink, be sure to catch all the exciting action live in HD quality with Steve Degler, Todd Fedoruk, Doug Heater and Kristi Fulkerson! Pre-game coverage begins with "Phantoms Front and Center" 30 minutes before puck drop.

Be sure to also catch each and every Phantoms game this season live on 1470-AM WSAN, 790-AM WAEB or via the iHeartRadio app and Phantoms365 app! Join Voice of the Phantoms, Bob Rotruck, for all of the heart-pumping action of Lehigh Valley Phantoms hockey whether the team is at home or on the road. "Countdown to Faceoff" begins 45 minutes prior to puck drop.

Ticket Information

Tickets for each and every Phantoms home game throughout the 2017-18 season are available online at pplcenter.com, by calling 610-347-TIXX [8499] or in-person at the QNB Box Office [7th & Hamilton].