Lehigh Valley, Pa. — With a goal and an assist for two points over two games this past weekend, as well as having eight total points (2G-6A) in his past 10 games, Lehigh Valley Phantoms forward Mike Vecchione has been named the PSECU Player of the Week for the second time this season.

The Phantoms headed south for the the first time this year as they faced a pair of games against the first-place Charlotte Checkers this past weekend.
After a number of chances both ways early on in the opening frame of Friday night's game, Lehigh Valley found themselves on the penalty kill with just under 15 minutes played in the period as Nic Aube-Kubel was whistled for cross-checking.  A Charlotte shot, which was deflected away by goaltender Alex Lyon, bounced out to the far boards where it was picked up by Corban Knight who, in turn, made a pass that sprung Vecchione free and clear into the zone for a shorthanded chance.
Vecchione dodged a poke check attempt from Checkers' goalie Alex Nedeljkovic and fired it into the empty net to give the Phantoms a 1-0 lead at the 15:08 mark of the first period.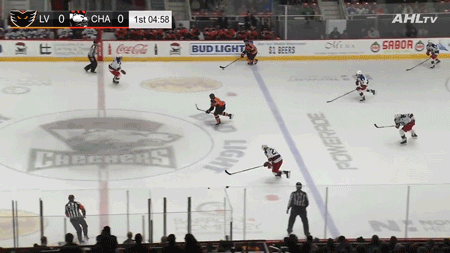 Despite scoring first, the Phantoms fell to the Checkers by a score of 2-1.
On Saturday night, with Lehigh Valley trailing 4-1 in the third period, Vecchione collected an assist on Michael Huntebrinker's second goal of the season. As Vecchione skated into the offensive zone, he dropped a pass for Reece Willcox who promptly fired the puck at the net which caused a rebound that Huntebrinker was able to bang home with 12:57 remaining in the final frame.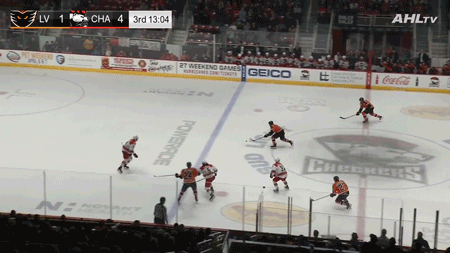 The Orange and Black would fail to complete the comeback however, dropping the Saturday-night contest to Charlotte 5-2.
Vecchione is currently riding a two-game point streak and now has eight points (2G-6A) in his past 10 games.  Over the month of February, Vecchione also led all Phantoms players with eight points.
Season tickets offering a wide range of benefits as well as 21-Game and 13-Game plans are available by calling the Phantoms at 610-224-GOAL (4625).
And for the latest Phantoms news, visit www.phantomshockey.com or follow the team on Facebook, Twitter (@lvphantoms) and Instagram (@lehighvalleyphantoms).
Prior PSECU Players of the Week
2-18-19 Corban Knight
2-11-19 Connor Bunnaman
2-4-19 Justin Bailey
1-14-19 Taylor Leier
1-7-19 Mark Friedman
12-31-18 Tyrell Goulbourne 
12-24-18 Alex Lyon
12-17-18 Carsen Twarynski
12-10-18 Carter Hart
12-3-18 Phil Varone
11-26-18 Greg Carey
11-19-18 T.J. Brennan
11-12-18 Chris Conner
11-5-18 Mike Vecchione
10-29-18 Phil Varone
10-22-18 T.J. Brennan
10-15-18 Greg Carey
10-8-18 Nic Aube-Kubel