Lehigh Valley, Pa. — With the overtime game-winning goal in Sunday afternoon's contest against the Springfield Thunderbirds as well as a plus-one rating over three games this past weekend, Lehigh Valley Phantoms defenseman Mark Friedman has been named the PSECU Player of the Week for the first time this season.

The Phantoms came into Sunday's game having dropped their first two contests of the weekend to Providence and Hartford, respectfully.  Having lost three consecutive games for the first time since a three-game streak between April 3 and 7 of last year, Lehigh Valley was looking to bounce back and break the team's longest skid of the 2018-19 season.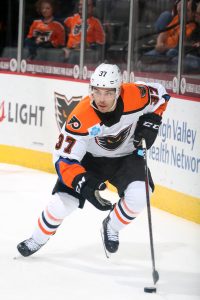 After a scoreless opening frame, the Phantoms found the scoreboard first thanks to Greg Carey's 17th goal of the season.  Although Springfield fired back with a goal of their own just 2:29 later, a Philippe Myers drive from the point at the 13:16 mark of the period would see the score again tipped in favor of the Phantoms heading into the second intermission.
A pair of Springfield goals see-sawed the battle back in favor of the Thunderbirds with 13:10 remaining in regulation, but a goal that was batted in, baseball style, by Connor Bunnaman tied the game up, this time at 3-3, with over eight minutes left in the third.
With the regulation ending locked in a tie, the stage was set for an overtime hero.
At the 3:21 mark of the overtime period, Mikhail Vorobyev left a puck in the high slot for Friedman as the two crossed paths.  The 23-year old from Toronto, Canada, picked up the puck, skated in alone and ripped a shot past Springfield goaltender Samuel Montembeault, exploding the water bottle in the process, to give the Phantoms a 4-3 victory.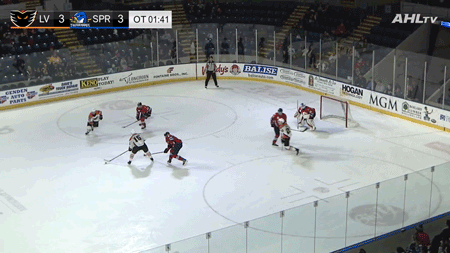 The goal earned Friedman first-star honors on the night and helped snap the three-game skid of the Phantoms.
Friedman, who's game-winner on Sunday was the first of his professional career, currently has three goals and 11 assists for 14 points across 35 contests this season.  Those 14 points place him just two points shy of his 2017-18 point total of 16 (2G-14A) in 65 games.
Season tickets offering a wide range of benefits as well as 20-Game and 12-Game plans are available by calling the Phantoms at 610-224-GOAL (4625).
And for the latest Phantoms news, visit www.phantomshockey.com or follow the team on Facebook, Twitter (@lvphantoms) and Instagram (@lehighvalleyphantoms).
Prior PSECU Players of the Week
12-31-18 Tyrell Goulbourne 
12-24-18 Alex Lyon
12-17-18 Carsen Twarynski
12-10-18 Carter Hart
12-3-18 Phil Varone
11-26-18 Greg Carey
11-19-18 T.J. Brennan
11-12-18 Chris Conner
11-5-18 Mike Vecchione
10-29-18 Phil Varone
10-22-18 T.J. Brennan
10-15-18 Greg Carey
10-8-18 Nic Aube-Kubel