Senators Prevail 5-3 as Laberge, Sushko and Bunnaman Register Goals
January 4, 2020
Belleville, Ontario – The Lehigh Valley Phantoms received all of their scoring from rookies and second-year pros with Pascal Laberge (6th), Maksim Sushko (5th) and Connor Bunnaman (2nd) all lighting the lamp. But the host Belleville Senators overcame an early 2-0 deficit to post a 5-3 victory over the Phantoms on Saturday night at CAA Arena.
German Rubtsov, Carsen Twarynski and Morgan Frost were a trio of young talents who contributed assists on the scoresheet for Lehigh Valley (12-18-5).
Belleville (20-12-3) was led by the AHL's top rookie scorer, Josh Norris, who tallied a pair of goals bringing his season total to 19. Alex Formenton added his 15th on an empty-netter at the end.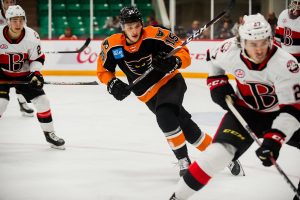 Trailing 4-3 in the third period, the Phantoms had several strong chances that had them o the verge of equalizing. David Kase moved across the crease and was almost in the process of scoring when the cage was knocked off the pegs by the Belleville goalie, Filip Gustavsson, who was assessed a penalty. German Rubtsov at the net-front just missed past the left post after a centering pass. Late in the third, Morgan Frost poked free a puck almost in the crease but was also denied by Gustavsson.
The Phantoms had taken a 2-0 lead on a first-period strike in the slot by Pascal Laberge who buried his power-play one timer on a nice set up by Carsen Twarynski and German Rubtsov.
Lehigh Valley pushed its lead to 2-0 in the early minutes of the second period on a Maksim Sushko breakaway goal on a strong stretch-pass by Willcox just as Sushko had emerged from the penalty box.
But more penalties hampered the Phantoms' efforts in the second period. Norris scored a pair of goals with a 2-on-1 from Alex Formenton and then a power-play one-timer a few minutes later. Morgan Klimchuk's breakaway gave Belleville (20-12-3) the lead.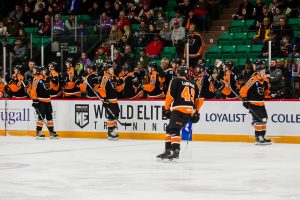 Connor Bunnaman scored his second goal of the season in the opening minute of the third period on a power play goal from the right slot with help from Frost and Greg Carey. Bunnaman led all Phantoms rookies last year with 19 goals but his scoring has been slowed this year after beginning the season with the Philadelphia Flyers and then taking a leg injury that kept him out of action for a month.
Bunnaman's goal for a 3-3 tie was quickly answered by Michael Carcone (5th) who found a free puck in the slot after a deflected shot off the post went the opposite way on Phantoms' goalie Alex Lyon.
The Phantoms strong efforts in the third period for a tie, that included a pair of late power plays and several close-range chances, were concluded with Formenton's empty netter in the last minute.
Belleville out shot the Phantoms 36-31. The Phantoms were 2-for-7 on the power play while Belleville was 1-for-7.
The Phantoms conclude their road-trip Sunday at 4:00 p.m. at the Toronto Marlies. The Phantoms return to PPL Center on Saturday, January 11 against the Laval Rocket and Sunday, January 12 against the Cleveland Monsters with special $20 tickets available for the team's first home games of the New Year.
Lehigh Valley Phantoms 3 at Belleville Senators 5
Saturday, January 4, 2020 – CAA Arena
Lehigh Valley 1 1 1 – 3
Belleville 0 3 2 – 5
1st Period-1, Lehigh Valley, Laberge 6 (Twarynski, Rubtsov), 4:45 (PP). Penalties-Brannstrom Bel (hooking), 3:19; Murray Bel (hooking), 5:28; Brennan Lv (cross-checking), 9:03; Laberge Lv (charging), 13:59; Sushko Lv (cross-checking), 19:01.
2nd Period-2, Lehigh Valley, Sushko 5 (Willcox), 3:34. 3, Belleville, Norris 18 (Formenton, Aspirot), 4:38. 4, Belleville, Norris 19 (Brannstrom, Brown), 11:46 (PP). 5, Belleville, Klimchuk 6 (Brown, Brannstrom), 16:40. Penalties-Sushko Lv (slashing), 1:24; Friedman Lv (roughing), 5:29; Chlapik Bel (roughing), 5:29; Kase Lv (slashing), 9:23; Brennan Lv (roughing), 11:38; Chlapik Bel (slashing), 12:49; Rubtsov Lv (interference), 14:26; LaBate Bel (hooking), 19:45.
3rd Period-6, Lehigh Valley, Bunnaman 2 (Frost, Carey), 0:40 (PP). 7, Belleville, Carcone 5 (Labrie, Chlapik), 4:37. 8, Belleville, Formenton 15 (Klimchuk, Chlapik), 18:49 (EN). Penalties-Gustavsson Bel (delay of game), 6:09; Labrie Bel (high-sticking), 13:38; Formenton Bel (tripping), 16:22.
Shots on Goal-Lehigh Valley 8-8-15-31. Belleville 13-17-7-37.
Power Play Opportunities-Lehigh Valley 2 / 7; Belleville 1 / 7.
Goalies-Lehigh Valley, Lyon 7-11-2 (36 shots-32 saves). Belleville, Gustavsson 8-5-1 (31 shots-28 saves).
A-
Referees-Michael Markovic (47), Jason Faist (26).
Linesmen-Caleb Apperson (78), Riley Page (55).