3 Assists for Wylie, 2 Goals for Hodgson
January 23, 2022
Charlotte, NC – Defenseman Wyatte Wylie led the way with three assists to push the Lehigh Valley Phantoms to a 5-2 win at the Charlotte Checkers in a Sunday afternoon weekend series finale. The Phantoms and Checkers split the two-game set. Hayden Hodgson (7, 8) scored a pair of goals for the Phantoms while Cal O'Reilly (6), Connor Bunnaman (6) and Matt Strome (1) also tallied in the victory.
The Phantoms are 2-1-0 so far on their stretch of five consecutive away games.
Lehigh Valley (12-13-8) opened the scoring just 90 seconds in on a power-play marker for O'Reilly on a blast from the top of the left circle set up by Adam Clendening.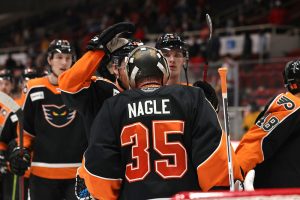 But Charlotte (19-15-2) quickly responded with a pair of goals in an impressive first period that included 16 shots against Pat Nagle. Max McCormick and Nolan Kneen put Charlotte ahead at 2-1 before the game had even reached the seven minute mark.
Pat Nagle made an impressive breakaway save on Alexander True late in the period to keep the Phantoms within a goal at the first intermission.
Lehigh Valley turned the tables in the second period with a 20-shot barrage that included a huge 17-0 shots on goal advantage late in the second period. The 20 shots in a period was a new season-high for Ian Laperriere's group.
Connor Bunnaman converted down low on a shot that deflected off the left pad of Checkers goalie Billy Christopoulos and into the net. The set up by second-year pro Wyatte Wylie was good for the first of his career-best three assists on the game.
Wylie would set up the next goal on a center-point shot that was redirected to the left post by Strome for his first of the season to give the Phantoms a 3-2 lead in the second period.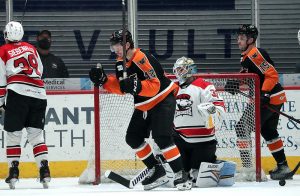 Lehigh Valley was clinging to its one-goal advantage through much of the third. Nagle made a huge breakaway stop on Kole Lind to keep the Phantoms ahead. With under three minutes left, Hodgson in the slot would tip a Wylie drive to the top corner for a 4-2 lead. Hodgson would seal the victory with an empty-netter to mark the second time he has scored two goals in a game this season.
The Phantoms are 2-2-0 in Charlotte this year and 2-4-0 overall against the Checkers. The team has no further visits to North Carolina on the schedule but the Checkers will return to PPL Center for a pair of games in March.
Lehigh Valley has a pair of away games on Friday and Saturday at the Springfield Thunderbirds and Hartford Wolf Pack to conclude its five-game road-swing.
The Phantoms return to PPL Center on Sunday, January 30 at 5:05 p.m. against the Hershey Bears on meLVin Kids Activity Book Night.
SCORING SUMMARY:
1st 1:30 – LV, C. O'Reilly (6) (A. Clendening) 1-0
1st 3:35 – CLT, M. McCormick (8) (K. Lind, A. True) 1-1
1st 6:40 – CLT, N. Kneeen (1) (C. Schwindt, C. Twarynski) 1-2
2nd 10:48 – LV, C. Bunnaman (6) (W. Wylie) 2-2
2nd 13:37 – LV, M. Strome (1) (W. Wylie, I. Ratcliffe) 3-2
3rd 17:07 – LV, H. Hodgson (7) (W. Wylie, C. O'Reilly) 4-2
3rd 18:42 – LV, H. Hodgson (8) (Unassisted) (EN) 5-2
Shots:
LV 34 – CLT 26
PP:
LV 1/2, CLT 0/3
Goalies:
LV, Pat Nagle (W) (6-0-3) (24/26)
CLT, Billy Christopoulos (L) (2-1-0) (29/33)
Records:
Lehigh Valley (12-13-8)
Charlotte (19-15-2)