McDonald Also Strikes Twice in 5-4 Decision
October 29, 2016
Bridgeport, CT – Jordan Weal is having a big weekend. After two more goals plus a helper in Saturday night's contest at Bridgeport the talented center has notched seven points in just two games. But his continued productivity wasn't enough in Lehigh Valley's comeback efforts as the visiting Phantoms fell just short at the Bridgeport Sound Tigers 5-4.
Former Sound Tigers captain Colin McDonald also scored a pair against his ex-team including a deflection goal with 63 seconds remaining that pulled the visitors to within one. The Phantoms overcame a second-period deficit of 3-1 to equalize at 3-3 but ran out of time in their efforts for a second two-goal comeback. Bracken Kearns struck for two while young prospects Michael Dal Colle and Josh Ho-Sang each tallied single lamplighters.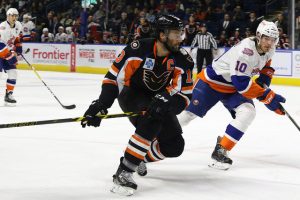 A parade of penalties impacted the Phantoms in the opening frame as the host Sound Tigers were able to take advantage of back-to-back 5-on-3's. Bracken Kearns converted on the initial two-man at 12:33 and then it was Ho-Sang's turn just 63 seconds later recording his first professional goal by powering a left-circle drive through goaltender Alex Lyon.
Danick Martel left the game late in the first period with a lower-body injury after a knee-on-knee collision with Bridgeport's Kyle Burroughs. Martel was helped off the ice and did not return. No update was available on his status. Burroughs was assessed a five-minute major penalty and a game misconduct.
Lehigh Valley recorded their response just six seconds into their five-minute power play on a bouncer in the slot that was deposited home by Weal. But the Phantoms were unable to take advantage of the remainder of their long stretch on the advantage and trailed 2-1 at the first break.
Bridgeport extended the lead to 3-1 in the second period with Connor Jones sliding his breakaway attempt around the poke-check attempt of Lyon at 7:52. But Weal pulled the Phantoms back to within one just seconds later on his laser from the left circle off the far post past netminder Christopher Gibson.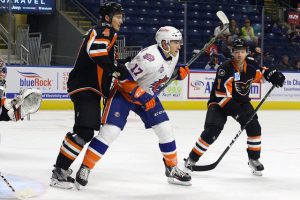 Then it was Travis Sanheim's center-point drive was smartly chopped down by McDonald in the low slot for a bouncer through Gibson to even the score 3-3 at 13:35 into the second period.
Bridgeport took the lead for good just over seven minutes into the third period on an interception from the left circle by Kearns that he buried.
At 10:47 Michael Dal Colle was sprung free up the right-wing on a stretch pass by Scott Mayfield for a 2-on-1. Dal Colle took the shot himself and backhanded a mid-air rebound into the net after his initial shot was deflected off he glove of Lyon.
Lehigh Valley pulled back to within a goal with 1:03 remaining when Will O'Neill's shot from the left point to the short side was deflected off of McDonald's backhand in mid-air for a goal over the far shoulder of Gibson. Weal pushed the puck back to O'Neill to begin the play thus securing Weal's seventh point of the weekend. But the Phantoms' comeback simply ran out of time allowing Bridgeport to escape with the 5-4 win.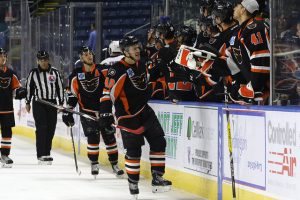 The Phantoms record moves to 2-2-1 on the season. Lehigh Valley is 2-0-1 when playing opponents other than Bridgeport. The Sound Tigers improved to 4-2-0 with the victory.
Bridgeport out shot Lehigh Valley 35-26. The Phantoms went 2-for-5 on the power play and now have five man-advantage markers on the weekend. Bridgeport was 2-for-4 on the power play with both of their strikes coming with a two-man advantage. The game was the second of eight meetings on the season between the Atlantic Division foes.
Lehigh Valley plays the middle-match of their five-game road-trip on Sunday at Hershey with a 5:00 start-time. Broadcast coverage begins at 4:20 on NewsRadio 790-WAEB and the iHeartRadio app and website.
The Phantoms next home game is Saturday, November 5 at 7:05 against the Springfield Thunderbirds on 80's Night at PPL Center. Tickets are on sale at PPLCenter.com or by calling 610-347-TIXX (8499).
Lehigh Valley Phantoms 4 at Bridgeport Sound Tigers 5 – Status: Final
Saturday, October 29, 2016 – Webster Bank Arena
Lehigh Valley 1 2 1 – 4
Bridgeport 2 1 2 – 5
1st Period-1, Bridgeport, Kearns 3 (Ho-Sang, Dal Colle), 12:33 (PP). 2, Bridgeport, Ho-Sang 1 (Landry, Toews), 13:36 (PP). 3, Lehigh Valley, Weal 2 (Zengerle, Leier), 16:22 (PP). Penalties-Hagg Lv (holding), 11:35; Fazleev Lv (high-sticking), 12:18; Sanheim Lv (slashing), 12:53; Burroughs Bri (major – kneeing, game misconduct – kneeing), 16:16.
2nd Period-4, Bridgeport, C. Jones 2 (K. Jones, Landry), 7:52. 5, Lehigh Valley, Weal 3 (Leier, Sanheim), 8:27. 6, Lehigh Valley, McDonald 2 (Sanheim, O'Neill), 13:35 (PP). Penalties-Zengerle Lv (tripping), 1:26; St. Denis Bri (delay of game), 8:52; Landry Bri (interference), 11:47.
3rd Period-7, Bridgeport, Kearns 4 6:14. 8, Bridgeport, Dal Colle 3 (Mayfield), 10:47. 9, Lehigh Valley, McDonald 3 (O'Neill, Weal), 18:57. Penalties-J. Holmstrom Bri (tripping), 14:07.
Shots on Goal-Lehigh Valley 5-11-10-26. Bridgeport 12-10-13-35.
Power Play Opportunities-Lehigh Valley 2 / 5; Bridgeport 2 / 4.
Goalies-Lehigh Valley, Lyon 0-1-1-0 (35 shots-30 saves). Bridgeport, Gibson 4-0-0-0 (26 shots-22 saves).
A-2,878
Referees-Tim Mayer (19), Guillaume Labonte (35).
Linesmen-Brent Colby (7), John Kiriakos (23).
RISE UP! Another thrilling season of Lehigh Valley Phantoms hockey at PPL Center is underway! Reserve your season tickets and group outings for the 2016-2017 season of Phantoms hockey today. For more information on how to reserve your seat at PPL Center to the hottest ticket in town, call the Phantoms front office today at 610-224-GOAL [4625]!
And for the latest Phantoms news, visit www.phantomshockey.com or follow the team on Facebook (www.facebook.com/lehighvalleyphantoms), Twitter (@lvphantoms), Instagram (@lehighvalleyphantoms) and Snapchat (lvphantoms).
The Phantoms are thrilled to host the 2017 Capital BlueCross AHL All-Star Classic at PPL Center January 28-30. The Capital BlueCross AHL All-Star Classic weekend includes a Phan Fest during the day on Saturday, January 28 and a Tailgate Party that evening, followed by the AHL All-Star Skills Competition on Sunday, January 29 and the 2017 AHL All-Star Game on Monday, January 30. Don't miss this once-in-a-lifetime event. Packages starting at just $67 for the 2017 AHL All-Star Classic weekend are on sale now and include admission to Saturday's Phan Fest & Tailgate Party, Sunday's AHL All-Star Skills Competition and Monday's All-Star Game. To purchase tickets, please visit www.phantomshockey.com or www.pplcenter.com.
The Phantoms are coming off their 20th Anniversary Season and second campaign in the Lehigh Valley playing at the state-of-the-art PPL Center. Established in 1996, the Phantoms spent their first 13 seasons at the Spectrum in Philadelphia before re-locating to Glens Falls, New York in 2009 where the team spent the next five seasons as the Adirondack Phantoms. A new era of Phantoms hockey began in the fall of 2014 when the Lehigh Valley Phantoms began play at the state-of-the-art PPL Center. Through 19 incredibly successful campaigns, the Phantoms have captured two Calder Cup Championships (1998, 2005), two Conference Championships (1998, 2005), two Regular Season Titles (1996-97, 1997-98) and four Division Championships (1996-97, 1997-98, 1998-99, 2003-04).