Greg Carey Scores Twice and Jordan Weal Chips in 3 Points
October 28, 2016
Hartford, CT – The Lehigh Valley Phantoms blasted home three power-play markers in their first away game of the season as part of a 5-1 triumph against the Hartford Wolf Pack.
Greg Carey scored two goals against his younger brother's team and late in the game found iron in his close-call bid for a hat trick. Jordan Weal was on the ice for all five Phantoms goals and scored his first goal in a Phantoms jersey while chipping in two helpers. T.J. Brennan also had a three-point night with a goal and two assists. Danick Martel opened the scoring with his team-leading third goal of the season.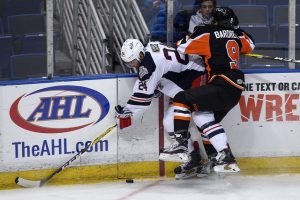 Hartford's lone strike came on a shorthander breakaway for Marek Hrivik that blemished an otherwise perfect night from Anthony Stolarz who turned in a very strong 32-save performance in the win.
The Phantoms equaled their best mark for most power-play goals in a game since arriving in the Lehigh Valley having also been accomplished four times previously, most recently on February 10, 2016 against Binghamton.
The Phantoms improved their record to 2-1-1 with an all-around effort that had the Wolf Pack on their heels for much of the night. Hartford slipped to 3-3-0. It was the second of eight meetings this season between the Atlantic Division foes with third encounter scheduled for next Wednesday in a morning visit to XL Center.
Chris Conner chased down a puck behind the Hartford zone and flipped a fine assist to winger Danick Martel knifing in from the right circle for a far-post conversion just 4:14 into the game.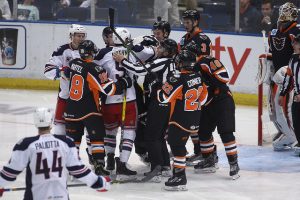 Jordan Weal's first in a Phantoms jersey and first AHL goal since 2014-15 came on the rebound of a Will O'Neill drive from the left boards. O'Neill's effort for the far post was repelled by the left pad of Magnus Hellburg but the big goalie was not able to recover to the other side for Weal's offering from the right circle.
Weal was third in the American Hockey League in scoring with the Manchester Monarchs two seasons ago accumulating 69 points including 49 assists. He was also the Calder Cup Playoffs Most Valuable Player. Now the North Vancouver native is finding his stride with his new teammates in Lehigh Valley.
The Phantoms built on their 2-0 lead with back-to-back power-play strikes in the second period. Greg Carey was on the receiving end of some crisp and impressive tic-tac-toe passing from Jordan Weal and Andy Miele and Hellburg had no chance on his one-timer from the right circle.
Hellburg made way for Mackensie Skapski at that point but another power-play opportunity would stretch Lehigh Valley's advantage to 4-0 less than three minutes later. T. J. Brennan's blast bounced through Skapski's efforts to try to keep up with the puck movement.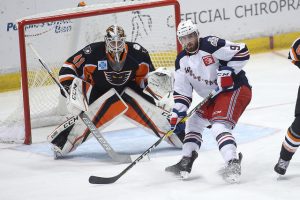 The Phantoms were looking to make it three-straight power-play strikes but Niklas Jensen had other ideas with a home-run pass catching Marek Hrivik in stride who went top shelf on his shorthanded breakaway at 14:30 into the second.
Carey's goal at 16:08 into the third period from the left of the cage assisted by Miele and Brennan would complete the scoring. Shortly after his goal, Carey offered another drive from the left circle in an effort for the team's first hat trick of the season but his bid rang off the post and bounced away.
The Phantoms out shot Hartford 39-33. Lehigh Valley was 3-for-6 on the power play while Hartford was limited to an 0-for-5 performance.
Lehigh Valley continues their road-trip on Saturday night at 7:00 at the Hartford Wolf Pack and then the team heads to Hershey for the first encounter with the rival Bears on Sunday at 5:00.
The Phantoms next home game is Saturday, November 5 at 7:05 against the Springfield Thunderbirds on 80's Night at PPL Center. Tickets are on sale at PPLCenter.com or by calling 610-347-TIXX (8499).
Lehigh Valley Phantoms 5 at Hartford Wolf Pack 1 – Status: Final
Friday, October 28, 2016 – XL Center
Lehigh Valley 2 2 1 – 5
Hartford 0 1 0 – 1
1st Period-1, Lehigh Valley, Martel 3 (Conner), 4:14. 2, Lehigh Valley, Weal 1 (O'Neill, Brennan), 14:17. Penalties-Summers Hfd (roughing), 6:50; Martel Lv (slashing), 11:44.
2nd Period-3, Lehigh Valley, Carey 2 (Miele, Weal), 7:50 (PP). 4, Lehigh Valley, Brennan 2 (Weal, Leier), 10:14 (PP). 5, Hartford, Hrivik 3 (Jensen), 14:30 (SH). Penalties-served by Aube-Kubel Lv (bench minor – too many men), 4:14; Leier Lv (roughing), 6:58; Glass Hfd (roughing), 6:58; Stromwall Hfd (boarding), 6:58; Tambellini Hfd (slashing), 9:48; Brown Hfd (roughing), 12:37; Morin Lv (slashing), 17:16.
3rd Period-6, Lehigh Valley, Carey 3 (Miele, Brennan), 16:08 (PP). Penalties-Brennan Lv (roughing), 4:39; Martel Lv (roughing), 4:39; Paliotta Hfd (roughing), 4:39; Carey Hfd (cross-checking), 11:24; Brennan Lv (hooking), 12:48; Brown Hfd (unsportsmanlike conduct), 14:58; Jensen Hfd (misconduct – unsportsmanlike conduct), 14:58.
Shots on Goal-Lehigh Valley 11-9-19-39. Hartford 8-11-14-33.
Power Play Opportunities-Lehigh Valley 3 / 6; Hartford 0 / 5.
Goalies-Lehigh Valley, Stolarz 2-1-0-0 (33 shots-32 saves). Hartford, Hellberg 3-1-0-0 (16 shots-13 saves); Skapski 0-2-0-0 (23 shots-21 saves).
A-2,910
Referees-Stephen Reneau (34).
Linesmen-Nick Briganti (58), Brent Colby (7).
RISE UP! Another thrilling season of Lehigh Valley Phantoms hockey at PPL Center is underway! Reserve your season tickets and group outings for the 2016-2017 season of Phantoms hockey today. For more information on how to reserve your seat at PPL Center to the hottest ticket in town, call the Phantoms front office today at 610-224-GOAL [4625]!
And for the latest Phantoms news, visit www.phantomshockey.com or follow the team on Facebook (www.facebook.com/lehighvalleyphantoms), Twitter (@lvphantoms), Instagram (@lehighvalleyphantoms) and Snapchat (lvphantoms).
The Phantoms are thrilled to host the 2017 Capital BlueCross AHL All-Star Classic at PPL Center January 28-30. The Capital BlueCross AHL All-Star Classic weekend includes a Phan Fest during the day on Saturday, January 28 and a Tailgate Party that evening, followed by the AHL All-Star Skills Competition on Sunday, January 29 and the 2017 AHL All-Star Game on Monday, January 30. Don't miss this once-in-a-lifetime event. Packages starting at just $67 for the 2017 AHL All-Star Classic weekend are on sale now and include admission to Saturday's Phan Fest & Tailgate Party, Sunday's AHL All-Star Skills Competition and Monday's All-Star Game. To purchase tickets, please visit www.phantomshockey.com or www.pplcenter.com.
The Phantoms are coming off their 20th Anniversary Season and second campaign in the Lehigh Valley playing at the state-of-the-art PPL Center. Established in 1996, the Phantoms spent their first 13 seasons at the Spectrum in Philadelphia before re-locating to Glens Falls, New York in 2009 where the team spent the next five seasons as the Adirondack Phantoms. A new era of Phantoms hockey began in the fall of 2014 when the Lehigh Valley Phantoms began play at the state-of-the-art PPL Center. Through 19 incredibly successful campaigns, the Phantoms have captured two Calder Cup Championships (1998, 2005), two Conference Championships (1998, 2005), two Regular Season Titles (1996-97, 1997-98) and four Division Championships (1996-97, 1997-98, 1998-99, 2003-04).