Phantoms Set for 3 Games at PPL Center This Week
February 16, 2015
Lehigh Valley, PA – The Philadelphia Flyers, parent club of the Lehigh Valley Phantoms, have recalled from loan goaltender Rob Zepp. Meanwhile, the Flyers have returned on loan goaltender Anthony Stolarz to Lehigh Valley.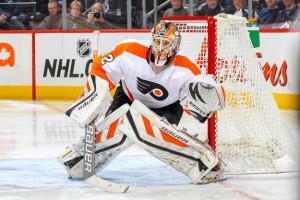 A 33-year-old netminder from Newmarket, Ontario, this will be Zepp's third call-up this season. A 6'2″, 200-pound goaltender, he was first recalled on December 19th and made his NHL debut just 48 hours later. With a 25-save performance as part of a 4-3 overtime victory at the Winnipeg Jets on December 21st, Zepp not only earned his first career NHL win but he became the oldest netminder to claim his NHL debut since Hugh Lehman of the Chicago Blackhawks in 1926. He was then recalled again on January 11th and has compiled a 3-1 overall record, 2.92 goals-against average and .889 save percentage in six appearances with the Flyers this season.
Zepp started all three games for Lehigh Valley this past weekend as the Phantoms claimed a pair of wins during a busy three-game stretch. All told, Zepp has produced a 14-9-4 record with Lehigh Valley this season while posting a 2.77 goals-against average coupled with a .915 save percentage. He will be available when the Flyers return to action Tuesday at Wells Fargo Center against the Columbus Blue Jackets.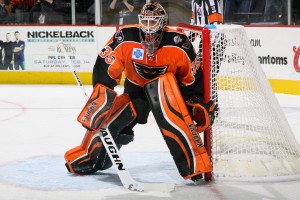 Meanwhile, a 21-year-old goaltender from Jackson, New Jersey, Stolarz returns to the Phantoms after a week-long stint with Philadelphia. The first-year netminder served as Ray Emery's back up for three games last week following his first NHL recall on February 9th.
A second-round selection (45th overall) by the Flyers in the 2012 NHL Entry Draft, Stolarz has amassed a 7-10-1 overall record with the Phantoms this season to go along with a 3.04 goals-against average and .911 save percentage.
Lehigh Valley returns to PPL Center for a trio of games this week. First, the Phantoms welcome the Binghamton Senators back to downtown Allentown this Wednesday, February 18th. Wednesday's contest is another $2 Beer Night with $2 Coors Light drafts from the time doors open until the start of the 2nd period. Lehigh Valley then welcomes the Providence Bruins to town for the first and only time this season on Friday, February 20th before hosting the Hartford Wolf Pack for the final time this year on Saturday, February 21st. Saturday's game is another Legends Night at PPL Center as Frank "The Animal" Bialowas, one of the most feared players in Phantoms history, will be at the game. All fans in attendance on Saturday will receive a FREE Collector's Edition Poster spotlighting Bialowas.
A limited number of tickets for all three highly-anticipated showdowns are available now at the Mealey's Furniture Box Office at PPL Center (701 Hamilton), by calling 610-347-TIXX (8499) or online at pplcenter.com.
Check it out! Reserve your season tickets now for the 2015-2016 season of Lehigh Valley Phantoms hockey. For more information on how to reserve your seat at PPL Center to the hottest ticket in town call the Phantoms front office today at 610-224-GOAL (4625)!
Upcoming Home Games:
Wednesday, February 18, 2015 Binghamton Senators vs. Lehigh Valley Phantoms, 7:05 PM
($2 Beer Night! $2 beers from the time doors open until the start of the 2nd period. Please drink responsibly.)
Friday, February 20, 2015 Providence Bruins vs. Lehigh Valley Phantoms, 7:05 PM
Saturday, February 21, 2015 Hartford Wolf Pack vs. Lehigh Valley Phantoms, 7:05 PM
(Legends Night! Frank "The Animal" Bialowas, one of the most feared players in Phantoms history, will be at the game. FREE Collector's Edition Poster for all fans.)
In their 19th season of operation, the Phantoms are currently in the midst of their Inaugural Season as the Lehigh Valley Phantoms playing at the brand-new PPL Center. Established in 1996, the Phantoms spent their first 13 seasons at the Spectrum before re-locating to Glens Falls, New York in 2009 where the team spent the next five seasons as the Adirondack Phantoms. A new era of Phantoms hockey began in the fall of 2014 when the Lehigh Valley Phantoms began play at the state-of-the-art PPL Center. Through 18 incredibly successful campaigns, the Phantoms have captured two Calder Cup Championships (1998, 2005), two Conference Championships (1998, 2005), two Regular Season Titles (1996-97, 1997-98) and four Division Championships (1996-97, 1997-98, 1998-99, 2003-04).