Forward Alex Kile Recalled from Maine Mariners
March 1, 2023
Lehigh Valley, PA – The Lehigh Valley Phantoms have recalled forward Alex Kile from the Maine Mariners of the ECHL. Additionally, the Phantoms have loaned goaltender Pat Nagle to the Reading Royals of the ECHL.
Kile, 28, had a big game on February 19 with a pair of tying goals in the third period against Wilkes-Barre/Scranton. His first goals of the campaign for Lehigh Valley evened the game at 2-2 and 3-3 earning him #1 Star of the Game honors as the Phantoms rallied from behind for a 4-3 win in a shootout.  That marked his first game with the Phantoms since December 3. He has scored 2-2-4 in 17 games with Lehigh Valley this year.
The former University of Michigan captain played in 27 games with the Phantoms last season scoring 4-3-7. The all-time leading scorer in Maine Mariners history has accumulated 11-16-27 in just 26 games played with Maine in 2022-23. Kile is a pro hockey veteran of 311 total games including 231 in the ECHL where he has scored 89 goals. He has also played in 80 career games in the AHL scoring 14-6-20 in stints with Rochester, Utica, Hartford, Laval and Lehigh Valley.
Nagle, 35, is 1-7-1, 3.81, .877 with the Phantoms this season and is 9-4-0, 2.36, .913 with Reading. Last year with the Phantoms, he went 10-6-6, 2.74, .904 while also playing in 17 games with Reading where he was 11-3-3, 2.41, .925. Nagle received a tremendous honor when he was selected to the USA Olympics Team that competed in Beijing, China in February. The accomplished goaltender is third all-time in ECHL history with 211 career wins and he has also played in 71 AHL games, primarily with Lehigh Valley and Grand Rapids, going 27-31-9, 2.85, .901.
The Phantoms next play on Friday night with an away game at the Syracuse Crunch to conclude a four-game road swing. The Phantoms return to PPL Center for consecutive games against first-place teams when they host the Toronto Marlies on Saturday night and then the Providence Bruins on Sunday at 4:05 p.m.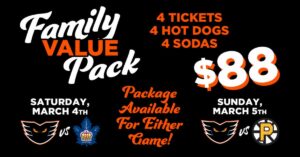 Phantoms Tickets are available HERE
UPCOMING SCHEDULE
Friday, March 3 (7:00) at Syracuse Crunch
Saturday, March 4 (7:05) vs. TORONTO MARLIES
Sunday, March 5 (4:05) vs. PROVIDENCE BRUINS
Friday, March 10 (7:00) at Wilkes-Barre/Scranton Penguins
Saturday, March 11 (7:05) vs. BELLEVILLE SENATORS
Sunday, March 12 (4:05) vs. UTICA COMETS
UPCOMING PROMOTIONS
Saturday, March 4 (7:05) vs. Toronto Marlies – Slap Shot Night with Dave Hanson!
Sunday, March 5 (4:05) vs. Providence Bruins – Team Poster Giveaway and Postgame Autographs
Saturday, March 11 (7:05) vs. Belleville Senators – Hockey Fiesta Weekend and Saturday Night Hockey Live
Sunday, March 12 (4:05) vs. Utica Comets – meLVin Youth Jersey Day (first 2,000 kids age 14 and younger) and Hockey Fiesta Weekend
Wednesday, March 15 (7:05) vs. Hershey Bears – Truist Night. Chamber of Commerce Night. $2 Pregame Happy Hour Beers
Friday, March 17 (7:05) vs. Hershey Bears – St. Patrick's Day! Whiteout Night. $1 Hot Dogs
Sunday, March 19 (4:05) vs. Wilkes-Barre/Scranton Penguins – Prospect Pack Trading Card Sets for First 5,000 Fans