Marching Into March
February 28, 2023
Lehigh Valley, PA – The Lehigh Valley Phantoms have a March slate loaded with home games as the team enters this critical juncture of the season with just six weeks to go. Lehigh Valley (26-21-6) is in fifth place in the Atlantic Division with just 19 games remaining, 12 of which will be at PPL Center. The top six teams qualify for the Calder Cup Playoffs.
The weekend begins with a Friday trek to Syracuse.
Then the Phantoms host a pair of first-place teams back-to-back in a challenging homestand at PPL Center with the North Division-leading Toronto Marlies (36-14-3) arriving on Saturday followed by the Atlantic Division front-running Providence Bruins (31-11-10) invading on Sunday.
Saturday at PPL Center is Slap Shot Night featuring Dave Hanson at the game.
Sunday at 4:05 p.m. is Phantoms Poster Day plus Postgame Autographs with the Phantoms players.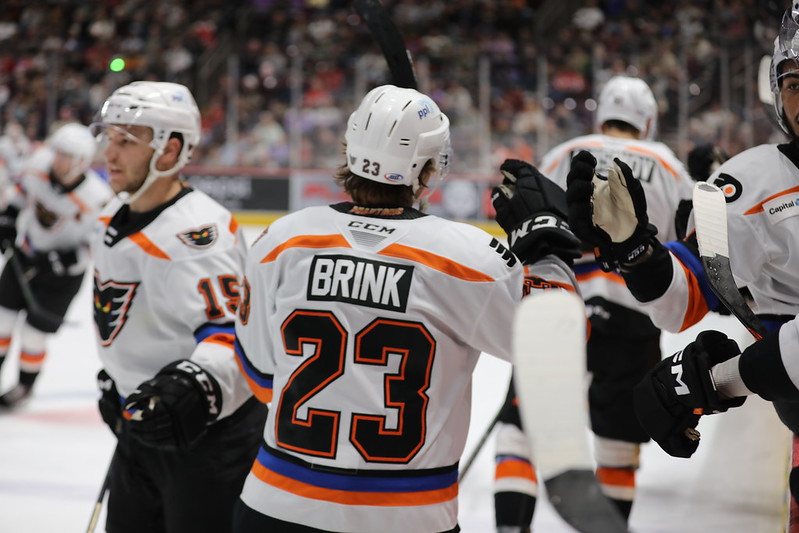 WEEKLY RECAP
Wednesday, February 18, 2023
Penguins 4 – Phantoms 3
Lehigh Valley raced out to a 2-0 lead at Wilkes-Barre/Scranton on goals by Garrett Wilson (9th) and Max Willman (7th) but the Penguins struck for three goals in the last 5:30 of the game and then hung on for a 4-3 win. Elliot Desnoyers (19th) scored late to bring the Phantoms to within a goal but Lehigh Valley couldn't find the equalizer.
Saturday, February 25, 2023
Bears 4 – Phantoms 3 (SO)
Trailing 3-1 in the third period, Lehigh Valley surged back on goals Wyatte Wylie (3rd) and Hayden Hodgson (3rd) to earn a valuable standings point at Hershey with a 3-3 tie into overtime. Tyson Foerster had opened the scoring with his 18th of the year. The Phantoms had a power play in OT but Hershey stayed alive and eventually prevailed in the fourth round of the shootout. Mike Sgarbossa's goal early in the third period gave Hershey a 3-1 lead despite the Phantoms' protests that a pass across the crease by Mike Vecchione should have negated the play due to a high stick. Later in the period, Adam Brooks thought he had scored on a deflection of a Wyatte Wylie shot but that one actually was waived off due to a high stick call.
Sunday, February 26, 2023
Phantoms 4 – Islanders 3
The Comeback Phantoms were at it again. This time overcoming a 3-0 deficit at Bridgeport to post an exciting 4-3 win. Artem Anisimov (14th) scored the winner with 4:27 left on the rebound of a Ronnie Attard slapper. Garrett Wilson had tied the game with 10:12 to go.
Trailing 3-0 late in the second period, Adam Brooks (6th) scored shorthanded after Max Willman chased down the puck in the corner following his own breakaway miss. Adam Ginning (3rd) found an opening early in the third to make it a one-goal game. The Phantoms peppered Cory Schneider with 41 shots while Sam Ersson turned aside 22 B-Isles' drives in his return to the Phantoms.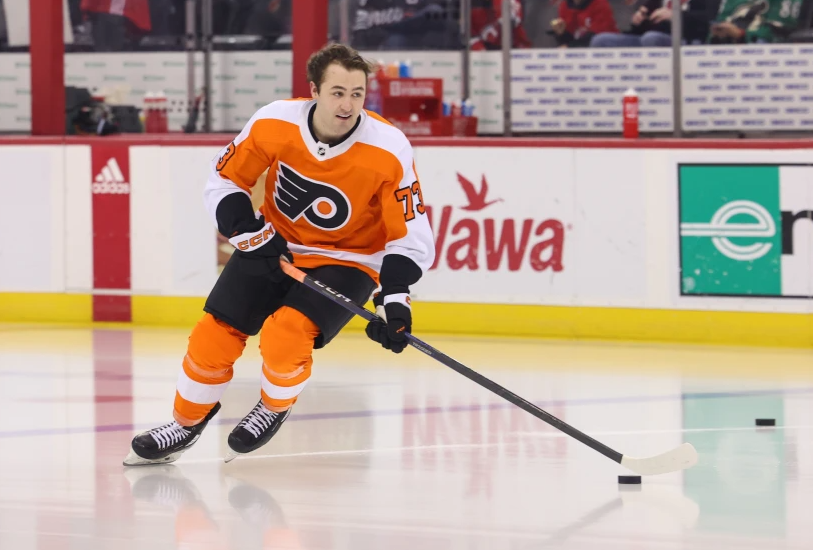 RECENT TRANSACTIONS
Feb 26 – Sam Ersson (G) – Loaned to LV from Philadelphia
Feb 27 – Isaac Ratcliffe (F) – Traded PHI to NSH (Milwaukee)
Feb 27 – Elliot Desnoyers (F) – Recalled to Philadelphia
Feb 28 – Pat Nagle (G) – Loaned to Reading
DESI GETS THE CALL!
Elliot Desnoyers made his NHL debut on Saturday for the Philadelphia Flyers at the New Jersey Devils. The 21-year-old rookie center is having a sensational rookie campaign in which he leads the Phantoms in goals (19) and points (37). "Desi" returned to the Phantoms for Sunday's comeback win at Bridgeport but was brought back up by the Flyers in preparation for their Wednesday clash against the New York Rangers. The Round 5 selection in the 2020 NHL Entry Draft became the third Phantom this season to make his NHL debut joining Olle Lycksell and Sam Ersson. Desnoyers has hit another peak in February scoring 5-8-13 with the Phantoms in just eight games played this month (while missing three games to injury and illness).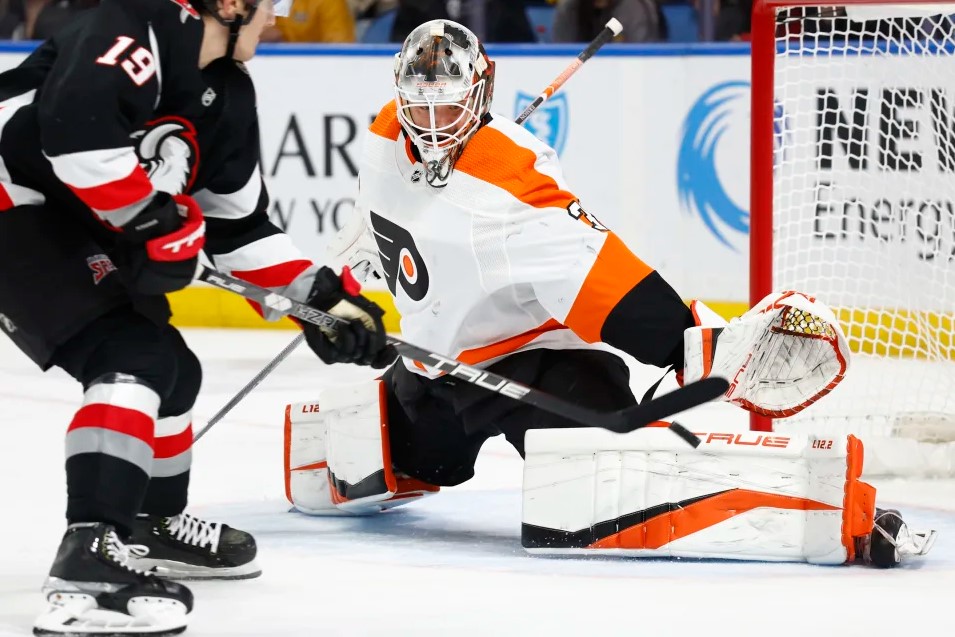 WELCOME BACK, ERS
Goaltender Sam Ersson has returned to the Lehigh Valley Phantoms following another stretch with Philadelphia. "Ers" has been especially strong for the Phantoms in February going 4-0-0, 1.50, .939 since February 4. Ersson is 6-1-0, 3.07, .898 with the Flyers this season after becoming just the eighth goalie in NHL history to begin 6-0-0. His stats took a hit after the team's 7-0 loss against New Jersey on Saturday. With the Phantoms this year, the 23-year-old from Falun, Sweden has gone 16-10-1, 2.59, .910.
Ersson's first recall in December and January included his first NHL win on December 31, 2022 at the Los Angeles Kings and also his first NHL shutout on January 9, 2023 at Buffalo. Since returning to the Phantoms from January 20 through February 13, Ersson went 6-2-0, 2.27, .915.
NO STOPPING WILLIE!
Garrett Wilson became the fifth Phantom to reach 10 goals this season with his tying tally in the third period on Sunday at Bridgeport. The 31-year-old alternate captain is on a five-game point streak with five goals and four assists for nine points in his torrid stretch. "Willie" recorded his second career hat trick and the team's first in almost two seasons on February 20 and has shown no signs of slowing down since then. The veteran leader brings experience and physicality to the Phantoms with 734 career pro games and 346 points, including 84 games in the NHL with Pittsburgh and Florida.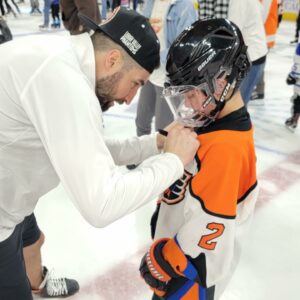 PHANTASTIC!
– The Phantoms are….
20-7-5 when scoring 3 or more goals
20-1-1 when allowing 2 goals or fewer
15-5-6 in one-goal games
13-3-6 when scoring the first goal
17-2-4 when leading after two periods
4-3 in overtime and 3-3 in shootouts
UPCOMING
Friday, March 3, 2023
Onondaga War Memorial at Oncenter, Syracuse, NY
Phantoms at Syracuse Crunch
Syracuse (25-19-7) is tied for second place in the North Division with the Utica Comets which is especially impressive after the Crunch began with only one win in their first nine games (1-5-3). The Tampa Bay Lightning affiliate is led by former AHL Rookie of the Year and now 25-year-old Alex Barre-Boulet (17-46-63) and 27-year-old Darren Raddysh (13-17-50). Barre-Boulet is tops in the Eastern Conference in points and third in the AHL while Raddysh is first among active AHL defensemen while having easily the most productive season of his career. Young goaltending prospect Hugo Alnefelt (13-8-1, 2.25, .923) has three shutouts this season and rates third in the AHL in both GAA and save percentage. The Crunch took a 5-2 decision at PPL Center on January 14
Saturday, March 4, 2023 (7:05)
PPL Center, Allentown, PA
Phantoms vs. Toronto Marlies
The Phantoms go toe-to-toe with both Eastern Conference leaders this weekend beginning with Toronto (36-14-3). The Marlies took the previous encounter in a shootout on January 6 by a 5-4 decision with Artem Anisimov scoring twice for the Lehigh Valley.  Greg Moore's contingent is led by 30-year-old veteran Logan Shaw (17-40-57), who has 232 games of experience in the NHL, and second-year pro Alex Steeves (17-25-42). Rookie Nick Abruzzese (15-23-38) out of Harvard has had a strong season as well. Boston College product and third-rounder Joseph Woll (14-1-0, 2.32, .931) has been phenomenal in net, when available. But he has also spent part of the season up with the Maple Leafs when they've needed a backup.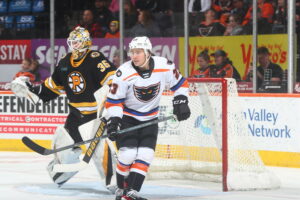 Sunday, March 5, 2023 (4:05)
PPL Center, Allentown, PA
Phantoms vs. Providence Bruins
It's a matchup against Atlantic Division front-running Providence (31-11-10) to close out the weekend. It's been a strange season series between the Phantoms and Bruins entering the sixth and final meeting of the season; The visiting team has won every game. Lehigh Valley went 3-0-0 at Providence this season but the P-Bruins have countered with a pair of wins in Allentown including a 4-2 decision on February 3 in the most recent game. Three of the games have gone to overtime. Tanner Laczynski had a shootout winner at Providence on November 19 and Artem Anisimov scored an overtime goal at the Bruins on December 16. Vinni Lettieri struck for the P-Bruins in OT on December 17. Rookie Georgii Merkulov (17-23-40) now tops the team in scoring and was the AHL Player of the Week earlier this month when he scored his third and fourth game-winning goals in a five-game stretch. Brandon Bussi (16-2-4, 2.27, .930) has the best save percentage in the AHL.
Phantoms Scoring Leaders
x Elliot Desnoyers 19-18-37
Tyson Foerster 18-18-36
x Olle Lycksell 9-25-34
Garrett Wilson 10-17-27
Artem Anisimov 14-11-25
Ronnie Attard 8-16-24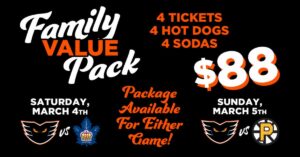 Phantoms Tickets are available HERE
UPCOMING SCHEDULE
Friday, March 3 (7:00) at Syracuse Crunch
Saturday, March 4 (7:05) vs. TORONTO MARLIES
Sunday, March 5 (4:05) vs. PROVIDENCE BRUINS
Friday, March 10 (7:00) at Wilkes-Barre/Scranton Penguins
UPCOMING PROMOTIONS
Saturday, March 4 (7:05) vs. Toronto Marlies – Slap Shot Night with Dave Hanson!
Sunday, March 5 (4:05) vs. Providence Bruins – Team Poster Giveaway and Postgame Autographs
Saturday, March 11 (7:05) vs. Belleville Senators – Hockey Fiesta Weekend and Saturday Night Hockey Live
Sunday, March 12 (4:05) vs. Utica Comets – meLVin Youth Jersey Day (first 2,000 kids age 14 and younger) and Hockey Fiesta Weekend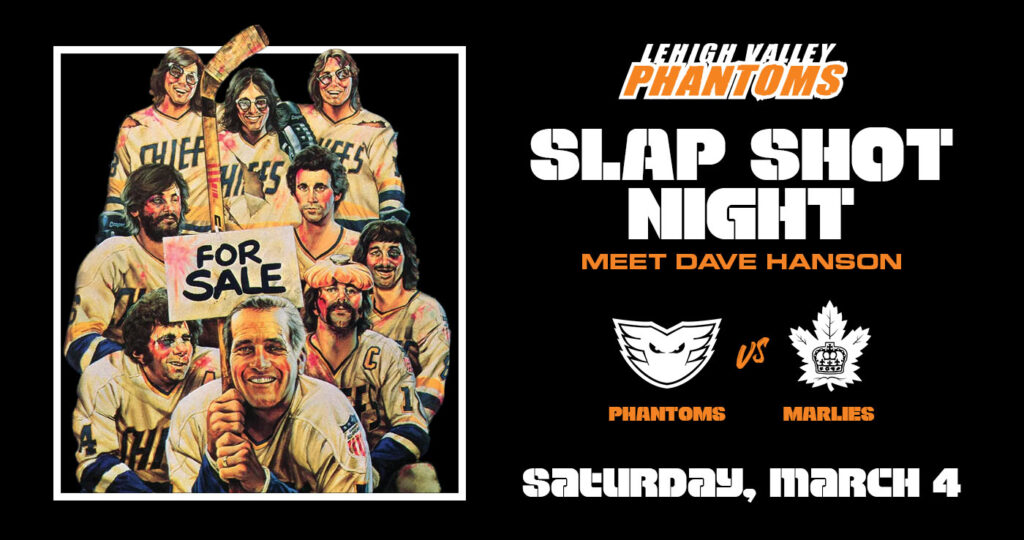 Broadcast coverage of all Phantoms games, home and away, is available on the Phantoms 365 app and on Real Oldies 1470-AM in Allentown. Fans can watch on AHLTV.com and can listen on their Smart Speakers at: "Play Phantoms Radio 24/7." Join the Voice of the Phantoms, Bob Rotruck, for all the action!
Service Electric Network again provides exclusive television coverage of all Phantoms home games with veteran announcer Steve Degler and Phantoms' alum Steven Swavely on the call from the booth. Kristi Fulkerson reports from ice level and also from the Chickie's and Pete's studio with Dan Fremuth for pregame, intermission and postgame show analysis.