"The Destroyer" Also Made His NHL Debut
March 1, 2023
Lehigh Valley, PA – The Lehigh Valley Phantoms are thrilled to announce that forward Elliot Desnoyers has been named the AHL Rookie of the Month for February.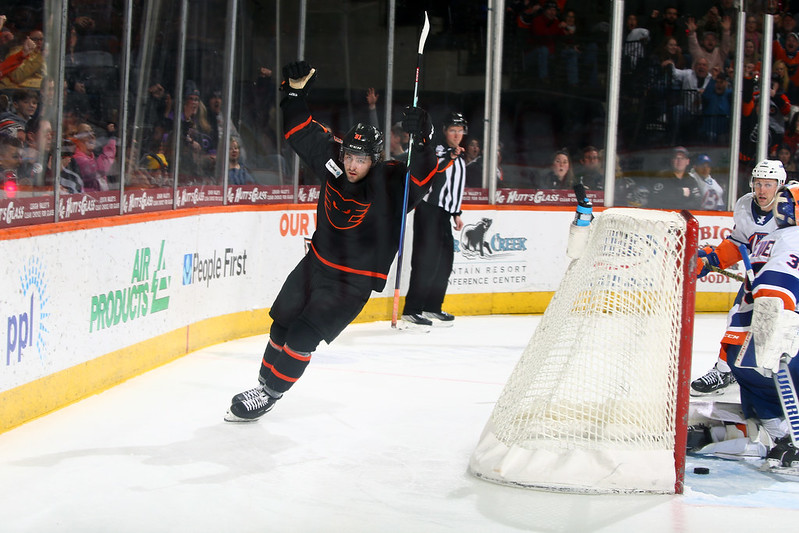 Desnoyers, 21, racked up five goals with nine assists for 14 points in February and did it in only eight games played. On February 11 against Bridgeport he notched his first career two-goal game and on February 19 against Hartford, "The Destroyer" had a career-high four-point performance which included three assists on Garrett Wilson's hat trick.
The fifth-round selection in 2020 from Saint-Hyacinthe, Quebec also made his NHL debut on February 25 for the Philadelphia Flyers at New Jersey Devils. The talented center leads Lehigh Valley this season with 19 goals and 37 points and is tied for second on the team with 17 assists.
Desnoyers had multiple points in five of his eight outings last month (he had two all season previously). He previously played four junior seasons in the QMJHL with Moncton and Halifax, earning Second Team All-Star honors in 2020-21. Desnoyers also represented Canada at the 2022 IIHF World Junior Championship, winning a gold medal.
Desnoyers becomes the third Lehigh Valley player, and seventh in franchise history, to win AHL Rookie of the Month honors.
Other AHL award winners for February included:
AHL Player of the Month — Max Lajoie, Chicago Wolves
AHL Goaltender of the Month — Arturs Silovs, Abbotsford Canucks
Phantoms to win AHL Rookie of the Month
February 2023 – Elliot Desnoyers
October 2017 – Mike Vecchione
January 2016 – Cole Bardreau
Philadephia Phantoms:
December 2008 – Claude Giroux
November 2004 – R.J. Umberger
November 2001 – Maxime Ouellet
November 1998 – Jean-Marc Pelletier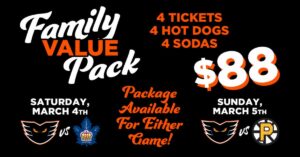 Phantoms Tickets are available HERE
UPCOMING SCHEDULE
Friday, March 3 (7:00) at Syracuse Crunch
Saturday, March 4 (7:05) vs. TORONTO MARLIES
Sunday, March 5 (4:05) vs. PROVIDENCE BRUINS
Friday, March 10 (7:00) at Wilkes-Barre/Scranton Penguins
Saturday, March 11 (7:05) vs. BELLEVILLE SENATORS
Sunday, March 12 (4:05) vs. UTICA COMETS
UPCOMING PROMOTIONS
Saturday, March 4 (7:05) vs. Toronto Marlies – Slap Shot Night with Dave Hanson!
Sunday, March 5 (4:05) vs. Providence Bruins – Team Poster Giveaway and Postgame Autographs
Saturday, March 11 (7:05) vs. Belleville Senators – Hockey Fiesta Weekend and Saturday Night Hockey Live
Sunday, March 12 (4:05) vs. Utica Comets – meLVin Youth Jersey Day (first 2,000 kids age 14 and younger) and Hockey Fiesta Weekend
Wednesday, March 15 (7:05) vs. Hershey Bears – Truist Night. Chamber of Commerce Night. $2 Pregame Happy Hour Beers
Friday, March 17 (7:05) vs. Hershey Bears – St. Patrick's Day! Whiteout Night. $1 Hot Dogs
Sunday, March 19 (4:05) vs. Wilkes-Barre/Scranton Penguins – Prospect Pack Trading Card Sets for First 5,000 Fans