Phantoms on the Road This Friday in Springfield, Saturday in WB/Scranton
October 15, 2015
Lehigh Valley, PA – The Philadelphia Flyers, parent club of the Lehigh Valley Phantoms, have returned on loan goaltender Jason LaBarbera to the Phantoms. Meanwhile, Lehigh Valley has returned on loan goaltender Martin Ouellette to the Reading Royals of the ECHL.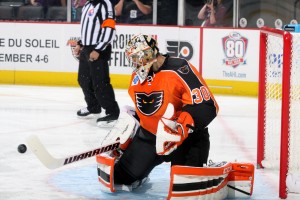 A 35-year-old netminder from Burnaby, British Columbia, LaBarbera served as Michael Neuvirth's back up in Philadelphia's 1-0 shutout win over the Florida Panthers on Monday along with the team's 3-0 triumph over the Chicago Blackhawks on Wednesday. He earned the start on Opening Night for the Phantoms last Saturday and registered 22 saves on 26 shots in a 4-3 setback to the Syracuse Crunch.
In the midst of his 16th professional season, LaBarbera boasts 315 career AHL appearances and 155 AHL wins on his resume. During that time, he's compiled an impressive 2.28 goals-against average coupled with an equally impressive .924 save percentage.
A 23-year-old netminder from Saint-Jerome, Quebec, Ouellette appeared in eight games for the Phantoms last season posting a 3-2 record to go along with a 2.90 goals-against average coupled with a .890 save percentage. He returns to Reading after spending the bulk of last year with the Royals where he compiled a 17-10-2 mark, 2.91 goals-against average and .907 save percentage in 29 games.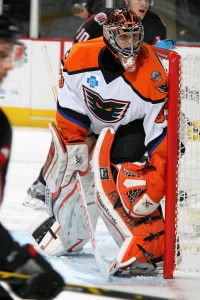 Before kickstarting his professional career last season, Ouellette spent four years at the University of Maine from 2010 to 2014 during which he amassed a 28-33-14 record to go along with a 2.52 goals-against average and .913 save percentage in 82 games.
The Phantoms hit the road for the first time during the 2015-2016 season this weekend as the team travels to Springfield on Friday for a 7:05 p.m. showdown with the Falcons before invading the Mohegan Sun Arena in Wilkes-Barre/Scranton on Saturday for a 4:05 p.m. rivalry contest with the Penguins. Both games will be available on Fox 1470 AM, online at fox1470.com or through the iHeartRadio app with the "Countdown to Faceoff" pregame show beginning 45 minutes before puck drop.
The Phantoms are then back at PPL Center on Saturday, October 24 when the team kicks off a four-game home stand with a 7:05 p.m. tilt with the Providence Bruins. The first 8,500 fans in attendance that evening will receive a free magnet schedule presented by Capital BlueCross and Pita King.
Tickets for next Saturday's highly-anticipated contest at PPL Center along with each of the Phantoms' 37 remaining home games are available now at pplcenter.com, by calling 610-347-TIXX [8499] or in person at the Mealey's Furniture Box Office at PPL Center (701 Hamilton Street).
RISE UP! Reserve your season tickets and groups now for the 2015-2016 season of Lehigh Valley Phantoms hockey. For more information on how to reserve your seat at PPL Center to the hottest ticket in town call the Phantoms front office today at 610-224-GOAL (4625)!
Upcoming Home Games:
Saturday, October 24, 2015, Providence Bruins at Lehigh Valley Phantoms, 7:05 p.m.
(Magnet Schedule Giveaway! FREE to first 8,500 fans in attendance presented by Capital BlueCross & Pita King.)
Sunday, October 25, 2015, Toronto Marlies at Lehigh Valley Phantoms, 5:05 p.m.
(Youth Jersey Giveaway! FREE to first 2,500 kids 14 and under in attendance. Presented by Capital BlueCross, Dick's Sporting Goods & Velaspan.)
Wednesday, October 28, 2015, St. John's IceCaps at Lehigh Valley Phantoms, 7:05 p.m.
(Pink in the Rink presented by Lehigh Valley Health Network)
Friday, October 30, 2015, St. John's IceCaps vs. Lehigh Valley Phantoms, 7:05 p.m
(Ball Cap Giveaway & John Walson, Jr. Night! FREE to first 8,500 fans in attendance presented by Service Electric Cable TV & Communications)
In the midst of their 20th season of operation, the Phantoms are coming off their Inaugural Season as the Lehigh Valley Phantoms playing at the brand-new PPL Center. Established in 1996, the Phantoms spent their first 13 seasons at the Spectrum in Philadelphia before re-locating to Glens Falls, New York in 2009 where the team spent the next five seasons as the Adirondack Phantoms. A new era of Phantoms hockey began in the fall of 2014 when the Lehigh Valley Phantoms began play at the state-of-the-art PPL Center. Through 19 incredibly successful campaigns, the Phantoms have captured two Calder Cup Championships (1998, 2005), two Conference Championships (1998, 2005), two Regular Season Titles (1996-97, 1997-98) and four Division Championships (1996-97, 1997-98, 1998-99, 2003-04).