Phantoms at Home vs. Hartford TONIGHT!
April 1, 2023
Lehigh Valley, PA – The Philadelphia Flyers have recalled goaltender Sam Ersson on emergency conditions from the Lehigh Valley Phantoms, according to Interim General Manager, Daniel Briere.
Additionally, goaltender Pat Nagle has been recalled by the Lehigh Valley Phantoms from the Reading Royals of the ECHL.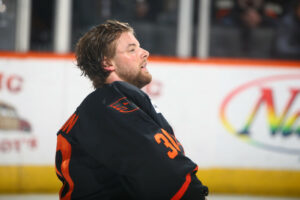 Ersson, 23, is 22-14-1, 2.68, .904 with the Phantoms this season and won on Friday vs. Wilkes-Barre/Scranton with 17 saves in a 4-2 decision during his quick one-day return to Lehigh Valley. With the Philadelphia Flyers this year, Ersson is 6-1-0, 3.07, .898.
Ersson became only the second Lehigh Valley goalie to record 22 wins in a season joining Alex Lyon who had 27 win in 2016-17.
Ersson's first recall in December and January included his first NHL win on December 31, 2022 at the Los Angeles Kings and also his first NHL shutout on January 9, 2023 at Buffalo as part of a 6-0-0 start to his NHL career. Since his first NHL recall, Ersson has gone 13-6-0 with the Phantoms and also 6-1-0 with the Flyers for a combined 19-7-0 record. He recorded his first AHL shutout on February 11 recording 15 saves in a 3-0 win against the Bridgeport Islanders. In his most recent outing, Ersson was outstanding when he had a career-high 37 saves in a 4-3 shootout win at the Hershey Bears last Sunday.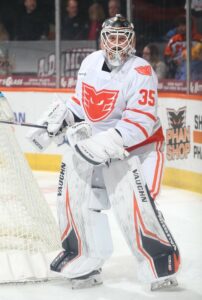 Nagle, 35, is 1-7-1, 3.81, .877 with the Phantoms this season and is 18-5-0, 2.47, .916 with the Reading Royals including 9-1-0 with Reading since returning to the Royals on February 28. Last night, Nagle earned his seventh consecutive win at the Royals clinched a spot in the Kelly Cup Playoffs via a 6-2 thrashing of the Trois Rivieres Lions. Nagle moved to second all-time in ECHL history with his 218th career win on March 24 passing Marc Magliarditi in a tremendous 40-save performance to win 4-2 as the Royals ended the Toledo Walleye's 18-game win streak. Only Nick Vitucci (265) has more career victories in the ECHL.
Last year with the Phantoms, Nagle went 10-6-6, 2.74, .904 while also playing in 17 games with Reading where he was 11-3-3, 2.41, .925. Nagle received a tremendous honor when he was selected to the USA Olympics Team that competed in Beijing, China in February. The accomplished goaltender is third all-time in ECHL history with 211 career wins and he has also played in 71 AHL games, primarily with Lehigh Valley and Grand Rapids, going 27-31-9, 2.85, .901.
The Phantoms return to action tonight at PPL Center taking on the Hartford Wolf Pack. Lehigh Valley's magic number to clinch a playoff spot is at 10 points. The Phantoms travel to Bridgeport on Sunday for a 3:00 p.m. showdown against the Islanders.
Phantoms Tickets are available HERE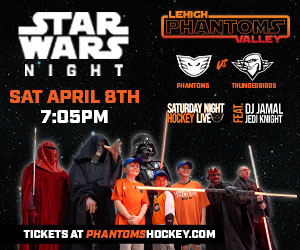 UPCOMING SCHEDULE
Saturday, April 1 (7:05) vs. HERSHEY BEARS
Sunday, April 2 (3:00) at Bridgeport Islanders
Friday, April 7 (7:05) vs. CHARLOTTE CHECKERS
Saturday, April 8 (7:05) vs. SPRINGFIELD THUNDERBIRDS
UPCOMING AT PPL CENTER
Saturday, April 1 (7:05) vs. Hartford Wolf Pack – Saturday Night Hockey Live! Jimmy and the Parrots
Friday, April 7 (7:05) vs. Charlotte Checkers – Berks $1 Hot Dogs
Saturday, April 8 (7:05) vs. Springfield Thunderbirds – Star Wars Night! SNHL with DJ Jamal "Jedi" Knight
Friday, April 14 (7:05) vs. Charlotte Checkers – Regular Season Home Finale. Berks $1 Hot Dogs