Bobby Brink strikes twice to Rally the Valley
March 31, 2023
Lehigh Valley, PA – Make it three straight comebacks! Jordy Bellerive and Bobby Brink linked in the third period to lead a dramatic, 4-2 come-from-behind win over the Wilkes-Barre/Scranton Penguins on Friday night at PPL Center. Lehigh Valley (34-25-6) trimmed their magic number to clinch a spot in the 2023 Calder Cup Playoffs down to 10.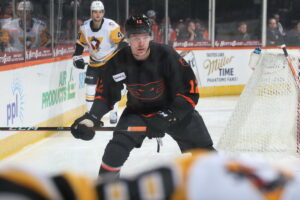 Drake Caggiula opened the scoring for the pesky Penguins only 8:12 into the first period before the Phantoms later responded on a man-advantage. Caggiula received a pass from Valtteri Puustinen from the opposite wing before elevating a perfect shot past Sam Ersson.
Tyson Foerster continued his storybook rookie season with his 20th goal of the campaign to bring the Phantoms even at 17:14. At the end of Egor Zamula's shift, a stretch pass through neutral ice connected with Foerster, who soon gripped and sniped a shot past Dustin Tokarski.
In the second period, Wilkes-Barre/Scranton reclaimed the lead on a 5-on-3 power-play strike. A center-point drive from Ty Smith hit pay-dirt for his fifth goal of the campaign.
But in the third period, Lehigh Valley dazzled again late to claim another dramatic comeback win. Jordy Bellerive raced to his own rebound and stuffed a second chance opportunity into the cage at 6:37 to tie the game.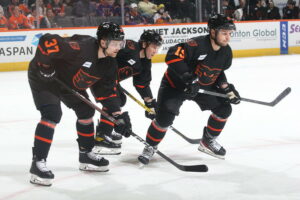 Exactly four minutes later, PPL Center would erupt once again on the eventual game-winning goal by Bobby Brink. Tokarski was pulled out of position towards the side of the net, and Brink slammed home a loose puck at 10:37 to provide the Orange and Black their first lead of the night.
Brink tallied his second of the night and 10th of the season with an empty-net goal at 18:41 to complete the scoring line. Lehigh Valley locked all windows and doors defensively in the third period by holding the Penguins to only two shots in the final frame, and seven shots in the game's last 40 minutes.
Sam Ersson earned his 22nd victory of the season, which is the second-most wins in a single season by a Lehigh Valley Phantoms goaltender, only trailing Alex Lyon's record of 27 wins.
The Lehigh Valley Phantoms return to action and clash with the Hartford Wolf Pack in a prize fight on Saturday, April 1 at PPL Center. It's Saturday Night Hockey Live featuring intermission music from Jimmy and the Parrots.
SCORING SUMMARY
1st 8:12 – WBS D. Caggiula (19) (V. Puustinen, J. Gruden) 0-1
1st 17:14 – LV T. Foerster (20) (E. Zamula, L. Belpedio) (PP) 1-1
2nd 13:27 – WBS T. Smith (5) (V. Puustinen, T. Sikura) (PP) 1-2
3rd 6:37 – LV J. Bellerive (7) (J. Cates, A. Brooks) 2-2
3rd 10:37 – LV B. Brink (9) (R. Attard, K. Connauton) 3-2
3rd 18:41 – LV B. Brink (10) (E. Desnoyers) (EN) 4-2
Shots:
LV 29 – WBS 19
PP:
LV 1/3, WBS 1/4
Goalies:
LV – S. Ersson (W) (22-14-1) (17/19)
WBS – D. Tokarski (L) (12-13-6) (25/28)
Records:
Lehigh Valley (34-25-6)
Wilkes-Barre/Scranton (25-28-12)
Phantoms Tickets are available HERE
UPCOMING SCHEDULE
Saturday, April 1 (7:05) vs. HERSHEY BEARS
Sunday, April 2 (3:00) at Bridgeport Islanders
Friday, April 7 (7:05) vs. CHARLOTTE CHECKERS
Saturday, April 8 (7:05) vs. SPRINGFIELD THUNDERBIRDS
UPCOMING AT PPL CENTER
Saturday, April 1 (7:05) vs. Hartford Wolf Pack – Saturday Night Hockey Live! Jimmy and the Parrots
Friday, April 7 (7:05) vs. Charlotte Checkers – Berks $1 Hot Dogs
Saturday, April 8 (7:05) vs. Springfield Thunderbirds – Star Wars Night! SNHL with DJ Jamal "Jedi" Knight
Friday, April 14 (7:05) vs. Charlotte Checkers – Regular Season Home Finale. Berks $1 Hot Dogs