Saturday, April 1, 2023 at 7:05 p.m.
Lehigh Valley Phantoms (34-25-6) vs. Hartford Wolf Pack (30-25-11)
PPL Center, Allentown, PA
TONIGHT
The Phantoms look to trim their magic number even more as they seek a fourth straight win in tonight's tilt against the Hartford Wolf Pack at PPL Center.
Lehigh Valley (34-25-6) has dramatically rallied from behind in the third period in three consecutive contests and the magic number stands at 10 points to clinch a berth in the Calder Cup Playoffs.
Hartford (30-25-11) has won three straight to surge into the sixth-place playoff position in the division. The Phantoms lead the Wolf Pack by three points.
There are just seven games remaining for the Phantoms in the regular season including four at home.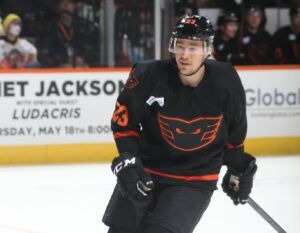 LAST TIME
Friday, March 31, 2023
Phantoms 4 – Penguins 2
The Comeback Kids did it again! Lehigh Valley pulled off its third consecutive third-period rally to down visiting Wilkes-Barre/Scranton 4-2 on Friday night at PPL Center. Tyson Foerster (20th) cranked up a power-play goal in the first period but the Phantoms were trailing 2-1 at the second intermission. Jordy Bellerive pushed home his own rebound to beat Dustin Tokarski for the equalizer and then Bobby Brink had a slam-dunk on the doorstep when Ronnie Attard and Kevin Connauton successfully drew the Penguins' netminder away from his crease. Brink (10th) added an empty-netter to cap the night.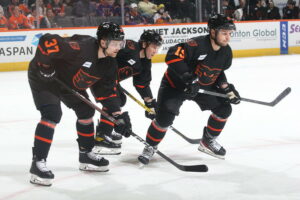 COMEBACK MAGIC
Trailing in the third period has proven to be no problem at all for the Comeback Kids with three consecutive Valley Rallies as part of the team's current win streak. The Phantoms are 19-6-6 in one-goal games and are now 10-6 in decisions after regulation (6-3 in overtime and 4-3 in shootouts).
Comeback Breakdown –
Phantoms 3 – Penguins 2 (OT): Last Saturday at Wilkes-Barre/Scranton, the Phantoms were down 2-1 in the third period but Bobby Brink connected with Artem Anisimov for a tying power-play conversion and then Anisimov flipped a pass over a diving defender to find Adam Brooks for the overtime winner.
Phantoms 4 – Bears 3 (SO): On Sunday at Hershey, the Phantoms were down by scores of 2-0 and 3-1 in the third period but Louie Belpedio, Ryan Fitzgerald and then Artem Anisimov found the net to forge a 3-3 tie allowing the Phantoms to prevail in the shootout. Tyson Foerster's shot/pass was perfectly onto the tape of Anisimov for yet another Artie Party Tying Tally on the power play.
Phantoms 4 – Penguins 2: Last night against the Penguins, the Cardiac Kids of the Lehigh Valley did it again. Trailing 2-1 in the third period, Jordy Bellerive buried his own rebound to tie the game at 2-2 and then Bobby Brink scored the winner as well as an empty-netter.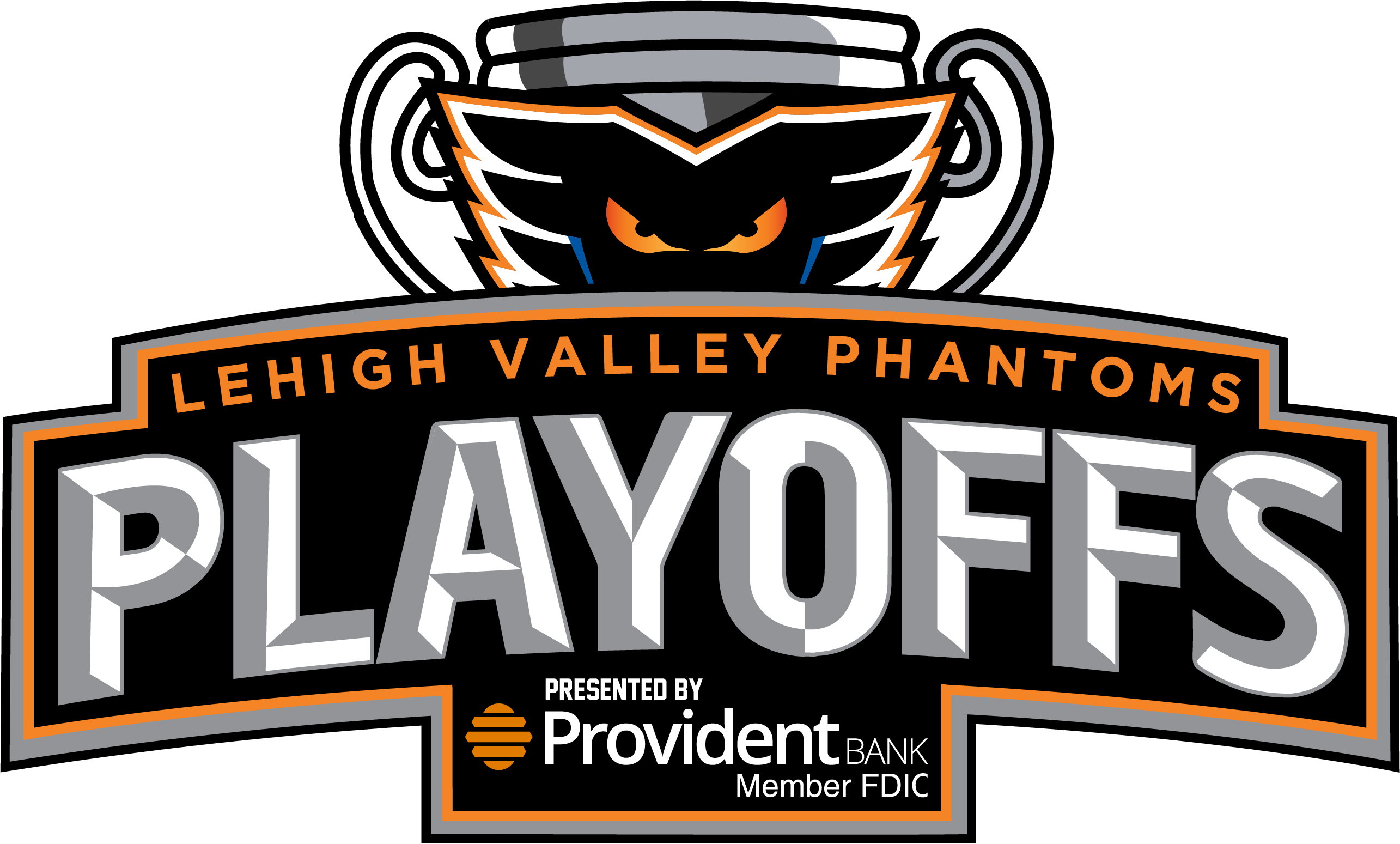 PLAYOFF OUTLOOK
The top six teams in the Atlantic Division qualify for the Calder Cup Playoffs. Lehigh Valley occupies the fifth-place position with a three-point edge on sixth-place Hartford.
Lehigh Valley's Magic Number to clinch a Calder Cup Playoff Berth is now 10 points.
The current standings would have the Lehigh Valley Phantoms and Charlotte Checkers meeting in the first round in the 5 vs. 4 series as part of a Best of 3 matchup.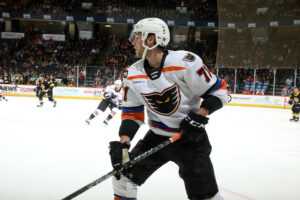 FOERSTER STAYS HOT
Tyson Foerster has kept his scoring touch since his return to the Phantoms from the Philadelphia Flyers. He cranked up his 20th goal of the season with the Phantoms on Friday after he had recorded an assist on the tying goal in his first game back last Sunday at Hershey. Foerster finished his stretch with Philadelphia on a five-game point streak including his first-career NHL goal on March 18 vs. Carolina followed by his second NHL goal against Marc-Andre Fleury of Minnesota with a snipe on the rush on March 23. Foerster impressed with the big club scoring 3-4-7 in eight games with the Flyers and now has a seven-game point streak (4-5-9) between the Flyers and Phantoms combined.
ERSSON HEADS UP
The Philadelphia Flyers have recalled goaltender Sam Ersson on an emergency basis from the Lehigh Valley Phantoms.
Ersson, 23, is 22-14-1, 2.68, .904 with the Phantoms this season. With the Philadelphia Flyers this year, Ersson is 6-1-0, 3.07, .898. He became just the second goalie in Lehigh Valley history to win 22 games in a season when he picked up the W on Friday night during his one-day return to the Phantoms.
Ersson's first recall to Philadelphia in December and January included his first NHL win on December 31, 2022 at the Los Angeles Kings and also his first NHL shutout on January 9, 2023 at Buffalo. Since his first NHL recall, Ersson has gone 13-6-0 with the Phantoms and also 6-1-0 with the Flyers for a combined 19-7-0 record. Ersson was outstanding last Sunday when he had a career-high 37 saves in a 4-3 shootout win at the Hershey Bears on Sunday.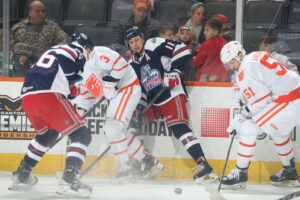 ABOUT THE WOLF PACK
Hartford (30-25-11) has put together a nice little run winning three straight and six out of its last eight to push up the standings and surpass Bridgeport for the last playoff spot in the division. In so doing, the Pack have moved to within three points of the fifth-place Phantoms although Lehigh Valley has one game in hand. Hartford has defeated Bridgeport 4-1 and first-place Providence 5-0 in a pair of impressive wins this week.  Highly touted rookie Will Cuylle (24-18-42) and returned captain Jonny Brodzynski (20-25-45) pace the scoring. Brodzynski has been especially hot with 13-9-21 in just his last 12 games including a five-point performance (1-4-5) last Friday against Springfield. Former Phantoms Adam Clendening and Cooper Zech have joined the Wolf Pack via trades since the last time the two teams played. Garrett Wilson had a hat trick against Hartford on February 19 but the Pack rallied for a shocking 6-4 win at PPL Center on a pair of goals for Gustav Rydahl.
Top Performers in Season Series:
Lehigh Valley – Elliot Desnoyers (2-4-6), Garrett Wilson (4-0-4), Bobby Brink (0-4-4), Max Willman (2-0-2)
Hartford – Tanner Fritz (0-5-5), Gustav Rydahl (3-0-3), Will Cuylle (2-1-3), Louis Domingue (2-1-0, 3.37, .848)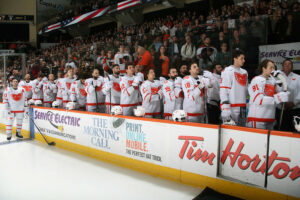 Phantoms Scoring Leaders
Tyson Foerster 20-21-41
Elliot Desnoyers 21-19-40
Olle Lycksell 10-29-39
Garrett Wilson 16-21-37
Cooper Marody 12-22-34
Wolf Pack Scoring Leaders
Jonny Brodzynski 20-25-45
Will Cuylle 24-18-42
Ryan Carpenter 18-20-38
Tanner Fritz 8-29-37
Lauri Pajuniemi 18-17-35
Phantoms Tickets are available HERE
SPECIAL TEAMS 
Lehigh Valley Power Play – 21.1%, 11th (3/9, 33.3%)
Lehigh Valley Penalty Kill – 73.1%, 32nd
Hartford Power Play – 17.0%, 29th (vs. LV 3/9, 33.3%)
Hartford Penalty Kill – 78.9%, 24th
UP NEXT
The Phantoms are back at PPL Center on Saturday night against the Hartford Wolf Pack. Then the Lehigh Valley Phantoms travel to Bridgeport for a Sunday afternoon clash against the Islanders.
Phantoms Tickets are available HERE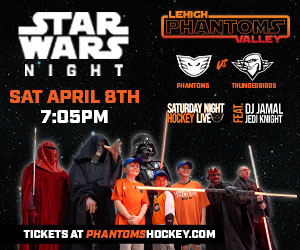 UPCOMING SCHEDULE
Saturday, April 1 (7:05) vs. HERSHEY BEARS
Sunday, April 2 (3:00) at Bridgeport Islanders
Friday, April 7 (7:05) vs. CHARLOTTE CHECKERS
Saturday, April 8 (7:05) vs. SPRINGFIELD THUNDERBIRDS
UPCOMING AT PPL CENTER
Saturday, April 1 (7:05) vs. Hartford Wolf Pack – Saturday Night Hockey Live! Jimmy and the Parrots
Friday, April 7 (7:05) vs. Charlotte Checkers – Berks $1 Hot Dogs
Saturday, April 8 (7:05) vs. Springfield Thunderbirds – Star Wars Night! SNHL with DJ Jamal "Jedi" Knight
Friday, April 14 (7:05) vs. Charlotte Checkers – Regular Season Home Finale. Berks $1 Hot Dogs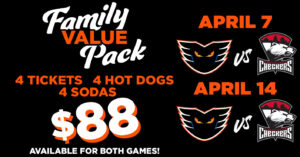 Broadcast coverage of all Phantoms games with Bob Rotruck is available on the Phantoms 365 app and on Real Oldies 1470-AM in Allentown. Also available on the Listen Live button at phantomshockey.com
Fans can also watch the games on AHLTV.com or can listen on their Smart Speakers at: "Play Phantoms Radio 24/7."
Service Electric Network again provides exclusive television coverage of all Phantoms home games with veteran announcer Steve Degler and Phantoms' alum Steven Swavely on the call from the booth. Kristi Fulkerson reports from ice level and also from the Chickie's and Pete's studio with Dan Fremuth for pregame, intermission and postgame show analysis.