Phantoms Return to PPL Center Friday and Saturday
November 25, 2015
Utica, NY – The Phantoms wrapped up their four-game road swing in Utica, NY and ran into a determined Comets squad in a 7-1 setback on Thanksgiving Eve. After playing well for the opening three games of their road swing coming on consecutive days this past weekend, the road-trip finale did not go as smoothly for Lehigh Valley.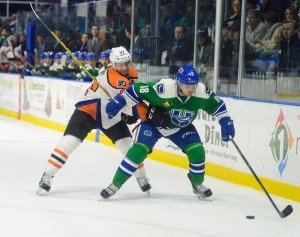 Former Phantom Blair Jones enjoyed a two-goal performance against his former team on his way to #1 Star of the Game honors. Aaron Palushaj scored his fifth of the season for Lehigh Valley's lone tally coming on a nifty interception by Danick Martel but it was not in time to help spark a comeback effort.
One player who did his part to try to get the Phantoms back on track was gigantic rookie defenseman Samuel Morin who dropped the gloves in the second period with fellow rookie Joseph LaBate. Morin decisively won the bout but his pugilistic efforts were similarly unable to push the Phantoms back into the game. It was Morin's second career pro fight and the first for LaBate.
Anthony Stolarz started for the Phantoms and surrendered one goal in the first period. He made way for Martin Ouellette who started the second period. Stolarz did not return to the game and there was no update available as to his status or reason for departure.
Trailing 1-0 in the first period, the Phantoms had several early opportunities to turn the game into a very different night. Lehigh Valley out shot Utica 12-9 in the opening 20 minutes which included a backhand breakaway from Pavel Padakin and two or three solid chances from Tyrell Goulbourne.
But Utica held their ground and then came on stronger in the second period with a four-goal effort including three goals in the closing five minutes of the frame as things kind of snowballed against the Phantoms.
Alex Friessen scored early in the second period off a faceoff win that was chipped to the slot for a quick conversion. Taylor Fedun made it 2-0 with his strike early in the second period.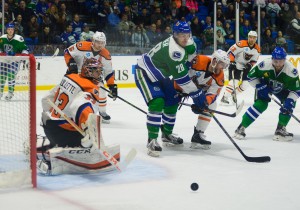 Then it was three goals rapid-fire style in the closing moments of the second scored by Alex Biega, Wacey Hamilton and Blair Jones.
Jones raced in for an early third-period breakaway for his second of the night. After Palushaj's goal midway through the third narrowed the margin to 6-1 it would be Joseph LaBate scoring his first career professional goal. Earlier in the game he had lost his heavyweight bout against Morin.
Ouellette played in eight games for the Phantoms last season but this was his first appearance for Lehigh Valley of the 2015-16 season after serving as a backup net-minder on several occasions. He was charged with six goals on 24 shots but certainly this setback was not entirely on him. Joe Cannata recorded 27 saves on 28 shots for the win.
Petr Straka had his six-game goal streak come to a close. He fell just one shy of the all-time Phantoms franchise record of seven set by Shawn McCosh in 1996-97 and equalled by Mike Maneluk in 1999-2000.
AHL Plus/Minus leader Mark Alt was a -1 for the game to move his season rating to +12 which dropped him out of the league lead.
The game was the first of four between the Phantoms and Comets this season. Lehigh valley ventures right back to Utica next Wednesday night for an opportunity to avenge the humbling setback.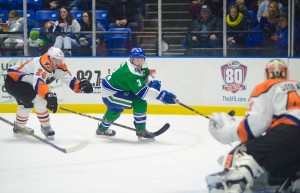 The Phantoms return to PPL Center for a pair of Thanksgiving weekend contests. First, Lehigh Valley hosts the rival Hershey Bears on Friday, November 27 for Go & Grow presented by Lehigh Valley Health Network. Then, on Saturday, November 28, the Bruins invade downtown Allentown. Get up close and personal with your favorite Phantoms that evening with a post-game autograph session with Phantoms players. Puck drop for both nights is scheduled for 7:05 p.m. Tickets for both games are currently available by logging on to pplcenter.com, by calling 610-347-TIXX [8499] or by visiting the Mealey's Furniture Box Office at PPL Center (701 Hamilton).
RISE UP! Reserve your season tickets and groups now for the 2015-2016 season of Lehigh Valley Phantoms hockey. For more information on how to reserve your seat at PPL Center to the hottest ticket in town, call the Phantoms front office today at 610-224-GOAL (4625)!
Lehigh Valley Phantoms 1 at Utica Comets 7 – Status: Final
Wednesday, November 25, 2015 – Utica Memorial Auditorium
Lehigh Valley 0 0 1 – 1
Utica 1 4 2 – 7
1st Period-1, Utica, Friesen 2 2:33. Penalties-Sautner Uti (cross-checking), 3:39; MacDonald Lv (slashing), 13:26; LaBate Uti (slashing), 13:26; Pettersson Lv (interference), 19:06.
2nd Period-2, Utica, Fedun 3 (Biega, Friesen), 5:28 (PP). 3, Utica, Biega 1 (Vey, Jensen), 15:26. 4, Utica, Hamilton 2 (Bancks, Fedun), 17:16. 5, Utica, Jones 5 (Archibald), 18:50. Penalties-Rankin Lv (high-sticking), 4:30; Pettersson Lv (interference), 5:45; Jones Uti (slashing), 13:01; Morin Lv (fighting), 17:18; LaBate Uti (fighting), 17:18; Alt Lv (interference), 18:58; Grenier Uti (tripping), 19:56.
3rd Period-6, Utica, Jones 6 (Bancks, Hamilton), 3:03. 7, Lehigh Valley, Palushaj 5 (Martel), 9:11. 8, Utica, LaBate 1 (Kenins, Subban), 14:34. Penalties-Sundher Lv (holding), 0:20; Lashoff Lv (roughing), 16:58; Archibald Uti (roughing), 16:58; Morin Lv (cross-checking), 18:39.
Shots on Goal-Lehigh Valley 12-7-9-28. Utica 9-13-11-33.
Power Play Opportunities-Lehigh Valley 0 / 3; Utica 1 / 6.
Goalies-Lehigh Valley, Stolarz 7-4-0 (9 shots-8 saves); Ouellette 0-1-0 (24 shots-18 saves). Utica, Cannata 5-5-0 (28 shots-27 saves).
A-3,860
Referees-Geno Binda (22), Terry Koharski (10).
Linesmen-Brian Oliver (74), Andy Petrus (26).
Upcoming Home Games:
Friday, November 27, 2015, Hershey Bears vs. Lehigh Valley Phantoms, 7:05 p.m. | TIX
(Go & Grow presented by Lehigh Valley Health Network.)
Saturday, November 28, Providence Bruins vs. Lehigh Valley Phantoms, 7:05 p.m. | TIX
(Post-Game Autographs with Phantoms Players.)
In the midst of their 20th season of operation, the Phantoms are coming off their Inaugural Season as the Lehigh Valley Phantoms playing at the brand-new PPL Center. Established in 1996, the Phantoms spent their first 13 seasons at the Spectrum in Philadelphia before re-locating to Glens Falls, New York in 2009 where the team spent the next five seasons as the Adirondack Phantoms. A new era of Phantoms hockey began in the fall of 2014 when the Lehigh Valley Phantoms began play at the state-of-the-art PPL Center. Through 19 incredibly successful campaigns, the Phantoms have captured two Calder Cup Championships (1998, 2005), two Conference Championships (1998, 2005), two Regular Season Titles (1996-97, 1997-98) and four Division Championships (1996-97, 1997-98, 1998-99, 2003-04).