Rookie Netminder Earns 1st Pro Win With 4-0 Shutout Victory
November 21, 2014
Lehigh Valley, PA – It all came together Friday evening for the Lehigh Valley Phantoms and the spotlight shone brightly on the rookies.
Anthony Stolarz recorded 36 saves in his Allentown debut to secure an exciting first pro win with a stellar shutout while Robert Hagg chipped in a goal and an assist and Taylor Leier added a goal and had a plus-three rating on the evening. The Phantoms earned their first shutout victory of the 2014-2015 season with a 4-0 blanking of the Worcester Sharks. The victory came in front of 8,451 orange-clad Phantoms supporters who were not only treated to free Movember shirts upon arrival but to an incredibly memorable evening of hockey as well. Brandon Manning also scored to extended his goal-streak to four in a row while Andrew Gordon lit the lamp in his second straight game.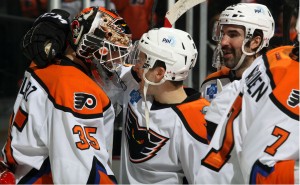 "I'm real happy for him (Stolarz) here tonight," said Phantoms head coach Terry Murray. "That's a team effort when you end the game with a shutout but he had some good play at the end of the game."
The win was not only the first shutout of the season for Lehigh Valley but also the first professional victory and first professional shutout for the 20-year-old Stolarz. The 36 shots he faced Friday evening were the most he's seen through four games of his professional career and the 6'6″, 220-pound goaltender had the answer for each and every one of them.
Stolarz needed to stand tall all the way to the finish to lock up the shutout as the Worcester Sharks concluded the game with a 5-on-3 power play for the last 1:49. But with four more saves including some tremendous post-to-post moves to deafening roads from the sellout crowd, the Jackson, NJ native was somehow able to turn away Worcester's various backdoor attempts and make it all the way through to the end still unscathed.
"It's exciting to have my first pro start," Stolarz said. "My parents and brothers came out tonight so that made it even more special. Going in all I wanted was a win but to get the shutout was just the cherry on top."
Meanwhile, Hagg earned his third multi-point game of the season with a goal and assist in the first period and recent veteran addition Blair Jones contributed a pair of helpers in just his second game since coming to Lehigh Valley.
Finally, the standing room-only sellout marked the third crowd to exceed seating capacity for Lehigh Valley in seven tilts at PPL Center and was the fourth home game to feature over 8,000 fans. With the win, the Phantoms improved to 8-6-1 overall and 5-1-1 at home. In addition, Lehigh Valley is now off to a perfect 3-0 start to its season-long five-game home stand.
Just 48 hours after opening the scoring a little over three minutes into Wednesday's eventual 3-2 shootout triumph over the Hershey Bears, the Phantoms got off to an even faster start Friday when Leier snapped in his fourth goal of the season just 1:44 into the contest. The early conversion was set up by a dazzling, no-look pass from behind the Worcester net by Jones who has now garnered the primary assist on the game's opening goal in each of his first two outings in Lehigh Valley. Meanwhile, the secondary helper went to first-year defenseman Hagg who moved into a tie with Nick Cousins for the team lead with eight assists.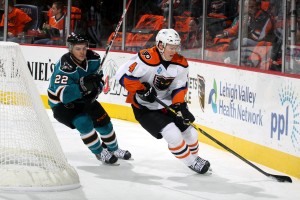 Lehigh Valley wasn't done with its first-period scoring just yet though. The Phantoms doubled their lead just under 10 minutes later when, while shorthanded, a clean faceoff win in the attacking zone by Jones produced a left point opportunity for Hagg which was promptly blasted into the upper right-hand corner of the goal. The man-down tally was Hagg's second goal of the season and Lehigh Valley's second shorthanded marker as a team this year after Scott Laughton produced a shorthanded conversion in 4-2 setback at the Adirondack Flames back on October 18th. The cannonating drive which brought the orange-clad Phantoms faithful to its feet was also the first Lehigh Valley shorthanded goal scored in the history of PPL Center.
The Phantoms' offense picked up in the second period just as it left off in the opening frame. Just a minute and a half into the middle stanza, Manning unleashed a one-timer from the high slot which deflected off a pair of Worcester skaters en route before popping over the head and shoulder and outstretched glove of Sharks netminder J.P. Anderson to land perfectly in the back of the net. The five-on-five tally was Manning's fifth of the season and extended the defenders' goal-scoring streak to a Lehigh Valley season-high four games. Steven Delisle and Jay Rosehill assisted on the even strength strike which gave the Phantoms their first three-goal advantage in a game since Lehigh Valley claimed a 5-2 victory at the Wilkes-Barre/Scranton Penguins on October 11th.
Manning's conversion also prompted a change in the Sharks net as Anderson was replaced by Aaron Dell after just eight saves on 11 Lehigh Valley shots.
The Phantoms landed the final conversion less than a minute into the third period when a takeaway by Gordon produced a one-on-one chance against Dell resulting in Gordon's fifth tally of the year. The unassisted marker came just 59 seconds into the final frame and extended Gordon's point streak to four games.
The rest of the evening then belonged to Stolarz.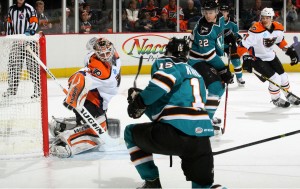 The first-year netminder registered 14 third-period saves including a trio of sparkling denials in the game's final 90 seconds when Lehigh Valley's penalty kill was tasked with turning aside a 5-on-3 Worcester power play.
The Phantoms are back in action Saturday evening when they welcome the St. John's IceCaps to PPL Center for the first time this season. The IceCaps are the AHL affiliates of the Winnipeg Jets.
The Movember Weekend continues Saturday with FREE prostate exams during select times at area LVHN branches for all men with a ticket to the contest and the Phantoms' wives and girlfriends will be back to paint more mustaches on fans.
Tickets are available for Saturday's showdown at the Mealey's Furniture Box Office at the Tim Horton's entrance of PPL Center, by calling 610-347-TIXX (8499) or online at PPLCenter.com
Worcester Sharks 0 at Lehigh Valley Phantoms 4 – Status: Final
Friday, November 21, 2014 – PPL Center
Worcester 0 0 0 – 0
Lehigh Valley 2 1 1 – 4
1st Period-1, Lehigh Valley, Leier 4 (Jones, Hagg), 1:44. 2, Lehigh Valley, Hagg 2 (Jones), 11:15 (SH). Penalties-Taormina Wor (cross-checking), 6:37; Hextall Lv (slashing), 9:33; Haley Wor (roughing), 16:24.
2nd Period-3, Lehigh Valley, Manning 5 (Delisle, Rosehill), 1:30. Penalties-Haley Wor (roughing, roughing), 3:41; Lauridsen Lv (roughing), 3:41; Karlsson Wor (tripping), 9:38; Hagg Lv (tripping), 11:15; Haley Wor (tripping), 17:07.
3rd Period-4, Lehigh Valley, Gordon 5 0:59. Penalties-Haley Wor (fighting), 2:50; Lauridsen Lv (fighting), 2:50; Rosehill Lv (roughing), 8:24; Abeltshauser Wor (interference), 12:17; Delisle Lv (holding), 12:17; Cousins Lv (tripping), 14:56; Cousins Lv (cross-checking), 18:11; Rosehill Lv (roughing, misconduct – abuse of officials), 18:11.
Shots on Goal-Worcester 16-6-14-36. Lehigh Valley 7-9-4-20.
Power Play Opportunities-Worcester 0 / 5; Lehigh Valley 0 / 5.
Goalies-Worcester, Anderson 1-5-0 (11 shots-8 saves); Dell 0-0-0 (9 shots-8 saves). Lehigh Valley, Stolarz 1-3-0 (36 shots-36 saves).
A-8,451
Referees-Nic Leduc (12).
Linesmen-Leo Boylan (97), Jud Ritter (34).
Check it out! Don't miss the action and fun of Lehigh Valley Phantoms hockey at PPL Center in downtown Allentown! Contact the Phantoms Front Office for information on season tickets and affordable partial-season plans by calling 610-224-GOAL (4625).
Upcoming Home Games:
Saturday, November 22, 2014, St. John's IceCaps vs. Lehigh Valley Phantoms, 7:05 PM
(Movember Weekend Continues With Face Painting By Phantoms Wives & Girlfriends!)
Wednesday, November 26, 2014, Springfield Falcons vs. Lehigh Valley Phantoms, 7:05 PM
(Start Your Thanksgiving Holiday Early With An Evening Of Phantoms Hockey!)
Saturday, November 29, 2014, Norfolk Admirals vs. Lehigh Valley Phantoms, 7:05 PM
(Team Autograph Night and Poster Giveaway. Autographs with the players after the game!)
In their 19th season of operation, the Phantoms are currently in the midst of their Inaugural Season as the Lehigh Valley Phantoms playing at the brand-new PPL Center. Established in 1996, the Phantoms spent their first 13 seasons at the Spectrum before re-locating to Glens Falls, New York in 2009 where the team spent the next five seasons as the Adirondack Phantoms. A new era of Phantoms hockey began in the fall of 2014 when the Lehigh Valley Phantoms began play at the state-of-the-art PPL Center. Through 18 incredibly successful campaigns, the Phantoms have captured two Calder Cup Championships (1998, 2005), two Conference Championships (1998, 2005), two Regular Season Titles (1996-97, 1997-98) and four Division Championships (1996-97, 1997-98, 1998-99, 2003-04).