Tickets to This Saturday's Game = Free Prostate Check!
November 20, 2014
Lehigh Valley, PA – You wouldn't think prostate exams and hockey games would go together but the Lehigh Valley Phantoms have found a way to make it work!
The Phantoms, proud AHL affiliate of the Philadelphia Flyers, are pleased to announce, in conjunction with Lehigh Valley Health Network's division of urology, that they will be offering FREE prostate exams to all men with a ticket to this Saturday's game.
"Yeah, you read that right," said Phantoms executive vice president Chris Porreca. "What better way to help raise awareness of men's health issues, mainly prostate cancer, than to offer a free prostate exam! It's definitely an off-the-wall promotion but it's a perfect fit with our partners at Lehigh Valley Health Network and we hope fans will take full advantage."
The Phantoms continue their five-game home stand this Saturday at 7:05 PM when Lehigh Valley welcomes the St. John's IceCaps to PPL Center for the first time this season. Tickets are available now at the Mealey's Furniture Box Office at PPL Center (701 Hamilton), by calling 610-347-TIXX (8499) or online at pplcenter.com.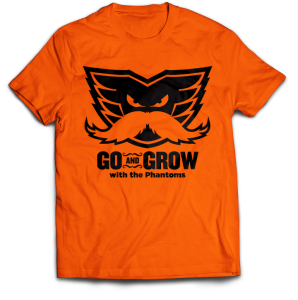 It's all part of Movember Weekend for the Phantoms, which kicks off Friday with a FREE Movember shirt for all fans in attendance when Lehigh Valley welcomes the Worcester Sharks to PPL Center. Then, on Saturday, the Phantoms take it to another level by offering a FREE prostate exam to every male with a ticket from the game.
"Roughly 1 in 7 men will be diagnosed with prostate cancer in their lifetime, more than 35% of men over the age of 45 are impacted by low testosterone, and erectile dysfunction can be an uncomfortable topic for guys" says Angelo Baccala, chief for the division of urology at Lehigh Valley Health Network. "Movember is a great way to increase awareness of men's health issues but it also requires action. That's why LVHN's urology department is partnering with the Phantoms to offer free men's health screenings to all guys who attend Saturday's game. In the week following the game, we will make our practices in Allentown and Bethlehem available to provide these free screenings. Men just need to bring their ticket stub from the game."
The exams will take place at Lehigh Valley Heath Network's Cedar Crest division of urology location (1250 S Cedar Crest Blvd, Suite 215) on Tuesday, November 25 from 1-4 PM and at the Lehigh Valley Hospital-Muhlenberg location (2597 Schoenersville Road, Suite 201) on Monday, December 1 from 1-4 PM. Both locations will be open during these times for "walk in" screenings but men are encouraged to call 610-402-CARE (2273) for more information.
Movember is an annual event, which involves growing mustaches throughout the month of November to raise awareness of men's health issues, including prostate cancer.
Check it out! Don't miss the action and fun of Lehigh Valley Phantoms hockey at PPL Center in downtown Allentown! Contact the Phantoms Front Office for information on season tickets and affordable partial-season plans by calling 610-224-GOAL (4625).
Upcoming Home Games:
Friday, November 21, 2014, Worcester Sharks vs. Lehigh Valley Phantoms, 7:05 PM
(FREE Movember Shirts For All Fans In Attendance!)
Saturday, November 22, 2014, St. John's IceCaps vs. Lehigh Valley Phantoms, 7:05 PM
(FREE Prostate Exams For All Men With A Ticket From Saturday's Game!)
Wednesday, November 26, 2014, Springfield Falcons vs. Lehigh Valley Phantoms, 7:05 PM
(Start Your Thanksgiving Holiday Early With An Evening Of Phantoms Hockey!)
Saturday, November 29, 2014, Norfolk Admirals vs. Lehigh Valley Phantoms, 7:05 PM
(Team Autograph Night and Poster Giveaway! Autographs With The Players After The Game!)
In their 19th season of operation, the Phantoms are currently in the midst of their Inaugural Season as the Lehigh Valley Phantoms playing at the brand-new PPL Center. Established in 1996, the Phantoms spent their first 13 seasons at the Spectrum before re-locating to Glens Falls, New York in 2009 where the team spent the next five seasons as the Adirondack Phantoms. A new era of Phantoms hockey began in the fall of 2014 when the Lehigh Valley Phantoms began play at the state-of-the-art PPL Center. Through 18 incredibly successful campaigns, the Phantoms have captured two Calder Cup Championships (1998, 2005), two Conference Championships (1998, 2005), two Regular Season Titles (1996-97, 1997-98) and four Division Championships (1996-97, 1997-98, 1998-99, 2003-04).