By Dan Fremuth, Director of Public Relations
The Lehigh Valley Phantoms are off to one of the best starts in team history and a big part of the club's early season success has been the play of Lehigh Valley's special teams.
The special teams, which includes both the power play and penalty kill, is one of those facets to a team's game that can help produce a series of consecutive victories when they're producing and can mire clubs in a losing spiral when they're not. Fortunately, for the Phantoms and their fans, it's been largely the former to start the 2016-17 campaign.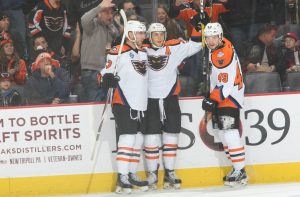 Lehigh Valley entered the week with the AHL's most potent offense (3.93 goals/game) backed by a power play that has produced a league-best 20 conversions through the season's first six weeks. The Phantoms have buried at least one man-advantage marker in 10 of their first 15 games this season and are an impressive 7-3 when scoring at least one power play goal this year.
"Well we have two first power play units," said Phantoms forward and team-leading goal scorer Greg Carey. "Both lines are getting equal amounts of time and we're never worried about who's going out there."
Entering the week, eight different Lehigh Valley skaters had tallied at least one power play conversion this season, including Carey who currently leads all AHLers with eight man-advantage markers (Tuscon's Brendan Perlini is second with five).
But what's made Lehigh Valley's power play so dangerous early on is that it rarely strikes just once on the man advantage.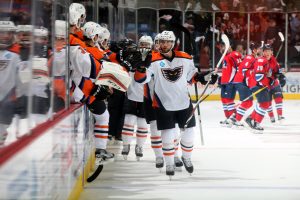 The Phantoms have netted multiple power play conversions in a single game already seven times this season, including a trio of three man-advantage marker nights. Unsurprisingly, Lehigh Valley has won five of those seven games in which the team's power play accounts for multiple conversions.
"We have our set plays," Carey added. "And there's just so much skill on both power play units that our expectation is to go 2-for-5 or 3-for-6."
And that sustained offensive success has not only helped to produce 10 wins through the club's first 15 games overall but was also a huge factor during the team's recent eight-game winning streak.
In rattling off eight consecutive triumphs from November 2 to November 18, the Phantoms produced 11 man-advantage markers en route to a scorching 33.3 percent power play efficiency during the streak.
But the kind of early season success the Phantoms have enjoyed so far doesn't just come from putting the puck in the other team's net, which is why Lehigh Valley's efforts on the penalty kill have been equally important in guiding the club's success.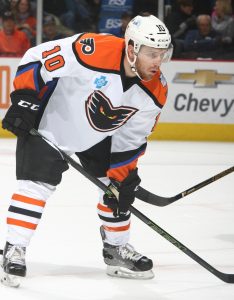 The Phantoms surrendered six power play goals against through the team's first six games (2-3-1) but have allowed just four over nine games since (9-1) – a run that includes 16 consecutive successful penalty kills from November 5-18.
"What I like right now is that we're not allowing a lot of possession time on their power play," said Phantoms Head Coach Scott Gordon. "We're just not allowing our opposition a lot of sustained attack time and long, good looks at the net."
Lehigh Valley is 7-1 this season in games in which the opposition fails to convert on the power play and while the Phantoms have produced seven multi-power play goals on their side, Lehigh Valley's penalty kill has allowed only three such games to its opposition this year.
What's more, during the team's recent eight-game winning streak, the Phantoms allowed just three power play goals in 28 man-down scenarios (89.3 percent).
There's no denying there are a host of contributing factors to Lehigh Valley's early season surge, from strong goaltending to balanced scoring to adept decision making on the back end, but there can also be no denying that the Phantoms' special teams play, both up and down a man, has been a huge component to the team's roaring start.