28 Saves for Rookie Goalie in First-Ever 1-0 Decision for Lehigh Valley
November 23, 2016
Binghamton, NY – When the league's top offense had a tougher than usual time breaking through one can be thankful for solid goaltending. Rookie goalie Alex Lyon was magnificent in a 28-save gem lifting the visiting Phantoms to a 1-0 victory at the Binghamton Senators on Thanksgiving Eve. It was the first professional shutout for Lyon and the first-ever 1-0 decision in Lehigh Valley history.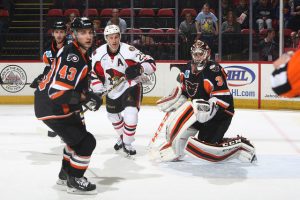 Colin McDonald (8th) scored against Binghamton's Andrew Hammond midway through the third for the lone goal either side would notch.
Some shutouts are a bit easier than others. This one was not of the simple variety for Lyon. The 23-year-old from Yale University made a number of magnificent stops including a handful from close range or point-blank. Nick Paul was robbed with seven minutes to go in the first on a diving glove stop by Lyon lunging to his left after a Buddy Robinson wrap-around appeared to set up the Senators for an early strike. That may have been Lyon's best of the night but there were certainly other candidates worthy of consideration as well. Guillaume Lepine and Francis Perron both were denied on quality opportunities. And with about about six minutes to go in the game, Lyon flashed the right pad to repel Phil Varone on a low-slot chip in transition on a perfect give from Penn State product Casey Bailey in the corner.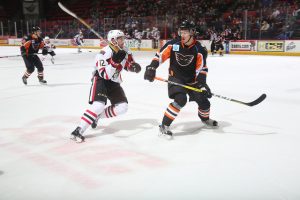 The Phantoms were not without their quality opportunities as well but were repeatedly robbed by The Hamburglar, Andrew Hammond, as the nail-biting goaltenders' duel ticked on and on with neither side breaking through.
Finally, Taylor Leier connected with Colin McDonald on a little give-and-go. Leier declined his opportunity to shoot and thought he could set up McDonald nicely. Hammond appeared to make the initial stop off the left leg but the Phantoms captain stayed with it to secure the lone lamplighter of the evening. Corban Knight received an assist on the critical strike as well.
Hammond likely deserved a better result for his spectacular performance. The send-down from the Ottawa Senators was appearing for Binghamton for the first time this season. The former 2014-15 sensation in the NHL who exploded on the scene for a 20-1-2 record had been sidelined with an injury this year.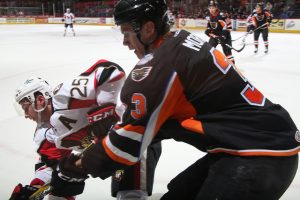 Lyon secured the Phantoms first 1-0 victory since January 3, 2014 when Cal Heeter accomplished the feat for the Adirondack Phantoms against the Hershey Bears. It is the 16th time in franchise history for a 1-0 shutout win or a 0-0 tie.
Alex Lyon becomes the fourth Lehigh Valley backstop to post a shutout joining Anthony Stolarz (3), Martin Ouellette (2) and Jason LaBarbera (1). It is the seventh shutout all-time for Lehigh Valley and the 90th shutout ever in the 21 seasons of the Phantoms franchise.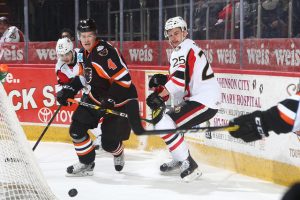 Lehigh Valley and Binghamton return to action for a Black Friday rematch at PPL Center at 7:05. The team's Go Birds Tailgate will feature Ron Jaworski and the Eagles Cheerleaders at PPL Center with "Jaws" signing autographs in the concourse from 6:00-6:45. The Phantoms conclude their Thanksgiving Holiday Weekend Feast of Hockey with a Saturday night clash against the Hartford Wolf Pack at 7:05. Tickets are available at PPLCenter.com or by calling (610) 347-TIXX.
1-0 shutouts (or 0-0 ties) for Phantoms:
Alex Lyon, 11/23/2016 LV at Binghamton
Cal Heeter, 1/3/2014 ADK vs. Hershey
Michael Leighton, 3/23/2012 ADK at WBS
Michael Leighton, 2/12/2011 ADK at WBS
Martin Houle, 4/2/2008 PHI vs. Norfolk
Brian Boucher, 2/15/2008 PHI at WBS
Scott Munroe, 12/15/2007 PHI at Norfolk
Jaime Storr, 10/22/2005 PHI at Norfolk
Neil Little, 4/10/2004 PHI at Bridgeport (0-0 tie)
Antero Niittymaki, 3/27/2004 PHI at Binghamton (1-0 OT)
Neil Little, 12/23/2003 PHI at Hamilton
Antero Nitttymaki, 11/16/2003 PHI vs. Providence
Neil Little, 10/12/2002 PHI vs. Rochester (1-0 OT)
Jean-Marc Pelletier, 2/6/1999 PHI at Lowell
Jean-Marc Pelletier, 11/21/1998 PHI at Syracuse
Brian Boucher, 10/10/1998 PHI at Syracuse (0-0 tie)
Lehigh Valley Phantoms 1 at Binghamton Senators 0 – Status: Final
Wednesday, November 23, 2016 – Floyd L. Maines Veterans Memorial Arena
Lehigh Valley 0 0 1 – 1
Binghamton 0 0 0 – 0
1st Period- No Scoring.Penalties-Rupert Bng (delay of game), 10:49; Weal Lv (tripping), 15:19.
2nd Period- No Scoring.Penalties-No Penalties
3rd Period-1, Lehigh Valley, McDonald 8 (Leier, Knight), 9:21. Penalties-Zengerle Lv (hooking), 13:57.
Shots on Goal-Lehigh Valley 6-10-9-25. Binghamton 10-9-9-28.
Power Play Opportunities-Lehigh Valley 0 / 1; Binghamton 0 / 2.
Goalies-Lehigh Valley, Lyon 5-2-1 (28 shots-28 saves). Binghamton, Hammond 0-1-0 (25 shots-24 saves).
A-2,875
Referees-Mike Campbell (36), Ben Moser (3).
Linesmen-Francois Dussureault (60), John Everett (82).
RISE UP! Another thrilling season of Lehigh Valley Phantoms hockey at PPL Center is underway! Reserve your season tickets and group outings for the 2016-2017 season of Phantoms hockey today. For more information on how to reserve your seat at PPL Center to the hottest ticket in town, call the Phantoms front office today at 610-224-GOAL [4625]!
And for the latest Phantoms news, visit www.phantomshockey.com or follow the team on Facebook (www.facebook.com/lehighvalleyphantoms), Twitter (@lvphantoms), Instagram (@lehighvalleyphantoms) and Snapchat (lvphantoms).
The Phantoms are thrilled to host the 2017 Capital BlueCross AHL All-Star Classic at PPL Center January 28-30. The Capital BlueCross AHL All-Star Classic weekend includes a Phan Fest during the day on Saturday, January 28 and a Tailgate Party that evening, followed by the AHL All-Star Skills Competition on Sunday, January 29 and the 2017 AHL All-Star Game on Monday, January 30. Don't miss this once-in-a-lifetime event. Packages starting at just $67 for the 2017 AHL All-Star Classic weekend are on sale now and include admission to Saturday's Phan Fest & Tailgate Party, Sunday's AHL All-Star Skills Competition and Monday's All-Star Game. To purchase tickets, please visit www.phantomshockey.com or www.pplcenter.com.
The Phantoms are coming off their 20th Anniversary Season and second campaign in the Lehigh Valley playing at the state-of-the-art PPL Center. Established in 1996, the Phantoms spent their first 13 seasons at the Spectrum in Philadelphia before re-locating to Glens Falls, New York in 2009 where the team spent the next five seasons as the Adirondack Phantoms. A new era of Phantoms hockey began in the fall of 2014 when the Lehigh Valley Phantoms began play at the state-of-the-art PPL Center. Through 19 incredibly successful campaigns, the Phantoms have captured two Calder Cup Championships (1998, 2005), two Conference Championships (1998, 2005), two Regular Season Titles (1996-97, 1997-98) and four Division Championships (1996-97, 1997-98, 1998-99, 2003-04).