Phantoms Freeze the Penguins 6-2
January 31, 2015
Wilkes-Barre, PA – The Lehigh Valley Phantoms surged for six unanswered strikes for an exciting rivalry win 6-2 at the Wilkes-Barre/Scranton Penguins on Saturday. Six different Phantoms tallied lamplighters as the team equaled their highest goal output of the season first achieved on January 11th in a 6-2 victory at St. John's.
Jesper Pettersson's first career goal broke a 2-2 tie early in the second period. Andrew Gordon (14), Adam Comrie (1), Taylor Leier (11), Nick Cousins (14) and Jason Akeson (9) all scored in the big night. Cousins and Leier both notched a pair of assists as well for three-point nights.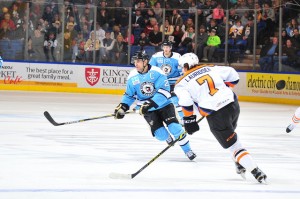 While the final score indicated a blowout result, the game was actually very tight and competitive throughout. In fact, the Phantoms were somewhat fortunate to be leading at the second break after being outshot 16-2 in in the period by a relentless Penguins attack. Rob Zepp stopped all 16 drives in that frame including a spectacular block with his right arm on a Tom Kostopolous point-blank drive that has to rate as one of Zepp's best of the season.
The Phantoms actually got off to a strong start in the game despite the 2-0 deficit. Lehigh Valley had the better of the play and were generating quality chances at Penguins' starting goalie Matt Murray. But Scott Wilson curled his way around a defenseman and then tucked the puck through Rob Zepp to stake the home team to a 1-0 lead. And shortly after an unfortunate and accidental closing-hand-on-puck penalty against Brett Flemming on a check from Bobby Farnham the Penguins would double their lead with a fortunate bounce. Tom Kuhnhackl scored off a rebound-save of a Brian Rust drive when the puck would bounce off Rob Zepp's left shoulder then off the chest of Kuhnhackl and directly into the net.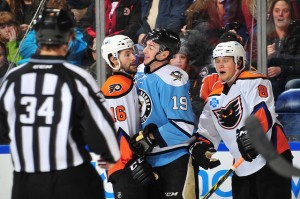 Cue the comeback. The Phantoms stuck with the game-plan with the knowledge they still were playing well. And the goals came….a lot of them.
Andrew Gordon cranked up a one-timer from the right circle for his 14th of the year on some good work from right-to-left across the zone by Nick Cousins and Jay Rosehill. Then Adam Comrie blasted his first career Phantoms goal from the high-slot going high glove on Murray to even the score at 2-2.
Early in the second period during some four-on-four, Nick Cousins and Jesper Pettersson would speed their way into the Penguins zone while. Pettersson on the receiving end of the give-and-go converted on his wrister from the right circle to break the tie. The 20-year-old rookie from Sweden was a seventh-round selection of the Flyers in 2014 and celebrated his first career professional goal in tie-breaking fashion. That was the end of the game for starter Matt Murray who was replaced by veteran Jeff Zatkoff in net.
But after that point it was the Rob Zepp Show for the rest of the period while Zatkoff didn't see a single shot on goal for his 14:50 of game-time in the middle-period. Zepp, however, saw plenty and made several dazzling saves to somehow preserve the one-goal lead. It appeared Wilkes-Barre had tied the score on a goal from the right side of the cage by Nick Drazenovic but the score was quickly waved off due to incidental contact with goalie Rob Zepp on the initial drive from the other wing.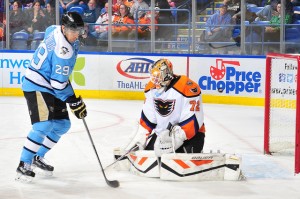 Taylor Leier scored his third goal in his last four games in the opening seconds of the third period when Jason Akeson's right-wing pass connected with Leier in the slot.
Nick Cousins scored from the right circle on the power play at 3:53 of the third period on a series of rebounds and long scramble in the crease and slot. When the puck was nudged out to Gordon in the slot, he smartly slid a perfectly placed pass over to Cousins for the open opportunity instead of trying to fire one through traffic himself.
Jason Akeson closed the scoring with a nifty drag from the top of the right circle to the high slot followed by a sharp snapper across the grain going back behind the left skate of Zatkoff.
Akeson's ninth goal of the season is also the 67th of his career with the Phantoms moving him into the Top 10 all-time in Phantoms' franchise history. Akeson is currently tied for 10th with Boyd Kane and is one away from moving into a three-way tie for eighth with Craig Darby and Jared Ross.
Akeson's two-point effort now gives him 194 on his career placing his just six points away from becoming the fifth Phantom ever to reach 200 points in a career. When he reaches the milestone, Akeson will join Peter White (472) Mark Greig (372), John Slaney (293) and Kirby Law (222) as the only other Phantoms players to achieve the feat. Akeson's assist was his 127th all-time with the Phantoms which is fifth all-time and just three away from Shawn McCosh for fourth.
The contest was also a particularly chippy affair between the bitter Keystone State rivals meeting for the 131st game all-time in the series dating back to 1999. Several fights and dust-ups developed throughout particularly in the closing minutes when the end result had already been decided. The Phantoms were assessed 67 penalty minutes on 13 infractions while Wilkes-Barre/Scranton was tagged for 93 minutes on 18 total penalties. The game had three different fights including two each for Lehigh Valley's Derek Mathers and Wilkes-Barre's tough-guy Pierre-Luc Letourneau-Leblond. The best of the night came with 3:15 remaining when Zack Stortini and Letourneau-Leblond exchanged powerful blows in a battle of heavyweights. Steven Delisle almost went at it with Bobby Farnham at the same time but the officials interceded in that one.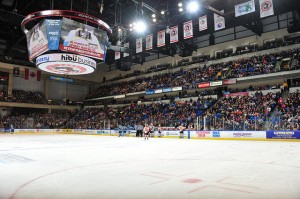 Rob Zepp improved to 12-6-4 with 27 saves on 29 shots. The Penguins outshot the Phantoms 29-20. Lehigh Valley was 2-for-8 on the power play while Wilkes-Barre/Scranton finished 1-for-5.
The Phantoms are 3-2-1 against the Penguins this season and are 2-2 at Mohegan Sun Arena in Wilkes-Barre. Lehigh Valley and Wilkes-Barre will see a lot of each other over the final three months of the regular season with six more tilts slated for the bitter rivals. The Phantoms return to Wilkes-Barre on Valentine's Day for another Saturday showdown. The Penguins have three more visits to PPL Center upcoming but their next appearance isn't until March 22.
Lehigh Valley only has one home game this week. The Worcester Sharks arrive to PPL Center for a Wednesday night contest. Wednesday's game features yet another opportunity to meet Phantoms players up close and in person as the team hosts a post-game skate with the Phantoms following the conclusion of the game. Bring your skates to the game that night and then take to the ice with your favorite players afterwards. Wednesday's contest is also another $2 Beer Night as $2 Coors Light drafts will be available from the time doors open until the start of the 2nd period. $2 beers will be available behind Section 108.
Don't forget Cap Night on February 13th against the Binghamton Senators. Free Phantoms Ball Caps for all fans in attendance.
Check it out! Reserve your season tickets now for the 2015-2016 season of Lehigh Valley Phantoms hockey. For more information on how to reserve your seat at PPL Center to the hottest ticket in town call the Phantoms front office today at 610-224-GOAL (4625)!
Lehigh Valley Phantoms 6 at Wilkes-Barre/Scranton Penguins 2 – Status: Final
Saturday, January 31, 2015 – Mohegan Sun Arena at Casey Plaza
Lehigh Valley 2 1 3 – 6
W-B/Scranton 2 0 0 – 2
1st Period-1, W-B/Scranton, Wilson 9 (Rust, Ebbett), 6:24. 2, W-B/Scranton, Kuhnhackl 4 (Rust, Ebbett), 10:23 (PP). 3, Lehigh Valley, Gordon 14 (Rosehill, Cousins), 12:30. 4, Lehigh Valley, Comrie 1 (Leier, Hagg), 15:47 (PP). Penalties-Boak Wbs (high-sticking), 2:55; Flemming Lv (closing hand on puck), 9:16; McNeill Wbs (cross-checking), 13:58; Pettersson Lv (hooking), 16:58; Kostopoulos Wbs (slashing), 18:49.
2nd Period-5, Lehigh Valley, Pettersson 1 (Cousins), 5:10. Penalties-Megna Wbs (high-sticking), 3:22; Alderson Lv (holding), 4:14; Rosehill Lv (roughing), 6:55; Mathers Lv (fighting), 9:12; Letourneau-Leblond Wbs (fighting), 9:12; Stortini Lv (interference), 15:23.
3rd Period-6, Lehigh Valley, Leier 11 (Akeson), 0:20. 7, Lehigh Valley, Cousins 14 (Gordon, Stortini), 3:53 (PP). 8, Lehigh Valley, Akeson 9 (Leier), 9:54. Penalties-Chorney Wbs (tripping), 2:16; Lauridsen Lv (misconduct – unsportsmanlike conduct), 10:05; McNeill Wbs (boarding, misconduct – unsportsmanlike conduct), 10:05; Sheary Wbs (goaltender interference), 12:43; Fyten Lv (misconduct – unsportsmanlike conduct), 15:45; Boak Wbs (misconduct – unsportsmanlike conduct), 15:45; Delisle Lv (misconduct – unsportsmanlike conduct), 16:45; Stortini Lv (fighting), 16:45; Farnham Wbs (misconduct – unsportsmanlike conduct), 16:45; Letourneau-Leblond Wbs (instigating, fighting, game misconduct – instigator (last 5:00, game misconduct – third major/second fight), game misconduct – third major/second fight), 16:45; Megna Wbs (misconduct – abuse of officials), 16:45; Mathers Lv (roughing, fighting, game misconduct – third major/second fight), 18:03; Chorney Wbs (unsportsmanlike conduct, fighting), 18:03.
Shots on Goal-Lehigh Valley 10-2-8-20. W-B/Scranton 8-16-5-29.
Power Play Opportunities-Lehigh Valley 2 / 8; W-B/Scranton 1 / 5.
Goalies-Lehigh Valley, Zepp 12-6-1 (29 shots-27 saves). W-B/Scranton, Murray 11-8-1 (12 shots-9 saves); Zatkoff 11-10-2 (8 shots-5 saves).
A-8,217
Referees-Tim Mayer (19), Keith Kaval (40).
Linesmen-Jud Ritter (34), Luke Murray (92).
Upcoming Home Games:
Wednesday, February 4, 2015 Worcester Sharks vs. Lehigh Valley Phantoms, 7:05 PM
(Post-Game Skate with the Phantoms! Bring your skates to the game and take to the ice with your favorite Phantoms players following the game!)
($2 Beer Night! $2 beers from the time doors open until the start of the 2nd period. Available behind Section 108. Please drink responsibly.)
Friday, February 13, 2015 Binghamton Senators vs. Lehigh Valley Phantoms, 7:05 PM
(Phantoms Hat Giveaway! FREE Phantoms hat for all fans in attendance.)
Wednesday, February 18, 2015 Binghamton Senators vs. Lehigh Valley Phantoms, 7:05 PM
($2 Beer Night! $2 beers from the time doors open until the start of the 2nd period. Available behind Section 108. Please drink responsibly.)
Friday, February 20, 2015 Providence Bruins vs. Lehigh Valley Phantoms, 7:05 PM
In their 19th season of operation, the Phantoms are currently in the midst of their Inaugural Season as the Lehigh Valley Phantoms playing at the brand-new PPL Center. Established in 1996, the Phantoms spent their first 13 seasons at the Spectrum before re-locating to Glens Falls, New York in 2009 where the team spent the next five seasons as the Adirondack Phantoms. A new era of Phantoms hockey began in the fall of 2014 when the Lehigh Valley Phantoms began play at the state-of-the-art PPL Center. Through 18 incredibly successful campaigns, the Phantoms have captured two Calder Cup Championships (1998, 2005), two Conference Championships (1998, 2005), two Regular Season Titles (1996-97, 1997-98) and four Division Championships (1996-97, 1997-98, 1998-99, 2003-04).