A-Mac Scores Twice in Return Including 2015 Teddy Bear Goal
December 12, 2015
Lehigh Valley, PA – It was a Saturday night that had a little bit of everything…and then some. Andrew MacDonald opened the scoring with the 2015 Teddy Bear Goal and then the game settled into an intense back-and-forth battle eventually concluding with a 5-4 shootout win for the Lehigh Valley Phantoms over the visiting Springfield Falcons.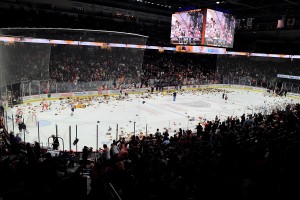 MacDonald would score again in the third period but it was his first-period blast from the high slot on a drop from Jay Rosehill that he will remember most. Thousands of Teddy Bears rained onto the ice from all corners of PPL Center in the team's second-annual Teddy Bear Toss presented by Dan's Camera City to benefit Valley Youth House who will distribute the donations to needy kids around the Lehigh Valley thus brightening their holidays. The scene in downtown Allentown was certainly something to behold as another sellout crowd delighted in their opportunity to throw their new and gently-used stuffed animal donations onto the ice after the Phantoms opening strike which came at 10:03 into the first period. All of the stuffed animals will be loaded into the team's Fanboni and delivered by Phantoms players personally to Valley Youth House later in the week.
"It's for a good cause. It's pretty cool," MacDonald said of the opening goal in his first game back with the Phantoms after a week-long stint in the NHL with the Flyers.
Then, after the game, the fans joined the Phantoms players on the ice for a postgame open skate where the players had the opportunity to thank the fans for their support and pose for several photographs as part of another showing of the team's commitment to the community.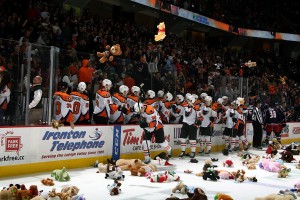 In between the Teddy Bear frenzy and the postgame skating with the players was a topsy-turvey affair that featured two video-reviews of goals in the third period (one goal for Lehigh Valley and one for Springfield, both of which were upheld), a penalty shot denial in the first, a two-goal comeback in the third period by the visitors, and just a generally wacky and entertaining game which seems to be the Phantoms' hallmark more often than not.
Aside from MacDonald's two goals (his second and third) were lamplighters from Taylor Leier (7th) and Danick Martel (10th). Martel's was particularly special coming on his 21st birthday.
The Phantoms broke a 2-2 deadlock with a pair of goals early in the third period to take a 4-2 lead. But former Phantom Steven Delisle helped spark a Falcons comeback with a pair of assists as the Falcons rallied to even the score again.
After killing a Springfield power-play in the overtime, the Phantoms were able to grind the game along to the shootout phase where Leier and Petr Straka converted back-to-back to clinch matters after only two rounds with Anthony Stolarz denying both Springfield shooters.
Springfield received strikes from Dominic Monardo, Dan O'Donoghue, Dustin Jeffrey and Eric Selleck. Anthony Stolarz was tested by several breakaways and also denied a penalty shot granted to Dustin Jeffrey in the first period with a fine save off the left pad.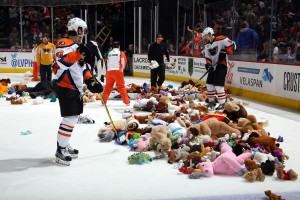 Lehigh Valley makes it look easy after overtime boating a gaudy 10-1 record all-time in the shootout round since moving into their dazzling, new facility in downtown Allentown. The Phantoms are 3-0 n shootouts this season after the team went 7-1 a season ago.
The Phantoms are 2-1 thus far on their five-game homestand and improved to 2-0 against division-rival Springfield this year with two games still to play. Both of the team's wins in the homestand have come via extra-time; Nick Cousins scored an overtime winner against Hershey to commence the stretch of consecutive PPL Center dates on Wednesday.
The Phantoms out shot Springfield in the wild affair 39-37 including 18-10 in the run-and-gun third period. Lehigh Valley went 2-for-5 on the power play while limiting Springfield to 0-for-5 including the gigantic penalty kill success in the overtime period.
The Phantoms continue their homestand on Wednesday and Friday hosting rivals Wilkes-Barre/Scranton and Hershey back to back. Wednesday's game with the Penguins is Miltary Appreciation Night. Friday's engagement with the Bears is Youth Winter Hat Night for the first 2,500 kids age 14 and under presented by PPL. Tickets are available at PPLCenter.com or by calling 610-347-TIXX (8499).
Springfield Falcons 4 at Lehigh Valley Phantoms 5 (SO) – Status: Final SO
Saturday, December 12, 2015 – PPL Center
Springfield 1 1 2 0 – 4
Lehigh Valley 2 0 2 0 – 5
1st Period-1, Lehigh Valley, MacDonald 2 (Rosehill, Bardreau), 10:03. 2, Springfield, Monardo 3 (Potter, P. Samuelsson), 11:11. 3, Lehigh Valley, Leier 7 (Straka, Cousins), 17:25 (PP). Penalties-Alt Lv (tripping), 2:56; Lamarche Lv (goaltender interference), 5:55; Dauphin Spr (goaltender interference), 15:42; Palushaj Lv (hooking), 15:42; Lane Spr (double minor – high-sticking), 16:40.
2nd Period-4, Springfield, O'Donoghue 2 (Dauphin, Plachta), 4:43. Penalties-Dauphin Spr (slashing), 2:27; Lamarche Lv (hooking), 12:48; Mauermann Spr (interference), 15:12; Potter Spr (cross-checking), 16:58; Goulbourne Lv (diving/embellishment), 16:58.
3rd Period-5, Lehigh Valley, Martel 10 (Lamarche, Drewiske), 1:29. 6, Lehigh Valley, MacDonald 3 (Cousins, Straka), 3:44 (PP). 7, Springfield, Jeffrey 9 (DiSalvatore, Delisle), 9:41. 8, Springfield, Selleck 3 (Delisle, Jeffrey), 13:24. Penalties-Bunting Spr (hooking), 2:33; served by Martel Lv (bench minor – too many men), 6:47.
OT Period- No Scoring.Penalties-Palushaj Lv (tripping), 2:17.
Shootout – Springfield 0 (Jeffrey NG, DiSalvatore NG), Lehigh Valley 2 (Leier G, Straka G).
Shots on Goal-Springfield 9-14-10-4-0-37. Lehigh Valley 11-8-18-1-1-39.
Power Play Opportunities-Springfield 0 / 5; Lehigh Valley 2 / 5.
Goalies-Springfield, Treutle 5-4-1 (38 shots-34 saves). Lehigh Valley, Stolarz 11-6-0 (37 shots-33 saves).
A-8,439
Referees-Mark Lemelin (41).
Linesmen-Tom George (61), Richard Jondo (55).
Linesmen-Tim Lyons (33), Scott Pomento (25).
Upcoming Home Games:
Wednesday, December 16, 2015, WB/Scranton Penguins vs. Lehigh Valley Phantoms, 7:05 p.m. | TIX
(Military Appreciation Night.)
Friday, December 18, 2015, Hershey Bears vs. Lehigh Valley Phantoms, 7:05 p.m. | TIX
(Presented by PPL. Youth Winter Hat Giveaway presented by PPL Corporation. Free Youth Winter Hat to First 2,500 Kids 14 and Under.)
In the midst of their 20th season of operation, the Phantoms are coming off their Inaugural Season as the Lehigh Valley Phantoms playing at the brand-new PPL Center. Established in 1996, the Phantoms spent their first 13 seasons at the Spectrum in Philadelphia before re-locating to Glens Falls, New York in 2009 where the team spent the next five seasons as the Adirondack Phantoms. A new era of Phantoms hockey began in the fall of 2014 when the Lehigh Valley Phantoms began play at the state-of-the-art PPL Center. Through 19 incredibly successful campaigns, the Phantoms have captured two Calder Cup Championships (1998, 2005), two Conference Championships (1998, 2005), two Regular Season Titles (1996-97, 1997-98) and four Division Championships (1996-97, 1997-98, 1998-99, 2003-04).