Packed PPL Center Marks 13th Sellout of Season
February 20, 2015
Lehigh Valley, PA – Petr Straka netted his 13th goal of the season and the Lehigh Valley Phantoms enjoyed their 13th sellout of the season but a four-goal second-period surge by the Providence Bruins was too much to overcome Friday evening as the Phantoms were handed a 5-1 setback at PPL Center.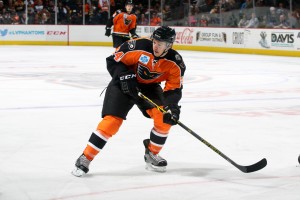 Nick Cousins picked up yet another point in the contest as the reigning CCM/AHL Player of the Month for January produced his 12th point in just eight February outings to increase his team-leading point total to 46 on the year. The Belleville, Ontario native has now registered 16 goals, 30 assists and 46 points this season and has recorded a whopping 29 points (nine goals, 20 assists) in 21 games since January 1st.
It was another packed house at PPL Center as 8,590 fans braved the bitterly cold temperatures outside to enjoy another edition of Phantoms hockey in downtown Allentown. The standing room-only sellout crowd marked the 13th capacity crowd this season for Lehigh Valley and the 16th time more than 8,000 supporters have crossed the turnstiles.
Ryan Spooner and Colin Stuart led the offensive charge for Providence with two goals apiece while David Warsofsky, Seth Griffith and Zach Trotman each chipped in a pair of assists.
Jeremy Smith earned the victory in goal for the Bruins with 26 saves on 27 shots while Anthony Stolarz and Martin Ouellette combined for 27 denials on 32 total Providence offerings.
The defensive efforts for both sides were in fine form in the opening period as neither the Phantoms nor the Bruins were able to find the back of the net in the first frame despite a combined 16 shots on goal. Lehigh Valley opened the contest with a bullish effort on the forecheck as the Phantoms used a physical presence below the goal line to generate the game's first scoring opportunities but Smith was up to the early challenges.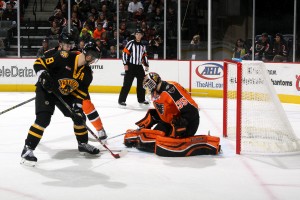 Then it was Stolarz's turn to show off between the pipes for Lehigh Valley. Just past the midway point of the opening period and with Robert Hagg in the penalty box following a hooking infraction, Stolarz spearheaded a perfect Phantoms' penalty kill which featured four saves in quick succession including a dazzling right-pad denial on a one-time opportunity from the slot.
The Bruins were able to break the scoreless deadlock early the second period when Spooner darted in on the left wing before snapping his seventh goal of the season just over Stolarz's outstretched glove. Steve Eminger and Stuart assisted on the even strength strike netted just eight seconds into the middle stanza.
Lehigh Valley nearly leveled the contest a little over eight minutes later when a right wing shot by Austin Fyten produced a rebound off Smith that was swatted in by the left arm of Jay Rosehill. After video review, it was determined the puck was illegally directed in by Rosehill's arm negating the Phantoms' bid to even the tilt.
Providence then doubled its advantage roughly three minutes later when, while on the power play, Trotman's blast from the right point produced a rebound atop Lehigh Valley's goal crease that was punched in by Stuart amidst a goal mouth scramble. Warsofsky grabbed the secondary assist on Stuart's seventh tally of the season.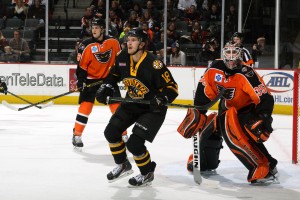 The Bruins then stretched their advantage to a 4-0 lead with a pair of goals just a minute apart in the closing minutes of the middle stanza. First, Andrew Cherniwchan slipped behind the Phantoms' defense before sending in his fourth conversion of the season. Then, exactly 60 seconds later, Spooner connected with a right wing one-timer on the power play for his second goal of the night and eighth of the year.
Stuart picked up his second tally of the night and eighth of the season as well less than six minutes into the third period before Straka got the Phantoms on the board with his 13th tally. After a Lehigh Valley faceoff win in the attacking end by Cousins, both Cousins and Straka battled for a loose puck atop the Providence goal crease before Straka was able to send it over the goal line.
The Phantoms conclude their busy week at home on Saturday when they welcome the New York Rangers' affiliate, the Hartford Wolf Pack, to PPL Center for the final time this season. A limited number of tickets for Saturday's tilt are available now at the Mealey's Furniture Box Office at PPL Center (701 Hamilton), by calling 610-347-TIXX (8499) or online at pplcenter.com.
Check it out! Reserve your season tickets now for the 2015-2016 season of Lehigh Valley Phantoms hockey. For more information on how to reserve your seat at PPL Center to the hottest ticket in town call the Phantoms front office today at 610-224-GOAL (4625)!
Providence Bruins 5 at Lehigh Valley Phantoms 1 – Status: Final
Friday, February 20, 2015 – PPL Center
Providence 0 4 1 – 5
Lehigh Valley 0 0 1 – 1
1st Period- No Scoring.Penalties-Camara Pro (boarding), 2:53; Hagg Lv (hooking), 12:19; Fyten Lv (interference), 16:48.
2nd Period-1, Providence, Spooner 7 (Eminger, Stuart), 0:08. 2, Providence, Stuart 7 (Trotman, Warsofsky), 11:36 (PP). 3, Providence, Cherniwchan 4 (Trotman, Breen), 16:03. 4, Providence, Spooner 8 (Griffith, Warsofsky), 17:03 (PP). Penalties-Breen Pro (high-sticking), 5:34; Comrie Lv (high-sticking), 10:53; Fyten Lv (high-sticking), 16:14; Randell Pro (fighting), 17:58; Manning Lv (fighting), 17:58.
3rd Period-5, Providence, Stuart 8 (Griffith), 5:42. 6, Lehigh Valley, Straka 13 (Cousins), 15:51. Penalties-Sexton Pro (misconduct – unsportsmanlike conduct), 19:52; Comrie Lv (roughing, misconduct – unsportsmanlike conduct), 19:52.
Shots on Goal-Providence 10-17-5-32. Lehigh Valley 6-10-11-27.
Power Play Opportunities-Providence 2 / 5; Lehigh Valley 0 / 2.
Goalies-Providence, Smith 14-7-1 (27 shots-26 saves). Lehigh Valley, Stolarz 7-11-0 (26 shots-22 saves); Ouellette 3-2-0 (6 shots-5 saves).
A-8,590
Referees-T.J. Luxmore (49), Jonathan Alarie (38).
Linesmen-Leo Boylan (97), Tom George (61).
Upcoming Home Games:
Saturday, February 21, 2015 Hartford Wolf Pack vs. Lehigh Valley Phantoms, 7:05 PM
(Legends Night! Frank "The Animal" Bialowas, one of the most feared players in Phantoms history, will be at the game. FREE Collector's Edition Poster for all fans.)
Saturday, February 28, 2015 Binghamton Senators vs. Lehigh Valley Phantoms, 7:05 PM
(Little League Night!)
Friday, March 6, 2015 Bridgeport Sound Tigers vs. Lehigh Valley Phantoms, 7:05 PM
(FREE Shirt Giveaway!)
Saturday, March 7, 2015 Portland Pirates vs. Lehigh Valley Phantoms, 7:05 PM
(Legends Night! John Slaney, 2005 Calder Cup champion and the third-highest scorer in Phantoms history, will be at the game. FREE Collector's Edition Poster for all fans.)
In their 19th season of operation, the Phantoms are currently in the midst of their Inaugural Season as the Lehigh Valley Phantoms playing at the brand-new PPL Center. Established in 1996, the Phantoms spent their first 13 seasons at the Spectrum before re-locating to Glens Falls, New York in 2009 where the team spent the next five seasons as the Adirondack Phantoms. A new era of Phantoms hockey began in the fall of 2014 when the Lehigh Valley Phantoms began play at the state-of-the-art PPL Center. Through 18 incredibly successful campaigns, the Phantoms have captured two Calder Cup Championships (1998, 2005), two Conference Championships (1998, 2005), two Regular Season Titles (1996-97, 1997-98) and four Division Championships (1996-97, 1997-98, 1998-99, 2003-04).