Wolf Pack Prevails 5-4 After Phantoms Dominate Extra Period
February 21, 2015
Lehigh Valley, PA – The Lehigh Valley Phantoms were the better team for much of the night and outshot the visiting Hartford Wolf Pack 7-2 in an exciting overtime. But Oscar Lindberg would fire in his second road overtime winner of the weekend to lead Hartford to a 5-4 win at PPL Center on a snowy Saturday evening in front of yet another standing-room only sellout crowd.
This game had it all. And the Phantoms put forth a tremendous effort for their fourth largest turnout of the season of 8,791 which represented the team's 14th sellout. Throughout the night, Lehigh Valley was peppering away on winning goalie Jeff Malcolm who was forced to make a number of sprawling stops. Zack Stortini (12th and 13th) almost sealed the overtime win with what would have been his first career hat trick but Malcolm was barely able to nudge away the big winger's back-to-back crease rebounds with the right leg.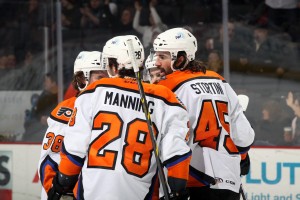 Jason Akeson and Nick Cousins also tallied for Lehigh Valley. For both young talents, their goals represented their 17th of the season. Akeson hit the post twice in the first period and also was stuffed on a breakaway in the opening frame on a night in which he easily could have had a hattie of his own…or more!
Cousins notched a goal and assist to increase his season point-total to 48 moving him into fourth in the AHL. And Cousins is fast on the rise and is now only nine points back of Teemu Pulkkinen of Grand Rapids who leads the circuit with 57 points.
"That was probably our best 60 minutes (actually 66 minutes) in awhile," Cousins said. "All four lines were playing well. We outplayed them for most of the game. They just scored on their chances was basically what it was. Their goalie made some big saves and that's basically the difference between winning and losing right there."
The overtime drama was nothing new for the Phantoms. Lehigh Valley has gone to extra hockey in four of their last five games (including three in a row at one point) as well as five of their last seven. The Phantoms are 5-6 in overtimes this season and are 10-7 in games decided after regulation which including a 5-1 mark in shootouts.
For Akeson, his three-point effort with a goal and two assists comes 24 hours removed from the conclusion of his AHL-Best 10-game point streak. The fourth-year pro has burned it up with nine goals in the last 10 games and has raced to the top of the team lead, along with Cousins, despite not even being with the team for the first six weeks of the season while he was still a member of the Flyers.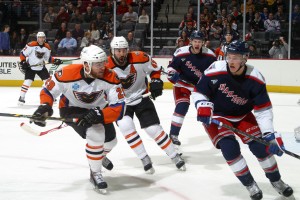 Akeson's goal in the second period came shorthanded. His score to tie the game at 3-3 came on a pretty drag from the right circle into the slot and then a top-shelf drive blocker-side on Jeff Malcolm after a quick hesitation move. It was Akeson's third shorthanded goal of the season moving him into a five-way tie for most shorties in the AHL.
Akeson's 207 points are fifth-most all-time in Phantoms franchise history. Now with 132 assists, Akeson is all alone in fourth place for the Phantoms breaking a tie with Shawn McCosh. The goal he scored was his 75th with the Phantoms which rates seventh on the team's leader-chart just six away from fifth held by Jon Matsumoto and Paul Healey who had 81 each.
Not to be overlooked was another stellar game for Zack Stortini who recorded his second two-goal effort in a week increasing his career-best single-season total to 13 goals. He notched back-to-back tip-ins in the second period on defenseman shots by Jesper Pettersson and Brandon Manning. Stortini has racked up five goals in the last four games.
"Great shots by the D getting pucks through and getting pucks to the net," Stortini said. "Great shots too by Cuzzy (Cousins) and Akey (Akeson). They're getting pucks to the net too. Jespy (Petterson) and Manning with great point shots too. You know it's a pleasure standing in front of the net when guys are shooting the puck like that."
The Wolf Pack never trailed in this game. They took the lead on four different occasions in regulation only to see the Phantoms battle back to equalize four times of their own. The Bourque brothers contributed a couple with Ryan Bourque (10th) and Chris Bourque (20th) beating starting goalie Martin Ouellette.
Former Phantom Tyler Brown, who played for the Adirondack Phantoms for the last three seasons, scored his fourth of the year in what was his first time facing his former teammates. Danny Kristo scored his 17th and Oscar Lindberg's overtime winner was his 16th of the season coming off a 2-on-1 rush after the Phantoms lost the puck on the Hartford line during 3-on-3 play late in the extra period.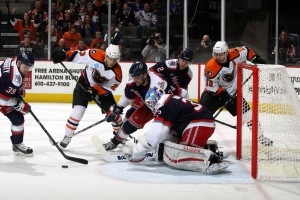 Ouellette started in goal for Lehigh Valley but was removed after Hartford took a 3-2 lead. Anthony Stolarz in relief in the second period was tested right away and made some fine stops right off the back before he even had a chance to get warmed up.
Lehigh Valley had this one for the taking on several occasions in the overtime including the almost-winner for Stortini in the crease. Hartford came away with the extra standings point but the Phantoms' consistent and hard performance was the story of the night.
"It was a hard, team-fought battle," Stortini said. "We've got to continue to do that. There's quite a few games here coming down the stretch. They're all big games and we're going to need efforts like that each and every night. We might not win every game coming down the stretch but we're sure as heck gonna try."
Lehigh Valley outshot Hartford 34-23 including 7-2 in the overtime. The Phantoms were 2-for-5 on the power play but missed on a chance to seal the win with a carry-over man-advantage at the beginning of the overtime. The Pack were 0-for-4 on the power play.
The Phantoms take a breather from their recent busy and hectic schedule of games and are off for a few days. They return to action next week as Lehigh Valley welcomes the rival Binghamton Senators back to PPL Center next Saturday, February 28. A limited number of tickets for Saturday's rivalry rematch are available now at the Mealey's Furniture Box Office at PPL Center (701 Hamilton), by calling 610-347-TIXX (8499) or online at pplcenter.com.
Check it out! Reserve your season tickets now for the 2015-2016 season of Lehigh Valley Phantoms hockey. For more information on how to reserve your seat at PPL Center to the hottest ticket in town call the Phantoms front office today at 610-224-GOAL (4625)!
Hartford Wolf Pack 5 (OT) at Lehigh Valley Phantoms 4 – Status: Final OT
Saturday, February 21, 2015 – PPL Center
Hartford 1 2 1 1 – 5
Lehigh Valley 0 3 1 0 – 4
1st Period-1, Hartford, R. Bourque 10 (McIlrath, Mueller), 10:05 (SH). Penalties-Lindberg Hfd (high-sticking), 8:13; Lauridsen Lv (interference), 13:53; Goumas Lv (tripping), 18:20.
2nd Period-2, Lehigh Valley, Stortini 12 (Pettersson, Cousins), 4:14. 3, Hartford, Brown 4 (Nehring, Kristo), 4:36. 4, Lehigh Valley, Stortini 13 (Manning, Akeson), 5:20 (PP). 5, Hartford, Kristo 17 (Lindberg, McIlrath), 8:21. 6, Lehigh Valley, Akeson 17 (Laughton), 11:05 (SH). Penalties-Spinell Hfd (holding), 4:51; Stortini Lv (tripping), 10:16; O'Donnell Hfd (high-sticking), 16:44; Vaive Hfd (fighting), 19:36; Fyten Lv (fighting), 19:36.
3rd Period-7, Hartford, Bourque 20 0:26. 8, Lehigh Valley, Cousins 17 (Manning, Akeson), 12:24 (PP). Penalties-McIlrath Hfd (cross-checking), 11:59; Laughton Lv (boarding), 16:52; Allen Hfd (high-sticking), 19:17.
OT Period-9, Hartford, Lindberg 16 5:48. Penalties-No Penalties
Shots on Goal-Hartford 3-8-10-2-23. Lehigh Valley 7-12-8-7-34.
Power Play Opportunities-Hartford 0 / 4; Lehigh Valley 2 / 5.
Goalies-Hartford, Malcolm 5-0-0 (34 shots-30 saves). Lehigh Valley, Ouellette 3-2-0 (7 shots-4 saves); Stolarz 7-11-0 (16 shots-14 saves).
A-8,791
Referees-Kendrick Nicholson (44).
Linesmen-Bill Lyons (27), Matt McNulty (26).
Upcoming Home Games:
Saturday, February 28, 2015 Binghamton Senators vs. Lehigh Valley Phantoms, 7:05 PM
(Little League Night!)
Friday, March 6, 2015 Bridgeport Sound Tigers vs. Lehigh Valley Phantoms, 7:05 PM
(FREE Shirt Giveaway!)
Saturday, March 7, 2015 Portland Pirates vs. Lehigh Valley Phantoms, 7:05 PM
(Legends Night! John Slaney, 2005 Calder Cup champion and the third-highest scorer in Phantoms history, will be at the game. FREE Collector's Edition Poster for all fans.)
In their 19th season of operation, the Phantoms are currently in the midst of their Inaugural Season as the Lehigh Valley Phantoms playing at the brand-new PPL Center. Established in 1996, the Phantoms spent their first 13 seasons at the Spectrum before re-locating to Glens Falls, New York in 2009 where the team spent the next five seasons as the Adirondack Phantoms. A new era of Phantoms hockey began in the fall of 2014 when the Lehigh Valley Phantoms began play at the state-of-the-art PPL Center. Through 18 incredibly successful campaigns, the Phantoms have captured two Calder Cup Championships (1998, 2005), two Conference Championships (1998, 2005), two Regular Season Titles (1996-97, 1997-98) and four Division Championships (1996-97, 1997-98, 1998-99, 2003-04).