Phantoms Earn Standings Point at Home
February 18, 2015
Lehigh Valley, PA – The Lehigh Valley Phantoms secured a standings point in an overtime thriller but were unable to snag the victory as the visiting Binghamton Senators rallied from behind for a 4-3 verdict on Wednesday evening at PPL Center.
The extra-time drama was nothing new for the Phantoms; their 16th game to go overtime this season was also their fourth such scenario in their last five games. The Phantoms are now 10-6 overall in post-regulation excitement including a 5-5 mark in overtimes and a 5-1 record in shootouts. Lehigh Valley is tied with St. John's for the second-highest total of overtime or shootout games this season trailing only Oklahoma City who have 17.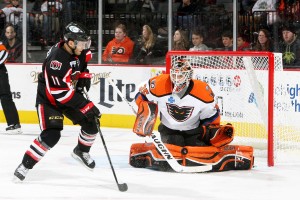 The Phantoms had won their last six straight overtime or shootout decisions dating all the way back to December 27. The Wednesday night loss in overtime was the first time since a December 20 overtime loss at Hartford in which the Phantoms had taken just a single standings point.
Jason Akeson scored his 16th of the season including his eighth goal in his last eight games while also extending his point-streak to an AHL-best 10 games. Akeson is one of four AHL'ers with a 10-game point streak this season and can become the first to reach 11 if he tallies again on Friday against Providence. Zack Stortini's career-high 11th goal of the season to open the night was his third goal in his last two games and Petr Straka contributed his 12th of the year to the Phantoms' attack.
Leading most of the way, the Phantoms appeared to be in good shape to walk out with a regulation win. But the never-say-die Senators rallied for game-tying goals two different times in the last four minutes of the third including a late equalizer with just 43 seconds left. Veteran captain Aaron Johnson would notch the game-winner with just 10.5 seconds remaining in overtime at the very end of a wild, back-and-forth extra stanza filled with exciting chances for both sides.
"We just got soft after a little bit I think," Jason Akeson said. "We had some chances. (We allowed) two goals late in the period like that. That's unacceptable. When you're trying to win games and it's playoff hockey (for us) right now that stuff can't happen."
The game was the opener of a four-game homestand for the Phantoms who also will play six out of seven at PPL Center. The stretch begins with three home games in four days including upcoming matches on Friday and Saturday against the Providence Bruins and Hartford Wolf Pack. The Phantoms are looking forward to the opportunity to show off their stuff again for the fans in the upcoming home games.
"You look at the start we had and the big crowds showing up for us," Brandon Manning said. "I'm sure it will be packed again Friday night. Early in the season we used that to our advantage but for whatever reason we've kind of been letting that slip."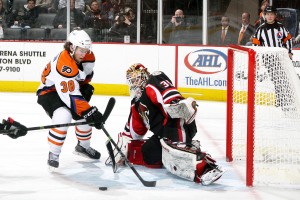 The Phantoms got off to yet another quick start against Binghamton at PPL Center. After scoring just 15 seconds in against the Senators on December 17 and only 14 ticks into its contest with Binghamton on January 17, Lehigh Valley connected less than a minute and a half in against its East Division rivals on this night. After a snap shot from Jason Akeson in the high slot bounded off the body of Nick Cousins atop the goal crease, Zack Stortini was there to gather the loose disc before sending in his 11th goal of the season as well as his third in his last two games.
Lehigh Valley then doubled its lead just past the midway point of the period when a left-point shot by Brandon Manning was expertly redirected about waist-high by Petr Straka for his 12th conversion of the year. Darroll Powe garnered the secondary assist on the five-on-five tally netted 13:51 into the first frame.
The Senators trimmed the Phantoms' advantage a little over two minutes into the second period when Garrett Thompson orchestrated an impressive deflection of his own resulting in his fifth goal of the season. Chris Wideman and Max McCormick assisted on the even strength marker converted 2:36 into the middle frame.
Binghamton kept up their attack and would finally equalize on their 38th shot of the night on a pick-off behind the Phantoms goal. Garrett Thompson connected in front with Darren Kramer on the right of the cage who was able convert on the short-side to the upper-ninety on Stolarz. With just 3:57 remaining in the third period the game was suddenly evened up again at 2-2.
That tie score would last for just 59 seconds though. Akeson perfectly placed a shot from center-point through a Stortini screen to been Senators goalie Scott Greenham with 2:58 left to put the Phantoms back in front again.
But Binghamton would storm back to tie the score yet again, this time with an empty-net on their side and an extra-attacker in the Phantoms' zone. Alex Grant blocked down a clearing try from the corner and his shot/pass into the slot was expertly deflected mid-route by NHL veteran Colin Greening with just 43 seconds left to forge the 3-3 deadlock.
Akeson almost kept us from going to another overtime. After a nick Cousins steal of the puck behind the Binghamton net, Akeson received a perfect pass in the slot and was barely denied off the right leg of Greenham with just two seconds to go. Akeson also had a glorious opportunity from the left circle in the extra-period but his drive barely bounced away either off the blocker of Greenham or the outside of the net on yet another close call.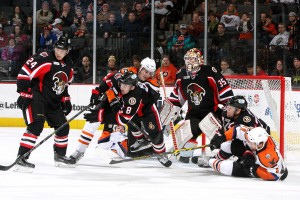 Tricking down to the final ticks of the seven-minute overtime, it appeared the Phantoms would be headed to their seventh shootout of the season already holding an impressive 5-1 mark in such scenarios. But Binghamton captain Aaron Johnson's third goal of the season would end matters with just 10.5 seconds left in the overtime with a perfectly placed blast from the high slot that would clang off the inside of the right post and to the back of the cage.
Binghamton outshot the Phantoms 44-36 in the game. Lehigh Valley was 0-for-3 on the power play while the visiting Senators were 0-for-2. Lehigh Valley is 2-1-1 at PPL Center against the Senators who make one more visit to downtown Allentown on February 28. The Phantoms also have a single sojourn remaining to the Southern Tier of New York in April.
The Phantoms homestand continues at PPL Center with two more games this weekend. Lehigh Valley welcomes the Providence Bruins to town for the first and only time this season on Friday. The Phantoms then conclude their busy week at home on Saturday when they host the New York Rangers' affiliate, the Hartford Wolf Pack, for the final time this season.
A limited number of tickets for both games are available at the Mealey's Furniture Box Office at PPL Center (701 Hamilton), by calling 610-347-TIXX (8499) or online at pplcenter.com.
Check it out! Reserve your season tickets now for the 2015-2016 season of Lehigh Valley Phantoms hockey. For more information on how to reserve your seat at PPL Center to the hottest ticket in town call the Phantoms front office today at 610-224-GOAL (4625)!
Binghamton Senators 4 (OT) at Lehigh Valley Phantoms 3 – Status: Final OT
Wednesday, February 18, 2015 – PPL Center
Binghamton 0 1 2 1 – 4
Lehigh Valley 2 0 1 0 – 3
1st Period-1, Lehigh Valley, Stortini 11 (Cousins, Akeson), 1:29. 2, Lehigh Valley, Straka 12 (Manning, Powe), 13:51. Penalties-Comrie Lv (holding), 16:54; Lauridsen Lv (slashing), 18:11; D. Grant Bng (delay of game – faceoff violation), 18:13; Wideman Bng (hooking), 19:06.
2nd Period-3, Binghamton, Thompson 5 (Wideman, McCormick), 2:36. Penalties-Mills Bng (roughing), 4:53; Comrie Lv (roughing), 4:53; Lepine Bng (fighting), 9:47; Lauridsen Lv (fighting), 9:47; A. Grant Bng (hooking), 13:25.
3rd Period-4, Binghamton, Kramer 4 (Thompson, Wideman), 16:03. 5, Lehigh Valley, Akeson 16 (Cousins, Alt), 17:02. 6, Binghamton, Greening 3 (A. Grant, Mills), 19:17. Penalties-Mills Bng (unsportsmanlike conduct), 19:46; Stortini Lv (unsportsmanlike conduct), 19:46.
OT Period-7, Binghamton, Johnson 3 (D. Grant, Wideman), 6:49. Penalties-No Penalties
Shots on Goal-Binghamton 16-13-10-5-44. Lehigh Valley 11-7-13-5-36.
Power Play Opportunities-Binghamton 0 / 2; Lehigh Valley 0 / 3.
Goalies-Binghamton, Greenham 9-6-1 (36 shots-33 saves). Lehigh Valley, Stolarz 7-10-0 (44 shots-40 saves).
A-6,856
Referees-Ryan Hersey (8).
Linesmen-Dave Brown (56), Ryan Knapp (73).
Upcoming Home Games:
Friday, February 20, 2015 Providence Bruins vs. Lehigh Valley Phantoms, 7:05 PM
Saturday, February 21, 2015 Hartford Wolf Pack vs. Lehigh Valley Phantoms, 7:05 PM
(Legends Night! Frank "The Animal" Bialowas, one of the most feared players in Phantoms history, will be at the game. FREE Collector's Edition Poster for all fans.)
Saturday, February 28, 2015 Binghamton Senators vs. Lehigh Valley Phantoms, 7:05 PM
(Little League Night!)
In their 19th season of operation, the Phantoms are currently in the midst of their Inaugural Season as the Lehigh Valley Phantoms playing at the brand-new PPL Center. Established in 1996, the Phantoms spent their first 13 seasons at the Spectrum before re-locating to Glens Falls, New York in 2009 where the team spent the next five seasons as the Adirondack Phantoms. A new era of Phantoms hockey began in the fall of 2014 when the Lehigh Valley Phantoms began play at the state-of-the-art PPL Center. Through 18 incredibly successful campaigns, the Phantoms have captured two Calder Cup Championships (1998, 2005), two Conference Championships (1998, 2005), two Regular Season Titles (1996-97, 1997-98) and four Division Championships (1996-97, 1997-98, 1998-99, 2003-04).