Phan Nation Produces 7th Straight Standing Room-Only Sellout
March 4, 2016
Lehigh Valley, PA – The Lehigh Valley Phantoms pumped 36 shots on the goal of the Wilkes-Barre/Scranton Penguins Friday evening and controlled large portions of the Pennsylvania rivalry showdown but the Penguins were able to escape downtown Allentown with a 3-0 win in front of 8,715 fans at PPL Center. Despite the setback, the Phantoms have still garnered standings points in six of the team's last eight games overall (4-2-2).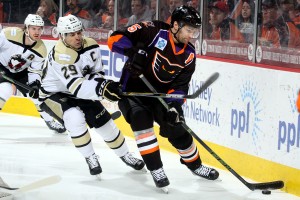 Friday's decision snapped a two-game winning streak for Lehigh Valley against the Penguins as the Phantoms moved to 4-5 overall this season against their in-state foes.
Dominik Simon (16th, 17th) and Jean-Sebastien Dea (14th) provided the offense for Wilkes-Barre/Scranton while goaltender Tristan Jarry earned the win with a 36-save performance.
Meanwhile, making his ninth consecutive start between the pipes, All-Star Anthony Stolarz turned in another solid effort denying 29 of Wilkes-Barre/Scranton's 32 total shots.
With Friday's decision, winger Chris Conner saw his 11-game home point streak come to an end. The 32-year-old forward had amassed 14 points (5 goals, 9 assists) over his last 11 games in downtown Allentown.
Friday night continued the celebration of the Phantoms 20th Anniversary season with the team's fourth and final "20 Years of Phantoms" night. As part of the trip down memory lane, the Phantoms wore specialty throwback jerseys. What's more, the first 3,000 fans in attendance received a free commemorative poster highlighting some of the franchise's more recent alumni including current Philadelphia Flyers Shayne Gostisbehere, Sean Couturier, Nick Cousins, Michael Raffl and Brandon Manning.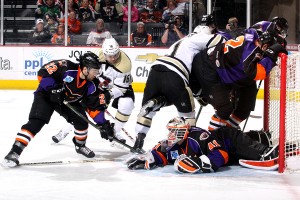 Friday's rivalry showdown also featured yet another standing room-only sellout as Phantoms fans helped produce the seventh straight capacity crowd within PPL Center. With Friday's robust turnout, the Phantoms have now skated in front of 18 standing room-only sellouts this season and 40 such regular season crowds since PPL Center opened its doors just 17 months ago.
Despite an early Wilkes-Barre/Scranton power play, it was Lehigh Valley who territorially controlled the opening period out shooting the Penguins 14-10 and spending large portions of the first frame unleashing wave upon wave of offensive pressure in the Wilkes-Barre/Scranton zone.
It was the Penguins who landed the game's first conversion though when, with just under five minutes left in the first period, Dustin Jeffrey sent a pass from below the Phantoms goal line to Simon on the right wing who promptly snapped in his 16th goal of the season. Will O'Neill grabbed the secondary assist on the five-on-five marker netted 15:12 into the opening frame.
The second period produced a more level playing field but didn't see any additional scoring until the dying moments of the frame when a perfectly executed 3-on-2 rush by Wilkes-Barre/Scranton resulted in Jean-Sebastien Dea's 14th goal of the year. Tom Sestito and Ty Loney assisted on the even-strength strike notched 19:44 into the middle stanza.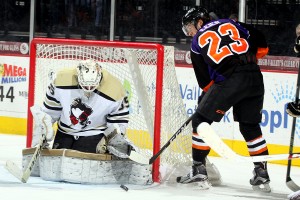 The Penguins carried the momentum of that late second-period conversion into the final frame as Wilkes-Barre/Scranton was able to increase its lead to a 3-0 advantage less than a minute and a half into the third period thanks to Simon's second goal of the game. Off another successful transition rush, Simon shifted to the backhand before sending in his 17th goal of the season. Kael Mouillierat and Jeffrey garnered assists on the five-on-five tally notched 1:28 into the final stanza.
The Phantoms continued to push until the game's final buzzer but Jarry and the Penguins defense was able to thwart Lehigh Valley's relentless attack. All told, the Phantoms out shot the Penguins 36-32 Friday evening.
The Phantoms wrap up this week's action on Saturday when the team travels to Binghamton for its final meeting of the year with the Senators. The puck drops at Floyd L. Maines Veterans Memorial Arena at 7:05 p.m. Be sure to catch all the action on FOX 1470-AM, online at www.fox1470.com or via the iHeartRadio app beginning with "Countdown to Faceoff" at 6:20 p.m.
RISE UP! Reserve your season tickets and groups now for the 2015-2016 season of Lehigh Valley Phantoms hockey. For more information on how to reserve your seat at PPL Center to the hottest ticket in town, call the Phantoms front office today at 610-224-GOAL (4625)!
Wilkes-Barre/Scranton Penguins 3 at Lehigh Valley Phantoms 0 – Status: Final
Friday, March 4, 2016 – PPL Center
W-B/Scranton 1 1 1 – 3
Lehigh Valley 0 0 0 – 0
1st Period-1, W-B/Scranton, Simon 16 (Jeffrey, O'Neill), 15:12. Penalties-Bardreau Lv (holding), 0:31.
2nd Period-2, W-B/Scranton, Dea 14 (Sestito, Loney), 19:44. Penalties-McGrath Wbs (roughing), 4:19; Simon Wbs (high-sticking), 7:19.
3rd Period-3, W-B/Scranton, Simon 17 (Mouillierat, Jeffrey), 1:28. Penalties-Morin Lv (cross-checking), 5:14.
Shots on Goal-W-B/Scranton 10-14-8-32. Lehigh Valley 14-11-11-36.
Power Play Opportunities-W-B/Scranton 0 / 2; Lehigh Valley 0 / 2.
Goalies-W-B/Scranton, Jarry 12-6-0 (36 shots-36 saves). Lehigh Valley, Stolarz 19-13-3 (32 shots-29 saves).
A-8,715
Referees-Stephen Reneau (34), Evgeny Romasko (39).
Linesmen-Tom George (61), Bill Lyons (27).
Upcoming Home Games:
Sunday, March 20, 2016, Portland Pirates vs. Lehigh Valley Phantoms, 5:05 p.m.
(Post-Game Autographs with Phantoms Players.)
Wednesday, March 23, 2016, Hershey Bears vs. Lehigh Valley Phantoms, 7:05 p.m.
(Health Care Workers Appreciation Night. Non-Profit Awareness Night.)
Friday, March 25, 2016, Providence Bruins vs. Lehigh Valley Phantoms, 7:05 p.m.
Saturday, March 26, 2016, Hartford Wolf Pack vs. Lehigh Valley Phantoms, 7:05 p.m.
(Fan Appreciation Night.)
In the midst of their 20th season of operation, the Phantoms are coming off their Inaugural Season as the Lehigh Valley Phantoms playing at the brand-new PPL Center. Established in 1996, the Phantoms spent their first 13 seasons at the Spectrum in Philadelphia before re-locating to Glens Falls, New York in 2009 where the team spent the next five seasons as the Adirondack Phantoms. A new era of Phantoms hockey began in the fall of 2014 when the Lehigh Valley Phantoms began play at the state-of-the-art PPL Center. Through 19 incredibly successful campaigns, the Phantoms have captured two Calder Cup Championships (1998, 2005), two Conference Championships (1998, 2005), two Regular Season Titles (1996-97, 1997-98) and four Division Championships (1996-97, 1997-98, 1998-99, 2003-04).