by Bill Meltzer @billmeltzer / philadelphiaflyers.com
Coming off a stellar 2021-22 season that saw him make his NHL debut for the Philadelphia Flyers after winning the NCAA championship for Denver and being a finalist for the Hobey Baker Award, Flyers prospect Bobby Brink had his sights set on establishing himself as an NHL regular in 2022-23. Unfortunately, those plans were delayed in July of last summer.
Diagnosed with a torn labrum in his left hip, Brink underwent surgery on July 26.
"It was bothering me for a lot of last year, but I didn't really know what it was," Brink recalled to Jason Myrtetus on the January 13 edition of the Flyers Daily podcast.
"It was something I could kind of play through for a while there, but in the last few games, it got pretty bad. I was hoping it would just go away with some rest in the offseason but it never went away. I had to take care of it because I couldn't play on it any longer."
The 21-year-old right winger spent the next five month diligently rehabbing; first at the Flyers Training Center in Voorhees and then in Allentown with the Lehigh Valley Phantoms. Brink, who appeared in 10 NHL games late last season (0g, 4a), was cleared to play shortly after New Year's.
"It was unfortunate. Never wanted to sit out for that long. It kind of gets pretty boring not being able to practice and play. It was nice once I was able to practice and even better now that I can play," Brink said.
Assigned to the Lehigh Valley Phantoms, Brink made his AHL debut on January 6. Thus far, in 10 games with Lehigh Valley, he has produced six points (4g, 2a) including goals in each of his first two games for the Phantoms.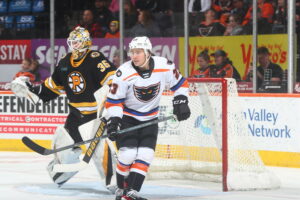 From the outset, the Flyers organization and the player alike realized that it would take time for Brink to regain his conditioning and timing. The pint-sized winger has always relied more on his anticipation, quickness and elusiveness than on natural speed.
It was going to take time for the player to work himself back up to the caliber of play he showed last season, especially when the initial adrenaline kick from simply being able to play hockey again gave way to the demands of adapting to the pro hockey schedule. Initially, the Phantoms avoided having Brink play games on back-to-back days, but he was soon doing so. It's one of the hurdles he'd have to clear.
Phantoms head coach Ian Laperriere cautioned — shortly after Brink played his first game of the season — that it was going to take time and patience for the player to attain the desired level of consistency and sustained energy.
"It's one of those surgeries where you might feel [discomfort] in a week. Scar tissue is breaking down. Hopefully not, but I've seen it with [Claude] Giroux, with [Shayne] Gostisbehere, with [Tanner] Laczynski. It's day-to-day for a while," Lapperiere said on Jan. 13.
In Brink's case, the player has had his share of good moments since his return including plays then ended up as goals for Lehigh Valley.
"He's making plays and he's only going to get better. At one point, the adrenaline's going to wear off a little bit. He hasn't played much hockey in the last year. At some point, there may be a little drop. But, so far, I like what I see. He brings our skill level a little higher. Right now, I think he's the most skilled young player we have on our team: the way he shoots the puck, the way he makes plays," Lapperiere said to Phantoms broadcaster Bob Rotruck.
"Where I'm mostly surprised is how hard he battles in the corner. That's the big difference when you're coming from junior or college. You might get away with [just] your skills down there but when you get to this level, you need to battle more with your physicality. He is [a little guy] but he's hungry for the puck. That's a great quality to have."
More recently, there has been some games where Brink has had less "jump" on a consistent basis. He has posted two points (1g, 1a) and is minus-four of his last five games. In that span, he's registered a modest four shots on goal. The mini downturn is exactly what Laperriere warned to expect and is neither surprising nor alarming. It's a standard hurdle that most players face within a couple of weeks of returning to play after major surgery. That, too, shall pass.
Even when he hasn't been scoring, Brink has tried to find other ways to contribute. In the Phantoms' resounding 5-2 win over the Wilkes-Barre/Scranton Penguins on January 20. play got feisty in the third period with the game's outcome in little doubt by mid-period. There was a series of fights and officials handed out multiple misconducts for secondary altercations.
The first dust-up: the 5-foot-8,165-pound Brink dropped the gloves with Pens defenseman Josh Maniscalco (6-foot-2, 205 pounds). For Brink, it was his first fight in pro hockey.
Moving forward, fisticuffs is not something the organization expects — or wants — to see regularly from Brink but he's showing that he's not going to be easily intimidated or readily back down. He'll compete, even though he gives up size to most opponents.
Brink possesses a good shot. However, his general tendency has been more as playmaker with excellent ice vision and a deft passing touch rather than being a shoot-first sniper. All four of his NHL points last season were via assists and his Hobey Baker caliber final season at Denver was steeped in racking up 43 assists in 41 games (to go along with 14 goals).
Even last season after joining the Flyers, however, Brink pledged to develop a little more of a shooting mentality to keep defenses honest. His ability to finish off plays, too, if defenses over-focus on taking away the passing lanes can only help him in the long run. There's no doubt that he can finesse passes through tight spaces, saucer gorgeous passes over sticks, backhand centering passes from below the goal line, find an open teammate at the back door for a tap-in or tee up a one-timer for a linemate.
Even before the hip injury, Brink was considered an average skater in terms of speed but someone with the quickness to make plays once he adapted to the pace of play in whatever league he was competing. The adjustments in this area are ongoing. Adding strength over upcoming offseasons would also greatly benefit Brink. The pace-of-play demands and the caliber of checking will only increase further when he eventually moves up from the American Hockey League back to the NHL.
There is no specific timetable in place for Brink to get his next NHL opportunity. It could happen by the latter stages of the current season, at the end of training camp in the fall or at some later point. It depends on the pace of Brink making necessary adjustments and, of course, staying healthy.
Over the first three weeks since returning to play, Brink is showing hopeful signs that he's getting back on course after his progress from a season ago was interrupted by the torn labrum in his hip.