Saturday, February 4, 2023 at 7:00 p.m.
Lehigh Valley Phantoms (21-17-5) at Hershey Bears (29-10-5)
GIANT Center, Hershey, PA
TONIGHT
The Lehigh Valley Phantoms (21-17-5) play their final game before the AHL All-Star Break as they travel to Chocolatetown for another rivalry showdown against the Bears. The Phantoms just concluded a five-game homestand with a hard-fought 4-2 loss to the Providence Bruins on Friday. First-place Hershey (29-10-5) shook off a two-game losing streak with a 4-2 win at Bridgeport on Friday.
Tonight is Game 9 out of 14 in the season series between the Phantoms and the Bears with Lehigh Valley taking the most recent encounter in a 5-2 rout on Wednesday at PPL Center. This is also the fourth meeting in the last 11 days between the Keystone State rivals.
LAST TIME
Friday, February 3, 2023
Bruins 4 – Phantoms 2
Jordy Bellerive (5th) and Cooper Marody (6th) scored for the Phantoms but the visiting Providence Bruins pushed through for a 4-2 win in Allentown. After Marody tied the game with a power-play goal late in the second period, Providence provided a quick response with Georgii Merkulov's strike from beneath the left dot just 13 seconds later that held up as the eventual game-winner. The Phantoms' frenetic push in the third period was thwarted by Providence goaltender Brandon Bussi and then a disputed cross-checking penalty against Garrett Wilson that led to Marc McLaughlin's insurance marker with 2:58 left.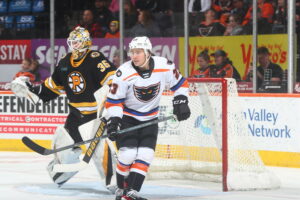 THE BRINK TOUR
Bobby Brink has scored all five of his goals in different cities as part of a grand tour of the AHL's Eastern Conference. Brink scored in his first two AHL games since his debut on January 6 following his recovery from off-season hip surgery. The reigning NCAA scoring champ at the University of Denver has lit the lamp in Rochester, Bridgeport, Cleveland, Wilkes-Barre/Scranton and then finally in Allentown with his first goal on home ice on February 1 against Hershey. The Flyers second-round selection (#34 overall) in the 2019 NHL Entry Draft won a gold medal at the 2021 World Juniors and then won a NCAA Championship with the Denver Pioneers at the Frozen Four in Boston. Brink  debuted with the Flyers at the end of last season and registered four assists in 10 games. He has scored five goals with three assists for eight points in his 12 games with the Phantoms so far.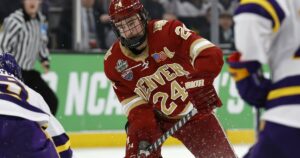 NCAA LEADERS
Two NCAA scoring leaders from last season will meet again.
Lehigh Valley's Bobby Brink was the NCAA scoring champ with the University of Denver racking up 14-43-57 in just 41 games on his way to a National Championship for the Pioneers at the Frozen Four in Boston.
Hershey's Ethen Frank topped all NCAA players with 26 goals at Western Michigan University and currently leads AHL rookies this season with 21 goals. He was teammates with Lehigh Valley's Ronnie Attard at Western Michigan.
PPL Center will again serve as a regional host for the upcoming NCAA Hockey Tournament on March 24 and March 26. As the host school, Penn State will automatically play its first tournament games at the Allentown Regional provided they qualify. The Nittany Lions are 19-9-1 following their win last night at Ohio State. Penn State currently rates #6 in the country in the latest Pairwise Rankings (used to determine NCAA qualifiers and seedings).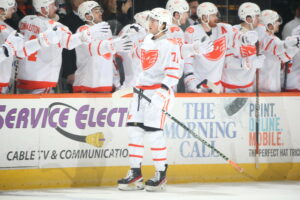 FOERSTER TO ALL-STAR CLASSIC
While the AHL is on its All-Star Break from Sunday through Wednesday, Tyson Foerster will be showing his skills at the AHL All-Star Classic in Laval, Quebec on Sunday and Monday. The Skills Competition is Sunday and then the All-Star Classic is Monday evening with the four divisions competition in a round-robin format of 3-on-3 contests. The 21-year-old from Alliston, Ontario leads the Phantoms with 16 goals including eight since the New Year.
Defenseman Cam York was also named to the All-Star Classic but it was later announced by the AHL that York will be unavailable for the event while he is in the NHL with the Philadelphia Flyers.
Lehigh Valley Phantoms Named to AHL All-Star Classic
2023 – Tyson Foerster, Cam York (Laval, PQ)
2020- Morgan Frost (Ontario, CA)
2019 – Greg Carey, Colin McDonald (Springfield, MA)
2018 – T.J. Brennan, Danick Martel, Oskar Lindblom (Utica, NY)
2017 – T.J. Brennan, Taylor Leier, Jordan Weal (Allentown, PA)
2016 – Nick Cousins, Anthony Stolarz (Syracuse, NY)
2015 – Brandon Manning (Utica, NY)
PHANTASTIC!
– Lehigh Valley is 7-4-2 in 2023
– The Phantoms are….
16-5-4 when scoring 3 or more goals
18-1-1 when allowing 2 goals or fewer
13-3-5 in one-goal games
11-1-5 when scoring the first goal
14-0-4 when leading after two periods
4-3 in overtime and 2-2 in shootouts
ABOUT THE BEARS
Ethen Frank scored his 21st goal of the season, tops among AHL rookies, and the Hershey Bears broke their mini two-game losing skid with an emphatic 4-1 victory at the Bridgeport Islanders on Friday night. Hershey (29-10-5) had an eight-game point streak before dropping a 5-2 decision at the Phantoms on Wednesday. The first-place Bears hold a slim two-point lead over the second-place Providence Bruins.
Lehigh Valley and Hershey are meeting for the ninth time this season as well as a fourth time in the last 11 days.
Veteran Mike Sgarbossa (15-24-39) leads the Bears and has five goals against Lehigh Valley this season.
Rookie Ethen Frank (21-15-36) leads AHL rookies in goals and is having a spectacular debut professional campaign and will join former Phantom Mike Vecchione (14-21-35) at the AHL All-Star Classic where they will be teammates with Lehigh Valey's Tyson Foerster on the Atlantic Division squad. Goaltender Hunter Shepard (12-2-3, 2.05, .920) is tops in the AHL in goals-against average but veteran Zach Fucale (14-8-2, 2.58, .897) has started six of the eight games against the Phantoms going 5-1-0, 2.17, .896 in the season series.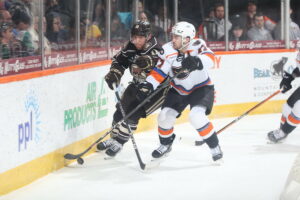 Phantoms Scoring Leaders
Olle Lycksell 8-24-32
Tyson Foerster 16-13-29
Elliot Desnoyers 14-11-25
Artem Anisimov 12-9-21
Ronnie Attard 7-11-18
Garrett Wilson 5-13-18
Hershey Scoring Leaders
Mike Sgarbossa 15-24-39
Ethen Frank 21-15-36
Mike Vecchione 14-21-35
Mason Morelli 8-19-27
Hendrix Lapierre 10-13-23
Phantoms Tickets are available HERE
SPECIAL TEAMS 
Lehigh Valley Power Play – 23.2%, 6th   (vs. Hershey 3/15, 20%)
Lehigh Valley Penalty Kill – 74.1%, 31st
Hershey Power Play – 18.8%, 19th           (vs. Lehigh Valley 9/29, 31%)
Hershey Penalty Kill – 79.7%, 20th
UP NEXT
The AHL All-Star Break provided an opportunity for the team to take a breather from Sunday through Wednesday while Tyson Foerster showcases his skills to an international audience at the AHL All-Star Classic in Laval, Quebec.
The Phantoms return to action next Friday, February 10 at the Hartford Wolf Pack and their next home game is Saturday, February 11 against the Bridgeport Islanders.
Phantoms Tickets are available HERE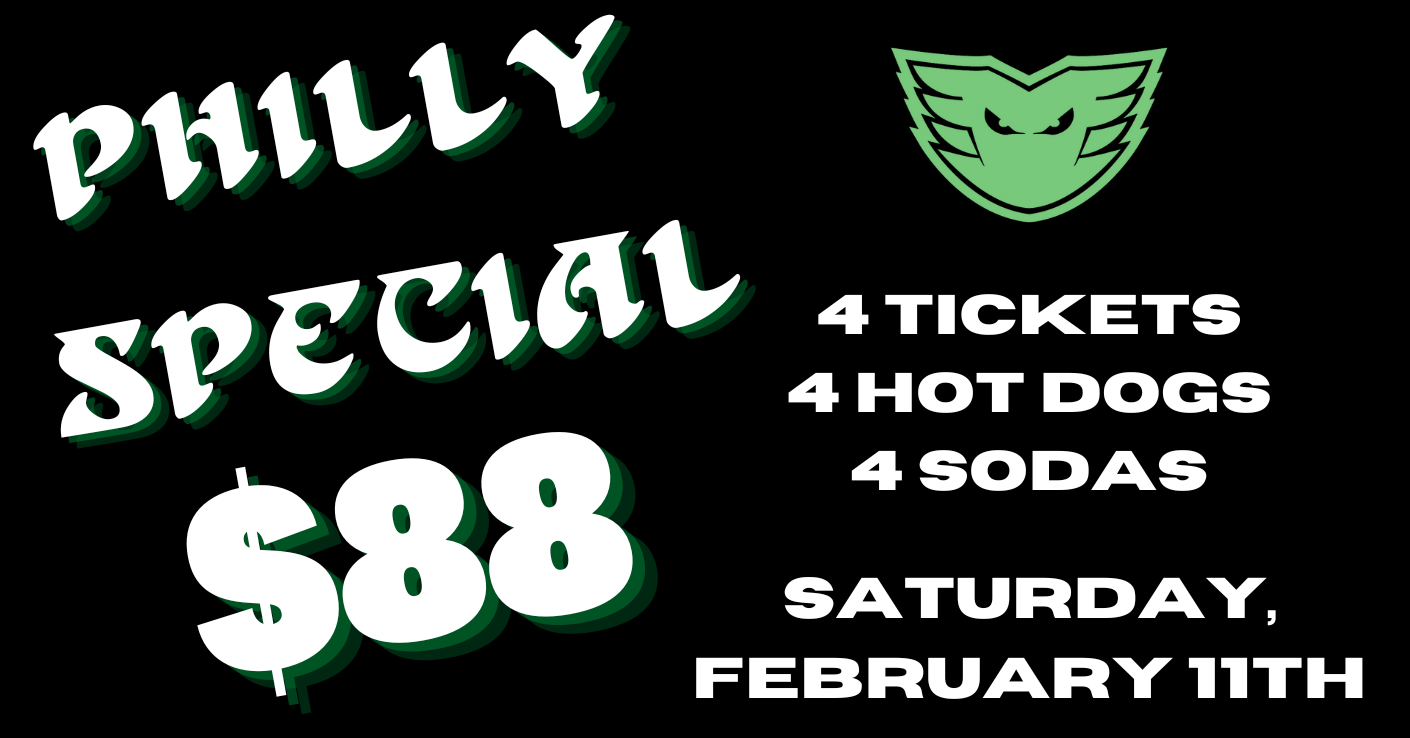 UPCOMING SCHEDULE
Saturday, February 4 (7:00) at Hershey Bears
February 5-9 AHL All-Star Break
Friday, February 10 (7:00) at Hartford Wolf Pack
Saturday, February 11 (7:05) vs. BRIDGEPORT ISLANDERS
Tuesday, February 14 (7:00) at Charlotte Checkers
Wednesday, February 15 (7:00) at Charlotte Checkers
UPCOMING PROMOTIONS
Saturday, February 11 (7:05) vs. Bridgeport Islanders – Hockey is for Everyone! Philly Special ticket packages available
Saturday, February 18 (7:05) vs. Wilkes-Barre/Scranton Penguins – United Way Housing Heroes presented by PPL
Sunday, February 19 (5:05) vs. Hershey Bears – meLVin's Birthday with his Mascot Friends! Postgame Skate with the Phantoms Players
Broadcast coverage of all Phantoms games with Bob Rotruck is available on the Phantoms 365 app and on Real Oldies 1470-AM in Allentown. Also available on the Listen Live button at phantomshockey.com
Fans can also watch the games on AHLTV.com or can listen on their Smart Speakers at: "Play Phantoms Radio 24/7."
Service Electric Network again provides exclusive television coverage of all Phantoms home games with veteran announcer Steve Degler and Phantoms' alum Steven Swavely on the call from the booth. Kristi Fulkerson reports from ice level and also from the Chickie's and Pete's studio with Dan Fremuth for pregame, intermission and postgame show analysis.