Will Join League's Best This Sunday and Monday
February 4, 2023
Lehigh Valley, PA – The Lehigh Valley Phantoms are happy to announce that defenseman Ronnie Attard has been added to the Atlantic Division roster for the upcoming AHL All-Star Classic in Laval, Quebec to take place this Sunday and Monday.
Ronnie Attard will join Tyson Foerster in representing the Phantoms at the event. Cam York was previously named to the AHL All-Star Classic as well but was more recently announced as ineligible while he's on an NHL roster with the Philadelphia Flyers.
The event will include the AHL All-Star Skills Competition on Sunday, February 5 followed by the AHL All-Star Challenge on Monday, February 6. Foerster and York will play on the Atlantic Division in the four-team event.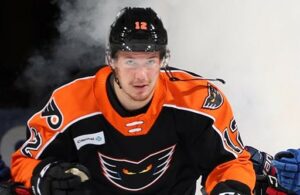 Attard, 23, has scored seven goals with 11 assists for 18 points in 42 games with the Phantoms this season. The 6'3″ tall right-handed shooting blueliner out of Western Michigan University also played in 15 games with the Philadelphia Flyers last season scoring two goals with two assists.
Attard was a Round 3 selection of the Flyers in the 2019 NHL Entry Draft. On the Atlantic Division All-Stars, he will be reunited with former Western Michigan teammates Ethen Frank of Hershey and Brandon Bussi of Providence.
The AHL All-Star Classic is being held for the first time since 2020. Morgan Frost represented the Phantoms at the most recent AHL All-Star Classic in Ontario, California.
Lehigh Valley Phantoms Named to AHL All-Star Classic
2023 – Ronnie Attard, Tyson Foerster, Cam York (Laval, PQ)
2020- Morgan Frost (Ontario, CA)
2019 – Greg Carey, Colin McDonald (Springfield, MA)
2018 – T.J. Brennan, Danick Martel, Oskar Lindblom (Utica, NY)
2017 – T.J. Brennan, Taylor Leier, Jordan Weal (Allentown, PA)
2016 – Nick Cousins, Anthony Stolarz (Syracuse, NY)
2015 – Brandon Manning (Utica, NY)