Phantoms drop 5-1 decision to Hartford
April 1, 2023
Lehigh Valley, PA – Emil Andrae scored his first career professional goal in North America, but the Hartford Wolf Pack claimed a 5-1 victory over the Lehigh Valley Phantoms on Saturday night at PPL Center.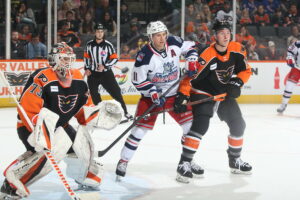 Lehigh Valley's (34-26-6) penalty kill put forth a stellar 4-for-4 performance to keep the Phantoms within striking distance, but were unable to find the equalizer before Hartford rattled off three unanswered goals late.
The Phantoms will conclude three games in three nights with a 3 p.m. road matinee against the Bridgeport Islanders on Sunday, April 2.
Lauri Pajuniemi and Will Lockwood both tallied for the Pack within the game's opening 5:38 to grab a 2-0 lead into the first intermission. Moments after Tyson Foerster went to the blue paint and nearly struck first, Pajuniemi fielded a stretch pass and capitalized on a breakaway chance again Nolan Maier. Lockwood's goal 3:20 later came courtesy of a net-front deflection.
Lehigh Valley countered in the second period and scored on a smooth as silk transition play. Foerster set the table with a crafty drop pass in the high-slot for an Andrae bar-down snipe to elate the PPL Center crowd. The 21-year-old, 2nd round pick by the Philadelphia Flyers in 2020 has produced three points (1g, 2a) in his first four career AHL games.
But in the final period, Hartford scored thrice unanswered to claim a 5-2 final. Tanner Fritz, upon video review, buried a 2-on-0 chance at 7:52. Jonny Brodzinski later converted at the 9:31 mark, and Ryan Carpenter completed the scoring line at 12:49.
Only six games remain for the Lehigh Valley Phantoms before the curtain drops on the 2022-23 regular season. Following Sunday's matinee at Bridgeport, the Orange and Black will return home to PPL Center on Friday, April 7 for a critical matchup against the Charlotte Checkers. It's Berks $1 Hot Dogs Night! Join us as we Rally The Valley and continue our push towards the 2023 Calder Cup Playoffs.
SCORING SUMMARY
1st 2:18 – HFD L. Pajuniemi (19) (A. Blidh, T. Fritz) 0-1
1st 5:38 – HFD W. Lockwood (16) (R. Carpenter, T. Gettinger) 0-2
2nd 7:33 – LV E. Andrae (1) (T. Foerster, A. Anisimov) 1-2
3rd 7:52 – HFD T. Fritz (9) (T. Gettinger) 1-3
3rd 9:31 – HFD J. Brodzinski (21) (J. Leschyshyn, W. Cuylle) 1-4
3rd 12:49 – HFD R. Carpenter (19) (W. Lockwood, B. Scanlin) 1-5
Shots:
LV 35 – HFD 18
PP:
LV 0/3, HFD 0/4
Goalies:
LV – N. Maier (L) (4-2-2) (13/18)
HFD – D. Garand (W) (12-13-3) (34/35)
Records:
Lehigh Valley (34-26-6)
Hartford (31-25-11)
Phantoms Tickets are available HERE
UPCOMING SCHEDULE
Sunday, April 2 (3:00) at Bridgeport Islanders
Friday, April 7 (7:05) vs. CHARLOTTE CHECKERS
Saturday, April 8 (7:05) vs. SPRINGFIELD THUNDERBIRDS
UPCOMING AT PPL CENTER
Friday, April 7 (7:05) vs. Charlotte Checkers – Berks $1 Hot Dogs
Saturday, April 8 (7:05) vs. Springfield Thunderbirds – Star Wars Night! SNHL with DJ Jamal "Jedi" Knight
Friday, April 14 (7:05) vs. Charlotte Checkers – Regular Season Home Finale. Berks $1 Hot Dogs