Friday, November 11 at 7:05 p.m.
Lehigh Valley Phantoms (3-5-1) vs. Springfield Thunderbirds (5-4-2)
PPL Center, Allentown, PA
TONIGHT – The Lehigh Valley Phantoms return to PPL Center to take on the Springfield Thunderbirds, AHL affiliate of the St. Louis Blues. The Phantoms and T-Birds are meeting for the first of four matchups this year. Springfield recently had a six-game point streak and are the defending Eastern Conference Champions. The Phantoms will trek up to Western Massachusettes for a rematch encounter next weekend.
Tonight's game is also the annual WFMZ-69 Coat Drive. Fans can receive tickets to tonight's game with a new or gently used coat donation at PPL Center before 5:00 p.m. Last year, over 1,200 coats were donated. Coat donations will go to Victory House of the Lehigh Valley supporting homeless veterans and also to local Salvation Army programs.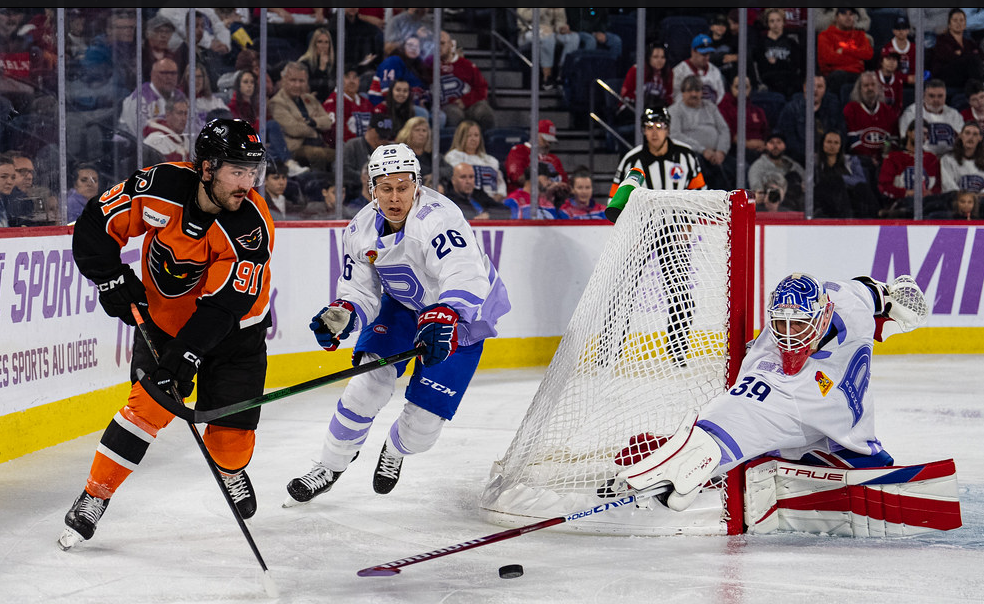 LAST TIME – Cam York blasted home the game-winner in overtime as the Phantoms won at the Laval Rocket 3-2 on Saturday afternoon in Quebec. Cal O'Reilly (2nd) and Olle Lycksell (2nd) also scored for the Phantoms while Sam Ersson notched his first career pro win in North America with 35 saves in the exciting, back-and-forth battle. Lycksell scored for a second consecutive game and Zayde Wisdom had a nifty assist to add to his total of three helpers on the weekend.
FIRST FOR FELIX! – Congratulations to Felix Sandstrom on his first career NHL win on Tuesday. Sandstrom made 21 saves in Philadelphia's 5-1 win over the St. Louis Blues. He is the fifth goalie from Lehigh Valley to record a first-career NHL win with the Flyers joining Rob Zepp, Anthony Stolarz, Alex Lyon and Carter Hart.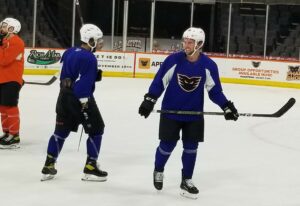 WELCOME HOME – The Phantoms are excited to welcome forward Evan Barratt. The Bucks County native from Bristol, Pa. was acquired in a trade with the Chicago Blackhawks last week in exchange for defenseman Cooper Zech. Barratt was playing with the Rockford IceHogs of the AHL where he scored 14 goals with 14 assists last year. The former Penn State star grew up cheering for the Flyers and can't wait for his first home game at PPL Center with family and friends cheering him on. Barratt made his Phantoms debut last Saturday at Laval.
RECENT TRANSACTIONS – 
Goalie Sam Ersson was briefly recalled to the Flyers on Tuesday while Carter Hart sat out due to illness. But he returned to the Phantoms on Wednesday.
Goalie Nolan Maier was recalled from the ECHL Reading Royals. Pat Nagle was returned to Reading.
CAPTAIN CAL PASSES JOHN STEVENS – Last Saturday, Phantoms captain Cal O'Reilly moved all alone into 32nd place all-time, passing John Stevens, with his 835th career game. O'Reilly is the AHL's active career scoring leader with 686 points and the 36-year-old veteran is serving as a captain with his fourth different team. John Stevens was the first Philadelphia Phantoms captain and the leader for the team's 1998 Calder Cup title. As head coach of the Phantoms seven years later, he led the Phantoms to another Calder Cup in 2005.
ABOUT THE THUNDERBIRDS –The defending Eastern Conference Champion Springfield Thunderbirds (5-4-2) had a six-game point streak (5-0-1) before a 3-2 loss to Providence last weekend. The AHL affiliate of the St. Louis Blues fell to the Chicago Wolves in the Calder Cup Finals last year. Hard-shooting Martin Frk comes over to the Eastern Conference and already has 9 assists and an overtime winner. He won the AHL's hardest shot contest at the All-Star Classic in 2020 when he set a record with a 109.2 mph blast. Frk also has played in 124 NHL games with Detroit and Los Angeles.
St. Louis 2nd-rounder Nikita Alexandrov is one of three recent recalls to St. Louis. NHL veteran Josh Leivo (217 games with TOR, VAN, CGY) had a hat trick on November 4 in a 5-1 win over Hartford. Will Bitten leads the AHL with three shorthanded goals.
PHANTASTIC!
– The Phantoms have 38 or more shots in three of their last four games
– The Phantoms are 2-1 in overtime games.
– Six out of nine games this season have been decided by one goal.
– The Phantoms have a power-play goal in four consecutive games (5/19, 26.3%)
– The Phantoms are playing only four home games in November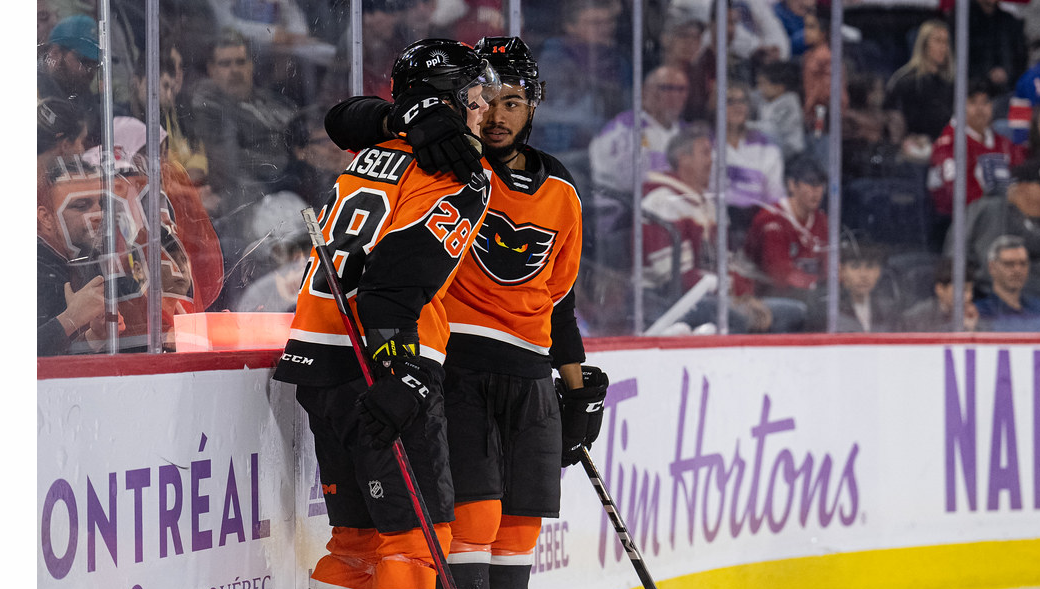 Phantoms Scoring Leaders
Tyson Foerster 2-5-7
Olle Lycksell 2-4-6
Garrett Wilson 2-4-6
Cam York 2-4-6
Elliot Desnoyers 3-2-5
Ronnie Attard 2-3-5
Cal O'Reilly 2-3-5
Springfield Thunderbirds Scoring Leaders
Matthew Highmore 3-9-12
Nathan Todd 7-3-10
Martin Frk 1-8-9
Nikita Alexandrov 4-4-8
SPECIAL TEAMS – 
Lehigh Valley Power Play – 25.0% (4th)
Lehigh Valley Penalty Kill – 65.1% (32nd)
Springfield Power Play – 13.3% (29th)
Springfield Penalty Kill – 83.3% (9th)
UP NEXT – 
The Phantoms are back at PPL Center on Saturday night taking on the Laval Rocket in a rematch of last week's 3-2 overtime win for the Phantoms in Quebec. 90's Night with the Phantoms is also Saturday Night Hockey Live as well as Boy Scouts Night.
Following Saturday's home game, the Phantoms will play their next four games on the road beginning next Friday, November 18 at the Providence Bruins.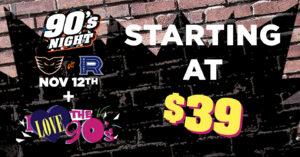 PROMOTIONS – 
– All 90s Ticket Special! One ticket for 90s Night Phantoms game on Saturday, November 12 PLUS one ticket for "I Love the 90s" concert with Vanilla Ice on Saturday, November 18. Get the All 90s package for just $39!
– Bring your gently used coats during the day on Friday, November 11 for our WFMZ-69 Phantoms Coat Drive. Fans who stop by between 9-5 with a coat donation will receive TWO TICKETS to the game!
– Black Friday Sale!! Mark your calendars. Friday, November 25 from 10:00 a.m. until 2:00 p.m. it's 30% OFF at the Phan Shop inside PPL Center. Discounts apply to most items (not game-worn jerseys or customization). Great gifts for your friends and family at the Phantoms Black Friday Sale!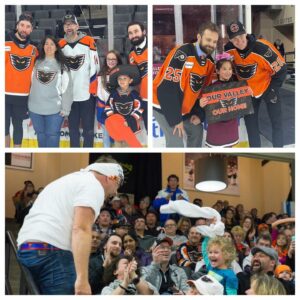 Upcoming Schedule –
Friday, November 11 (7:05) vs. Springfield Thunderbirds – WFMZ-69 Coat Drive. Berks $1 Hot Dogs Night
Saturday, November 12 (7:05) vs. Laval Rocket – 90's Night! Saturday Night Hockey Live
Friday, November 18 (7:05) at Providence Bruins
Saturday, November 19 (7:05) at Providence Bruins
Sunday, November 20 (3:05) at Springfield Thunderbirds