Saturday, December 31 at 7:05 p.m.
Lehigh Valley Phantoms (14-12-3) at Wilkes-Barre/Scranton Penguins (13-9-5)
PPL Center, Allentown, PA
TONIGHT
Happy New Year, Phantoms fans! The Lehigh Valley Phantoms play their last game of 2022 with a New Year's Eve game against the Wilkes-Barre/Scranton Penguins.
Lehigh Valley (14-12-3) had its two-game win streak snapped last night in Utica but has points in 14 of the last 21 games going 12-7-2 since November 5. Wilkes-Barre/Scranton (13-9-5) has gone winless in five straight (0-3-2) and has been inconsistent since its torrid 6-0-1 start going 7-9-4 since November 5. The Phantoms are 1-1-1 against Wilkes-Barre/Scranton this season. Tonight is Game 4 out of 12 in the season series.
The Penguins and Phantoms are tied for fifth place in the Atlantic Division with 31 points.
The New Year's Eve game is presented by Penn Community Bank. After the game, join the party outside on Hamilton Street and in the various establishments in the downtown community for the World's Largest Puck Drop to ring in 2023!!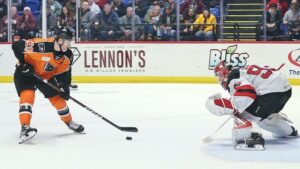 LAST TIME
Friday, December 30, 2022
Comets 3 – Phantoms 1
Cal O'Reilly moved into seventh all-time in AHL assists with his 545th career helper setting up a Max Willman goal in the second period but that was all the offense the Phantoms could produce as Lehigh Valley dropped a 3-1 decision at the Utica Comets on Friday in the last road game of 2022. Willman's goal came in his first game back with the Phantoms since November 12. Nolan Foote scored a pair of power-play goals in the second period for the Comets and Nolan Stevens sealed the win with his goal with 2:02 left. Nolan Stevens is the son of former Philadelphia Phantoms captain and head coach John Stevens.
TRANSACTIONS
Dec 28 – Delete Olle Lycksell (F) – Recalled to Philadelphia (NHL)
Dec 29 – Add Max Willman (F) – Loaned to Lehigh Valley from Philadelphia
CAPTAIN CAL
Cal O'Reilly recorded his 545th career assist in the AHL to pass legendary Hall of Famer Jody Gage for seventh most all-time. The night also represented Cal's 1,000th North American pro game. He was recognized for his 1,000th overall pro game (including games in the KHL) last year during a special pregame ceremony at PPL Center.
O'Reilly also has 699 career points and will become the 25th player in AHL history to reach the 700-point milestone.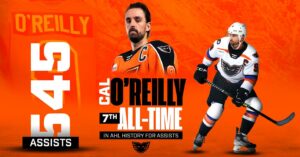 AHL All-Time Assists Leaders
1. Willie Marshall (1952-72) 852
2. Fred Glover (1948-68) 814
3. Mike Nykoluk (1956-72) 686
4. Tim Tookey (1980-95) 621
5. Keith Aucoin (2001-14) 613
6. Art Stratton (1955-75) 555
7. Cal O'Reilly (2005-21) 545 (Active Leader)
8. Jody Gage (1979-96) 544
9. Peter White (1992-2005) 533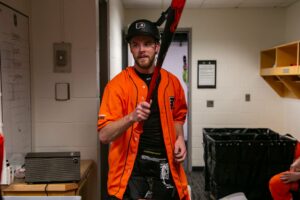 CONGRATS SAM!
Sam Ersson picked up his first career NHL win in the Flyers come-from-behind 4-3 overtime triumph at the San Jose Sharks on Thursday.
Ersson has had a tremendous bounce-back campaign after an injury-plagued first season in North America in which he played in only five games. He has gone 9-8-1, 2.72, .910 with Lehigh Valley this year including 9-4-0, 2.52, .915 since November 5.
Other goaltenders to make the jump from Lehigh Valley to debut with Philadelphia include Rob Zepp, Anthony Stolarz, Alex Lyon, Carter Hart, and Felix Sandstrom.
WELCOME BACK MAX!
Max Willman has been returned to the Lehigh Valley Phantoms and he scored his third goal of the season yesterday in what was also his 100th game all-time with the team. The Barnstable, MA native has also played in nine games with the Flyers this year but, more recently, has been out with an injury and has not played since December 13. Willman's last game with the Phantoms was on November 12.
PHANTASTIC!
– Elliot Desnoyers is tied for second among AHL rookies with 12 goals and also leads the Phantoms in lamplighters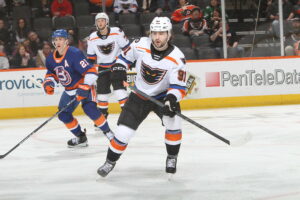 – Lehigh Valley's power play is fifth in the AHL at 24.8%.
– The Phantoms are….
11-4-2 when scoring 3 or more goals
10-2-1 when allowing 2 goals or fewer
11-3-3 in one-goal games
9-1-3 when scoring the first goal
9-0-3 when leading after two periods
3-2 in overtime and 2-1 in shootouts
ABOUT THE PENGUINS
Wilkes-Barre/Scranton (13-9-5) has gone winless in five straight (0-3-2) and has not won since December 16 against Hershey. Entering their home game tonight against Hershey, the Penguins are just one point ahead of the Phantoms in the Atlantic Division standings.
Valterri Puustinen is tied for the team-lead with 11 goals after scoring twice on Friday in a 4-3 loss against Providence. He has scored seven goals against the Phantoms in the past two seasons. Former Phantom Mark Friedman has been recalled to Pittsburgh as has Drew O'Connor who racked up 22 points in 20 games win the AHL this year. Veteran goalie Dustin Tokarski recorded his 200th career AHL win the last time the two teams met on November 25 in Wilkes-Barre when the Phantoms won 3-2 in a shootout. He's fourth in the AHL in GAA (2.22) and save percentage (.926).
The Phantoms are 1-1-1 against Wilkes-Barre/Scranton entering Game 4 out of 12 in the rivalry series.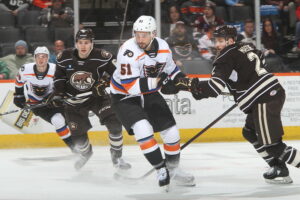 Phantoms Scoring Leaders
Tyson Foerster 8-11-19
x Olle Lycksell 5-13-18
Elliot Desnoyers 12-6-18
Artem Anisimov 10-4-14
Garrett Wilson 5-8-13
Ronnie Attard 4-8-12
Wilkes-Barre/Scranton Scoring Leaders
Valtteri Puustinen 11-12-23
x Drew O'Connor 8-14-22
Alex Nylander 11-11-22
Filip Hallander 7-13-20
Xavier Ouellet 2-14-16
Phantoms Tickets are available HERE
SPECIAL TEAMS 
Lehigh Valley Power Play – 24.8%, 5th
Lehigh Valley Penalty Kill – 71.7%, 30th
Wilkes-Barre/Scranton Power Play – 19.1%, 20th
Wilkes-Barre/Scranton Penalty Kill – 81.0%, 14th
UP NEXT
The Phantoms open 2023 with three straight away games beginning Friday, January 6 at the Rochester Americans. Lehigh Valley's next home games are Friday, January 13 against the Bridgeport Islanders and Saturday, January 14 against the Syracuse Crunch.
Phantoms Tickets are available HERE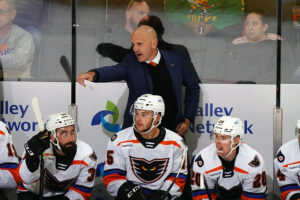 UPCOMING SCHEDULE
Saturday, December 31 (7:05) vs. WILKES-BARRE/SCRANTON PENGUINS
Friday, January 6 (7:05) at Rochester Americans
Saturday, January 7 (4:00) at Toronto Marlies
Wednesday, January 11 (7:00) at Bridgeport Islanders
UPCOMING PROMOTIONS
Saturday, December 31 (7:05) vs. Wilkes-Barre/Scranton Penguins – New Year's Eve Celebration presented by Penn Community Bank. Including festivities and great fun on Hamilton Street right after the game right with the World's Largest Puck-Drop to ring in 2023!
Friday, January 13 (7:05) vs. Bridgeport Islanders – Berks Dollar Dog Night
Saturday, January 14 (7:05) vs. Syracuse Crunch – Valley Youth House Night Presented by Air Products – Toilet Paper Donation Drive with great prizes
Broadcast coverage of all Phantoms games with Bob Rotruck is available on the Phantoms 365 app and on Real Oldies 1470-AM in Allentown. Also available on the Listen Live button at phantomshockey.com
Fans can also watch the games on AHLTV.com or can listen on their Smart Speakers at: "Play Phantoms Radio 24/7."