Comets Prevail Over Phantoms 3-1
December 30, 2022
Utica, NY – Max Willman (3rd) returned to the Lehigh Valley Phantoms lineup with thunder, and Cal O'Reilly reached a banner milestone in his 1,000th North American professional game, but the Utica Comets came away with a 3-1 win on Friday night at the Adirondack Bank Center.
Lehigh Valley (14-12-3) saw chances on the power play late in the third period, but could not find a late-game equalizer as its two-game win streak came toa close. Utica (13-9-5) went 2-for-3 on the power play to claim standings points in six consecutive games (5-0-1).
After the opening period only saw nine combined shots on goal and no tallies on the board, both teams traded blows in the second frame. The Utica Comets went to the power play twice in the stanza, and twice Nolan Foote cashed man-advantage chances. First at the 7:22 mark, Foote squeaked across the goal line a low-slot chance past Phantoms netminder Pat Nagle. Graeme Clark earned the secondary assist to extend his current point-streak to six consecutive games dating back to December 16.
Max Willman returned to the Phantoms lineup and wasted little time to reacclimate with the scoresheet. Following the ensuing offensive zone face-off after Willman was stymied on a breakaway chance, he did not miss twine moments later. Cal O'Reilly snapped the puck in the face-off circle for Willman, and the Barnstable, Massachusetts native buried his third goal of the season in his 100th game as a Lehigh Valley Phantom. O'Reilly's assist marked the 545th in his luxurious American Hockey League career, which now stands alone at seventh-best on the all-time league assists leaderboard passing legendary AHL Hall of Famer Jody Gage.
Shortly before intermission, Foote struck again on the man-advantage to hand Utica a 2-1 lead. Kieffer Bellows was whistled for a slashing infraction at 17:18, and Foote finished a backdoor tip after being fed by Reilly Walsh at 17:59. Shots on goal after 40 minutes were 11-10 Utica.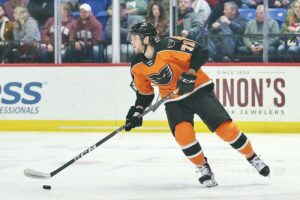 Early in the third period, Pat Nagle kept Lehigh Valley within one courtesy of a stellar breakaway save on Utica's Andreas Johnsson, but the Comets eventually added a late insurance marker to round out the 3-1 final. The Phantoms saw power play chances following a Utica bench-minor for too many men at 12:22, but the Orange and Black finished the night 0-for-2 on the man-advantage. Tyson Foerster had an opportunity in the left circle set up by Elliot Desnoyers but the young talent missed the net with about 6:30 remaining.
At 17:58, Nolan Stevens, son of former Philadelphia Phantoms captain and Calder Cup winning head coach, John Stevens, finished the scoring after deflecting a right-point shot from Robbie Russo.
Both clubs are slated to rematch on Sunday, March 12 at PPL Center in the finale of a brief, two-game season-series.
Lehigh Valley returns home on Saturday for a 7:05 p.m. New Year's Eve bash against the Wilkes-Barre/Scranton Penguins at PPL Center. The celebration is presented by Penn Community Bank and includes festivities after the game right outside the arena to ring in 2023 including the World's Largest Puck Drop!
SCORING SUMMARY
2nd 7:22 – UTC N. Foote (11) (R. Walsh, G. Clarke) (PP) 0-1
2nd 12:21 – LV M. Willman (3) (C. O'Reilly) 1-1
2nd 17:59 – UTC N. Foote (12) (R. Walsh, G. Clarke) (PP) 1-2
3rd – 17:58 – UTC N. Stevens (9) (R. Russo, G. Clarke) 1-3
Shots:
LV 16 – UTC 22
PP:
LV 0/2, UTC 2/3
Goalies:
LV – P. Nagle (L) (1-3-1) (19/22)
UTC – A. Schmid (W) (4-1-2) (15/16)
Records:
Lehigh Valley (14-12-3)
Utica (13-9-5)
Phantoms Tickets are available HERE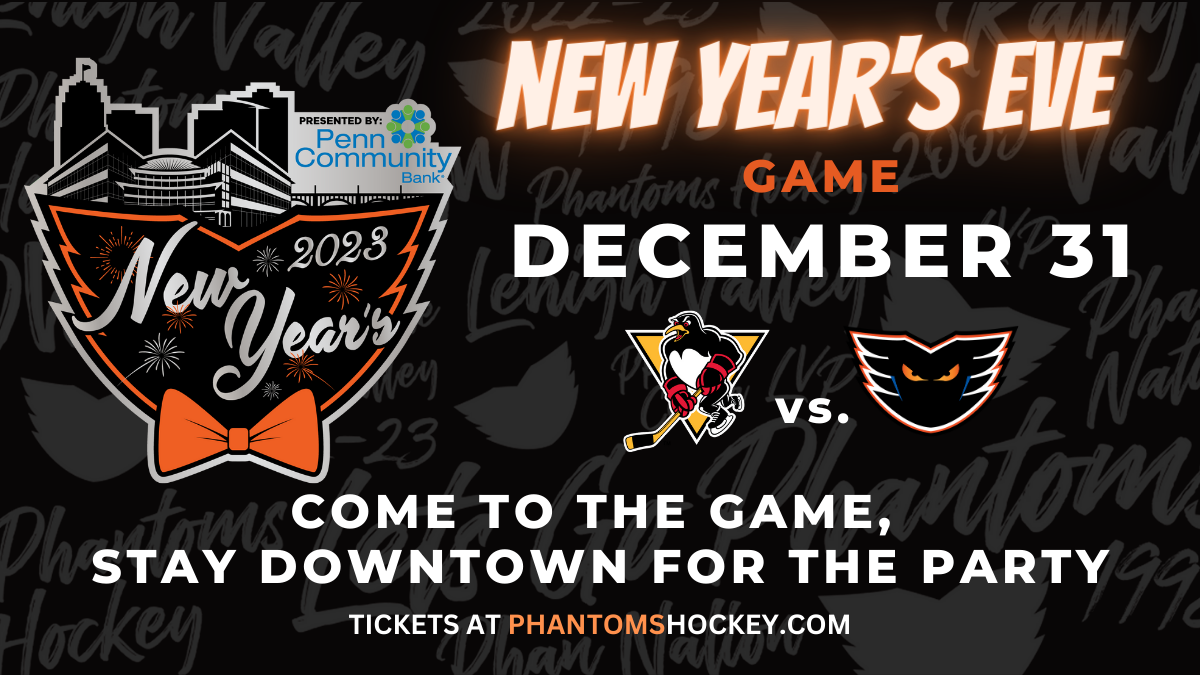 UPCOMING SCHEDULE
Friday, December 30 (7:05) at Utica Comets
Saturday, December 31 (7:05) vs. WILKES-BARRE/SCRANTON PENGUINS
Friday, January 6 (7:05) at Rochester Americans
Saturday, January 7 (4:00) at Toronto Marlies
UPCOMING PROMOTIONS
Saturday, December 31 (7:05) vs. Wilkes-Barre/Scranton Penguins – New Year's Eve Celebration presented by Penn Community Bank. Including festivities and great fun on Hamilton Street right after the game right with the World's Largest Puck-Drop to ring in 2023!
Friday, January 13 (7:05) vs. Bridgeport Islanders – Berks Dollar Dog Night
Saturday, January 14 (7:05) vs. Syracuse Crunch – Valley Youth House Night Presented by Air Products