Saturday, January 14, 2023 at 7:05 p.m.
Lehigh Valley Phantoms (16-13-5) vs. Syracuse Crunch (14-13-5)
PPL Center, Allentown, PA
TONIGHT
The Lehigh Valley Phantoms conclude their brief two-game homestand as they see te Syracuse Crunch for the first time this season. Syracuse is the AHL affiliate of the Tampa Bay Lightning.
Lehigh Valley (16-13-5) is on a four-game point streak (2-0-2) and stands in fifth-place in the Atlantic Division just two points back of third-place Wilkes-Barre/Scranton and Charlotte.
Syracuse (14-13-5) blasted out seven goals yesterday against the Laval Rocket to end a five-game winless skid.
It is Valley Youth House Night presented by Air Products including a Toilet Paper Donation Drive to benefit our friends at Valley Youth House.
LAST TIME
Friday, January 13, 2023
Islanders 4 – Phantoms 3 (OT)
Tyson Foerster (10th, 11th) posted his first multi-goal game of the season and the fourth of his career and Jackson Cates (7th) also scored for the Phantoms but Bridgeport's Otto Koivula tied the game in the third period and Aatu Raty rifled home the game-winner on an overtime breakaway as the Islanders ended a franchise-record 11-game losing streak. Andy Andreoff (19th) for Bridgeport scored in a fourth consecutive Phantoms vs. Islanders matchup. Olle Lycksell assisted on both Foerster goals. Felix Sandstrom had 23 saves on 27 shots in his fourth consecutive start.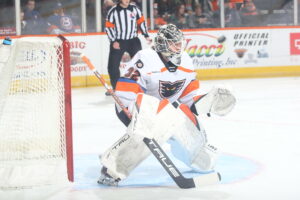 FELIX RETURNS
Goaltender Felix Sandstrom is back with the Phantoms on a two-week conditioning loan designed to provide him maximum opportunities to play. Sandstrom has started four straight games going 2-0-2, 2.67, .906. Wednesday at Bridgeport might have been his best as he turned aside 35 Bridgeport Islanders shots to preserve a 3-1 win.
Before yesterday's game, Sandstrom had not played at PPL Center since April 30 of last season when he posted his second career shutout with 26 saves in the season finale against the Wilkes-Barre/Scranton Penguins. He's been the backup goalie with the Philadelphia Flyers this season and recorded his first NHL win on November 8 with 27 saves in a 5-1 win over the St. Louis Blues. The Flyers' third-round selection in the 2015 NHL Entry Draft has played in 14 career games with the Flyers including nine this season.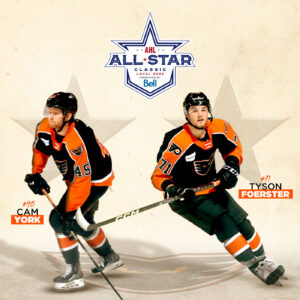 HEY NOW, YOU'RE AN ALL-STAR
Tyson Foerster and Cam York have been selected for the AHL All-Star Classic at Laval, Quebec February 5-6. The pair of talented first-rounders and World Juniors gold medalists have both thrived with the Phantoms this season. Foerster, 20, has scored 11-12-23 in 34 games with Lehigh Valley.
York, 22, scored 3-10-13 in 20 games with the Phantoms and earned a recall to the Philadelphia Flyers on December 8 where he has scored 1-7-8 in 15 games.
OVERTIME STRANGENESS
The Phantoms are 3-3 in overtimes this year with all three of their wins coming on the road and all three of the extra-period losses coming at home. Louie Belpedio, Cam York and Artem Anisimov have scored OT winners for the Phantoms in October, November and December respectively.
PHANTASTIC!
–  Tyson Foerster became the third Phantom to reach double-digit in goals joining Artem Anisimov (12) and Elliot Desnoyers (12)
– Artem Anisimov has moved into a tie for the team lead with 12 goals after scoring twice at Toronto last Saturday. He has four multi-goal games this season
– Elliot Desnoyers is tied for fourth among AHL rookies with Bridgeport's William Dufour with 12 goals.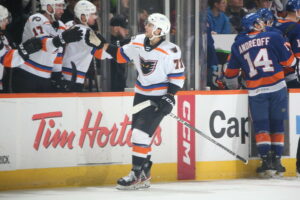 – Cal O'Reilly has 699 career points. He will become the 25th player in AHL history to reach the 700-point milestone.
– Lehigh Valley's power play is sixth in the AHL at 23.6%.
– The Phantoms are….
12-4-4 when scoring 3 or more goals
12-2-1 when allowing 2 goals or fewer
12-3-5 in one-goal games
9-1-5 when scoring the first goal
10-0-4 when leading after two periods
3-3 in overtime and 2-2 in shootouts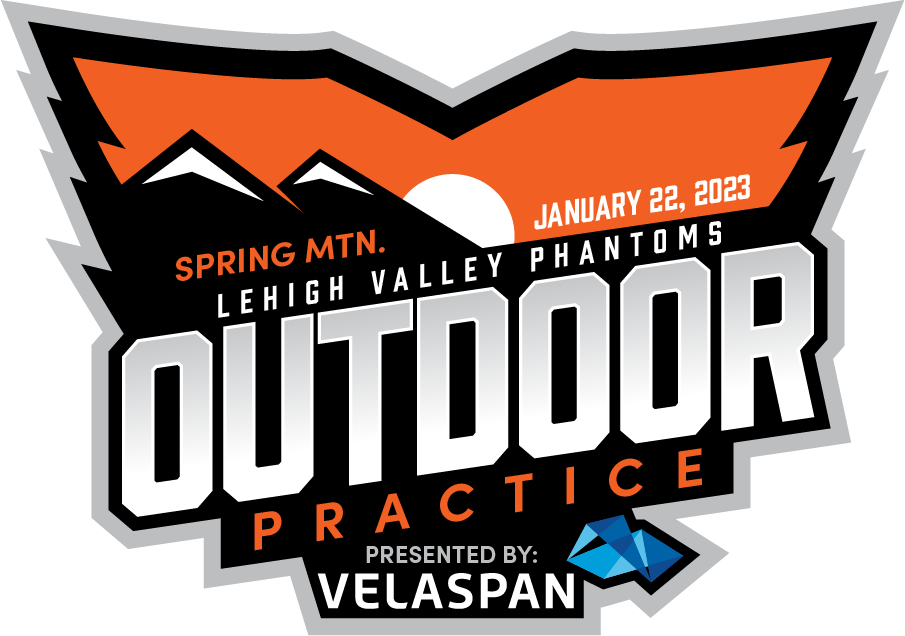 TAKING IT OUTSIDE
The Phantoms announced an outdoor practice open to the public on Sunday, January 22 at 11:00 a.m. in the picturesque setting at Spring Mountain Adventures in Schwenksville, PA. Fan can catch the Phantoms in this special practice session as they prepare for an upcoming three-game week at PPL Center. Velaspan is the presenting sponsor of the Outdoor Practice which will also see the team wearing custom jerseys during the unique event.
ABOUT THE CRUNCH
Syracuse (14-13-5) clobbered the Laval Rocket 7-3 on Friday to end a five-game losing slide after the Tampa Bay Lightning affiliate had been zooming up the standings in the North Division. Seventh-year head coach Benoit Groulx has had a streaky team that began the campaign with just one win in the first nine games before a 12-4-1 surge starting November 5. Defenseman Darryn Raddysh (9-30-39) is having a career year and rates third in the AHL in points and second in assists. Alex Barre-Boulet (9-29-38) scored 34 goals as a rookie in 2018-19 to lead the AHL. Raddysh and Barre-Boulet as well as Gabriel Dumont were named to the AHL All-Star Classic in Laval February 5-6. The highly respected Dumont will serve as captain of the Eastern Conference side.
The high-flying Crunch lead the Eastern Conference with 3.7 goals scored per game but their defense is 25th out of 32 allowing 3.6 per contest. Second-year pro and 2019 third-round selection Hugo Alnefelt (7-4-1, 2.63, .911) is the team's top goalie wile veteran Max Lagace (6-7-4, 3.86, .875) has uncharacteristically struggled.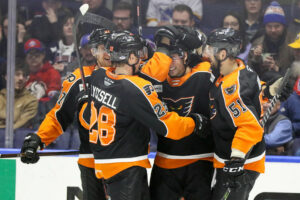 Phantoms Scoring Leaders
Olle Lycksell 6-18-24
Tyson Foerster 11-12-23
Elliot Desnoyers 12-7-19
Artem Anisimov 12-6-18
Garrett Wilson 5-10-15
Bridgeport Scoring Leaders
Darren Raddysh 9-30-39
Alex Barre-Boulet 9-29-38
Gemel Smith 12-19-31
Simon Ryford 13-17-30
Gage Concalves 5-18-23
Phantoms Tickets are available HERE
SPECIAL TEAMS 
Lehigh Valley Power Play – 23.2%, 6th
Lehigh Valley Penalty Kill – 71.3%, 31st
Syracuse Power Play – 19.8%, 15th
Syracuse Penalty Kill – 78.2%, 21st
UP NEXT
The Phantoms have another three-game road-swing beginning with a pair of games at the Cleveland Monsters on Tuesday and Wednesday.
Phantoms Tickets are available HERE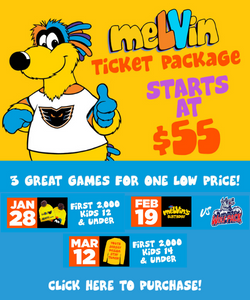 UPCOMING SCHEDULE
Saturday, January 14 (7:05) vs. SYRACUSE CRUNCH
Tuesday, January 17 (7:00) at Cleveland Monsters
Wednesday, January 18 (7:00) at Cleveland Monsters
Friday, January 20 (7:05) at Wilkes-Barre/Scranton Penguins
UPCOMING PROMOTIONS
Saturday, January 14 (7:05) vs. Syracuse Crunch – Valley Youth House Night Presented by Air Products – Toilet Paper Donation Drive with great prizes
Sunday, January 22 (11:00 a.m.) – Phantoms Outdoor Practice presented by Velaspan at Spring Mountain in Schwenksville. Free to the public!
Wednesday, January 25 (7:05) vs. Hershey Bears – Pregame Happy Hour. $2 Miller Lites and Yuenglings available until Puck Drop.
Friday, January 27 (7:05) vs. Wilkes-Barre/Scranton Penguins – Flyers Night with Lou Nolan and GRITTY!!!
Saturday, January 28 (7:05) vs. Hershey Bears – meLVin Youth Beanies presented by Lehigh Valley Reilly Children's Hospital (first 2,000 kids age 12 and younger)

Broadcast coverage of all Phantoms games with Bob Rotruck is available on the Phantoms 365 app and on Real Oldies 1470-AM in Allentown. Also available on the Listen Live button at phantomshockey.com
Fans can also watch the games on AHLTV.com or can listen on their Smart Speakers at: "Play Phantoms Radio 24/7."