Elliot Desnoyers tallies team-best 13th goal
January 14, 2023
Lehigh Valley, PA – Kevin Connauton (1st) and Elliot Desnoyers (13th) tallied for the Lehigh Valley Phantoms, but the Syracuse Crunch scored a 5-2 victory over the Orange and Black on Saturday night at PPL Center. Adam Brooks recorded an assist to extend his point-streak to a season-best three straight games (1g, 2a).
Syracuse stormed offensively in the opening 20 minutes, including two goals in the game's first 5:59. Darren Raddysh notched his 10th goal of the season at 2:23, giving him a conference-leading 40 points. Alex Barre-Boulet and Gage Goncalves earned the assists on Raddysh's opening tally.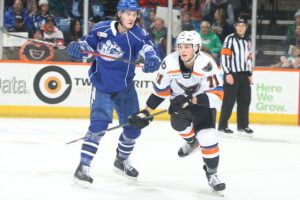 The Crunch doubled their lead at the 5:59 mark on a quick offensive rush into the Phantoms end. Jack Finley hammered home a feed from Daniel Walcott and Shawn Element past Lehigh Valley goaltender Felix Sandstrom.
Later in the stanza, the Orange and Black solved Crunch backstop Hugo Alnefelt to cut their deficit in half. Kevin Connauton earned his first goal of the season with a wicked wrister from the left-point. Ronnie Attard and Adam Brooks registered the assists, marking Attard's first helper since December 23 at Springfield.
Only 36 seconds later, Syracuse responded to restore their two-goal advantage. Left open in the slot, Simon Ryfors finished a pass from Cole Koepke for the 3-1 Crunch advantage. Shots after 20 minutes were 12-9 Lehigh Valley despite trailing by a deuce.
Similar to the first stanza, it was Syracuse once again scoring in the early going of the second period. Gage Goncalves registered his sixth marker of the season from Ilya Usau and Darren Raddysh at 1:55. With his multipoint night (1g, 1a), Raddysh now sits on top of the AHL leaderboard in points among defensemen with 41 (10g, 31a).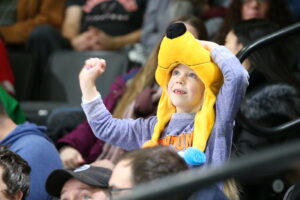 Elliot Desnoyers counter punched for the Phantoms to bring his club within 4-2 before second intermission. Hugo Alnefelt left his crease to play the puck, but the Syracuse goaltender turned the puck over onto the tape of Garrett Wilson, who found Elliot Desnoyers. On a tuck attempt along the near post, Desnoyers caught Alnefelt out of position for his team-best 13th goal of the campaign. Shots after 40 minutes were 18-17 Phantoms with the Crunch leading 4-2 at the break.
Lehigh Valley saw two power play opportunities in the final frame, and multiple golden chances to inch closer. After Daniel Walcott was whistled for an elbowing infraction at 14:19, Phantoms bench boss Ian Laperriere pulled Sandstrom for the extra attacker. On the 6-on-4 man-advantage, Ronnie Attard rang the iron and came within inches of pulling Lehigh Valley within one. But it was Cole Koepke who scored into an empty net at 19:44 to finish a 5-2 scoring line for Syracuse.
The Phantoms are back in action on Tuesday night to open a back-to-back road set at the Cleveland Monsters.
SCORING SUMMARY
1st – 2:23 – SYR D. Raddysh (10) (A. Barre-Boulet, G. Goncalves) 0-1
1st – 5:59 – SYR J. Finley (6) (D. Walcott, S. Element) 0-2
1st – 12:10 – LV K. Connauton (1) (R. Attard, A. Brooks) 1-2
1st – 12:46 – SYR S. Ryfors (14) (C. Koepke) 1-3
2nd – 1:55 – SYR G. Goncalves (6) (I. Usau, D. Raddysh) 1-4
2nd – 13:08 – LV E. Desnoyers (13) (G. Wilson) 2-4
3rd – 19:44 – SYR C. Koepke (4) (G. Dumont, A. Barre-Boulet) 2-5
Shots:
LV 27 – SYR 25
PP:
LV 0/2, SYR 0/3
Goalies:
LV – F. Sandstrom (L) (2-1-2) (20/24)
SYR – H. Alnefelt (W) (7-4-2) (25/27)
Records:
Lehigh Valley (16-14-5)
Syracuse (15-13-5)
Phantoms Tickets are available HERE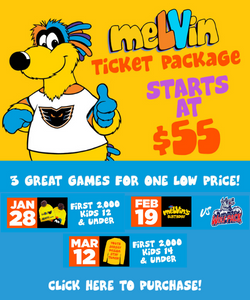 UPCOMING SCHEDULE
Tuesday, January 17 (7:00) at Cleveland Monsters
Wednesday, January 18 (7:00) at Cleveland Monsters
Friday, January 20 (7:05) at Wilkes-Barre/Scranton Penguins
UPCOMING PROMOTIONS
Sunday, January 22 (11:00 a.m.) – Phantoms Outdoor Practice presented by Velaspan at Spring Mountain in Schwenksville. Free to the public!
Wednesday, January 25 (7:05) vs. Hershey Bears – Pregame Happy Hour. $2 Miller Lites and Yuenglings available until Puck Drop.
Friday, January 27 (7:05) vs. Wilkes-Barre/Scranton Penguins – Flyers Night with Lou Nolan and GRITTY!!!
Saturday, January 28 (7:05) vs. Hershey Bears – meLVin Youth Beanies presented by Lehigh Valley Reilly Children's Hospital (first 2,000 kids age 12 and younger)