Wednesday, January 25, 2023 at 7:05 p.m.
Lehigh Valley Phantoms (19-14-5) vs. Hershey Bears (26-8-5)
PPL Center, Allentown, PA
TONIGHT
Back at Home Sweet Home!
The Lehigh Valley Phantoms open a season-long five-game homestand at PPL Center following a perfect 3-0-0 road trip to Cleveland and Wilkes-Barre/Scranton. The Phantoms are in fourth place in the Atlantic Division and are just one point behind the third-place Charlotte Checkers.
First-place Hershey is on a six-game point streak (4-0-2) and points in 19 of the last 23 since November 23 (16-4-3).
Tonight is Game 6 out of 14 in the season series. The Phantoms and Bears are squaring off four times in the next six total games including three times at PPL Center within the upcoming five-game homestand.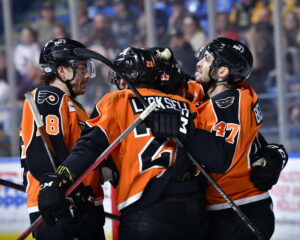 LAST TIME
Friday, January 20, 2023
Phantoms 5 – Penguins 2
Tyson Foerster (12th, 13th) scored a pair of goals for the Phantoms while Wyatte Wylie (2nd), Bobby Brink (4th) and Jordy Bellerive (4th) also tickled the twine in a dominating win at Wilkes-Barre/Scranton. Cal O'Reilly's assist on Wyatte Wylie's goal in the first period propelled the Phantoms' captain into elite company with is 700th career point as he became only the 25th AHL player to achieve the milestone. The Phantoms blew away the Penguins with a season-best four-goal outburst in a single period basically putting away the game in the impressive second period. Sam Ersson returned to the Phantoms and racked up 28 saves in his first game back with Lehigh Valley. The two rivals got feisty in the third period with four separate fights including Bobby Brink's first career pro fight and Hayden Hodgson's heavyweight tilt against Jamie Devane.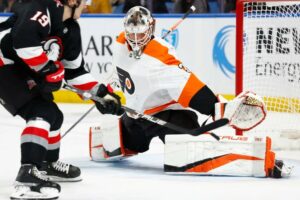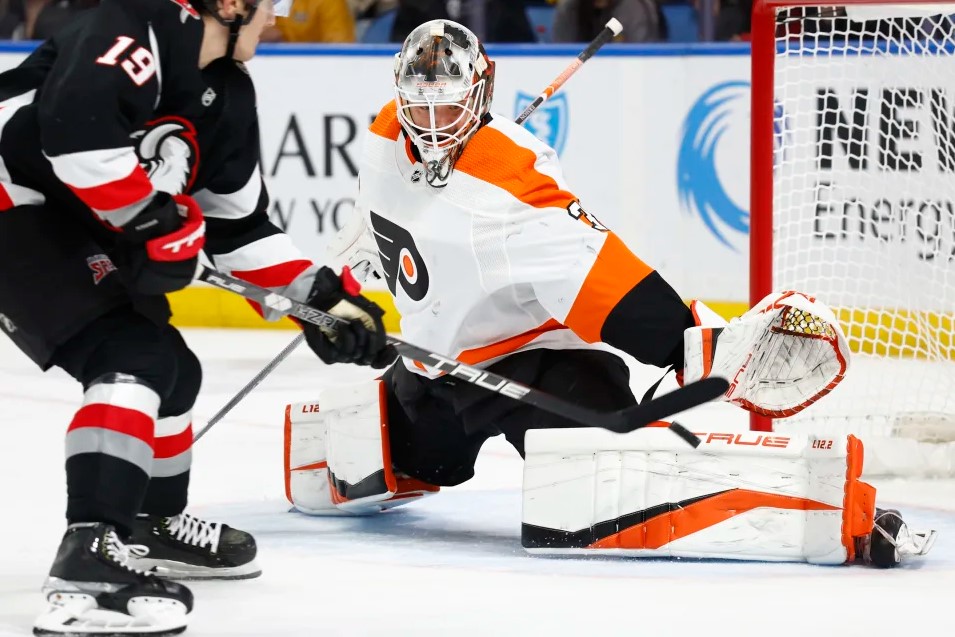 SAM IS BACK!
Goaltender Sam Ersson is back with the Phantoms after a successful and memorable stretch with the Philadelphia Flyers over the past month. Ersson made his NHL debut (December 23 at Carolina), posted his first NHL win (December 29 at San Jose) and his first career shutout (January 9 at Buffalo) while accumulating a perfect 5-0-0 record with a 2.37 GAA and .918 save percentage. With the Phantoms this season, Ersson has now gone 10-8-1, 2.76, .911 in 19 games.
PHANTOMS RECORD BOOK
Lehigh Valley players with two overtime goals in one season. All four are defensemen!
Brandon Manning (2014-15)
T.J. Brennan (2018-19)
Andy Welinski (2019-20)
Louie Belpedio (2022-23)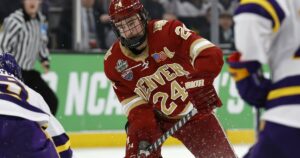 NCAA LEADERS
Lehigh Valley's Bobby Brink was the NCAA scoring champ with the University of Denver racking up 14-43-57 in just 41 games on his way to a National Championship for the Pioneers.
Hershey's Ethen Frank topped all NCAA players with 26 goals at Western Michigan University and currently leads AHL rookies this season with 18 goals.
PHANTASTIC!
– The Phantoms went 3-0-0 on their recent road-trip and have won four consecutive away games. Lehigh Valley is 5-0-1 on the road in January through a busy travel schedule.
–  Tyson Foerster has surged to a tie in the team-lead in goals with Elliot Desnoyers. Both young talents have 13 goals apiece and also both turned 21 years old last week. Foerster has a pair of two-goal games recently with performances on January 13 vs. Bridgeport and January 20 at Cleveland.
– Cal O'Reilly notched an assist on Friday at Wilkes-Barre/Scranton to become the 25th player in AHL history to reach the 700-point milestone. O'Reilly is 7th all-time in AHL history with 546 career assists.
– Bobby Brink has scored four goals in seven games with the Phantoms since his debut on January 6 and all four have come in different arenas: Rochester, Bridgeport, Cleveland, Wilkes-Barre/Scranton. Brink has yet to score a goal at PPL Center.
– Jackson Cates has racked up four assists in the last three games with a pair of multi-helper nights on January 17 and January 20.
– Lehigh Valley is a perfect 14/14 on the penalty kill in the last four games.
– The Phantoms are….
14-4-4 when scoring 3 or more goals
16-1-1 when allowing 2 goals or fewer
13-3-5 in one-goal games
10-1-5 when scoring the first goal
12-0-4 when leading after two periods
4-3 in overtime and 2-2 in shootouts
ABOUT THE BEARS
Hershey (26-8-5) is tops in the Atlantic Division and second-best in the AHL. The Bears have largely done it with defense and goaltending having limited the opposition to a league-best 2.4 goals per game. Hunter Shepard is the top goalie in the AHL with a 2.12 goals-against average to accompany his 11-1-3 record. Mike Sgarbossa (14-22-36) is healthy and has returned to his top form leading the team in points while striking for four goals against Lehigh Valley. Western Michigan University product Ethen Frank leads all AHL rookies with 18 goals including tree against the Phantoms. Joe Snively has provided some additional scoring punch putting together a three-game goal streak shortly after his arrival from the Washington Capitals. Hershey's power play is 6/21 (28.6%) against the Phantoms. Lehigh Valley and Hershey will square off four times over a six-game stretch in just 11 days.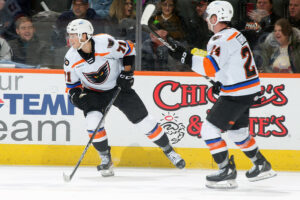 Phantoms Scoring Leaders
Olle Lycksell 7-19-26
Tyson Foerster 11-13-24
Elliot Desnoyers 13-8-21
Artem Anisimov 12-8-20
Garrett Wilson 5-11-16
Jackson Cates 7-7-14
Ronnie Attard 5-9-14
Hershey Scoring Leaders
Mike Sgarbossa 14-22-36
Ethen Frank 18-13-31
Mike Vecchione 13-18-31
Mason Morelli 5-18-23
Hendrix Lapierre 10-12-22
Phantoms Tickets are available HERE
SPECIAL TEAMS 
Lehigh Valley Power Play – 22.2%, 7th
Lehigh Valley Penalty Kill – 74.3%, 31st
Hershey Power Play – 18.1%, 21st
Hershey Penalty Kill – 80.3%, 17th
UP NEXT
The homestand continues Friday against the Wilkes-Barre/Scranton Penguins and Saturday against the Hershey Bears.
Phantoms Tickets are available HERE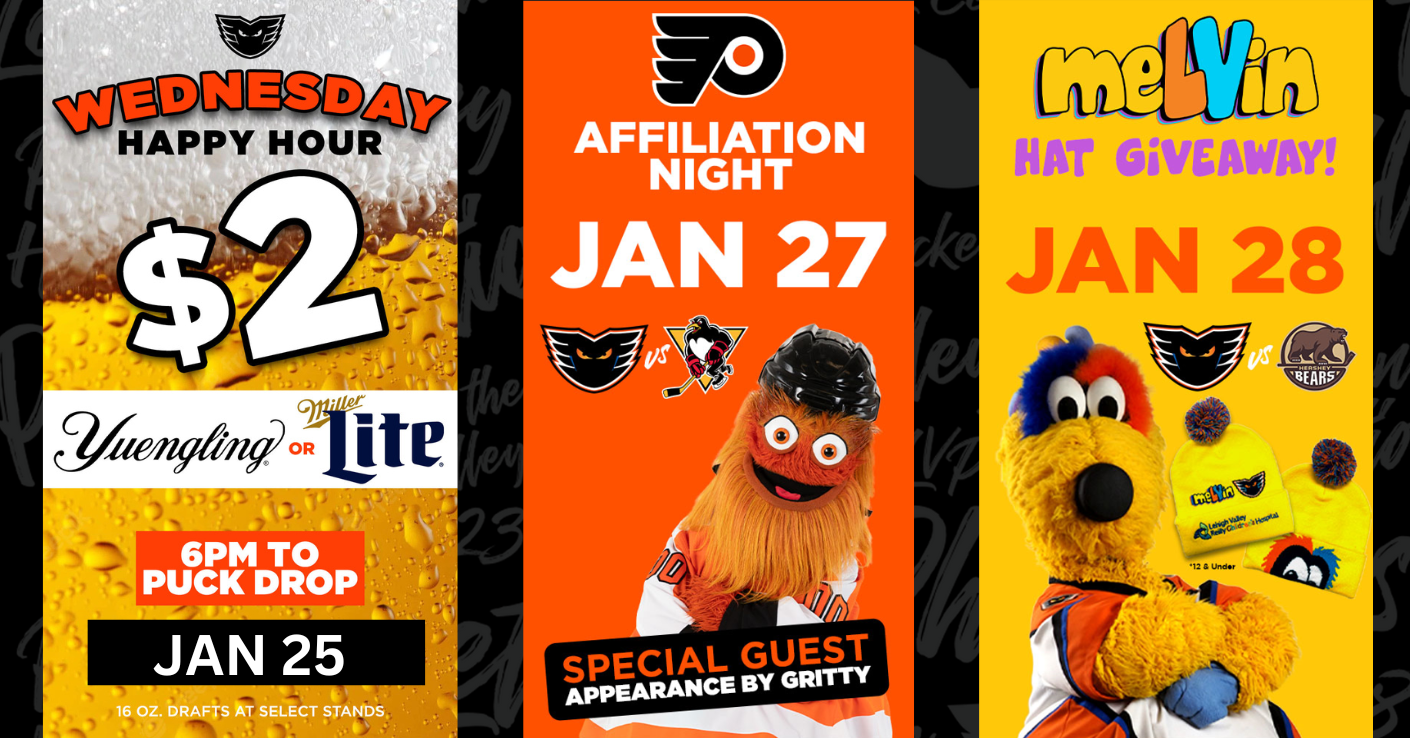 UPCOMING SCHEDULE
Friday, January 20 (7:05) at Wilkes-Barre/Scranton Penguins
Sunday, January 22 (11:00 a.m.) Outdoor Practice presented by Velaspan at Spring Mountain Adventures
Wednesday, January 25 (7:05) vs. HERSHEY BEARS
Friday, January 27 (7:05) vs. WILKES-BARRE/SCRANTON PENGUINS
Saturday, January 28 (7:05) vs. HERSHEY BEARS
UPCOMING PROMOTIONS
Sunday, January 22 (11:00 a.m.) – Phantoms Outdoor Practice presented by Velaspan at Spring Mountain in Schwenksville. Free to the public!
Wednesday, January 25 (7:05) vs. Hershey Bears – Pregame Happy Hour. $2 Miller Lites and Yuenglings available until Puck Drop.
Friday, January 27 (7:05) vs. Wilkes-Barre/Scranton Penguins – Flyers Night with Lou Nolan and GRITTY!!!
Saturday, January 28 (7:05) vs. Hershey Bears – meLVin Youth Winter Hats presented by Lehigh Valley Reilly Children's Hospital (first 2,000 kids age 12 and younger)

Broadcast coverage of all Phantoms games with Bob Rotruck is available on the Phantoms 365 app and on Real Oldies 1470-AM in Allentown. Also available on the Listen Live button at phantomshockey.com
Fans can also watch the games on AHLTV.com or can listen on their Smart Speakers at: "Play Phantoms Radio 24/7."