Desnoyers Scores Team-Leading 14th but Phantoms Fall 5-2
January 25, 2023
Lehigh Valley, PA – Elliot Desnoyers (14th) and Hayden Hodgson (2nd) had a pair of equalizers for the Lehigh Valley Phantoms but visiting Hershey pulled away in the third period breaking a 2-2 tie with a three-goal surge for a 5-2 victory on Wednesday night at PPL Center. Joe Snively (4th, 5th) and Mason Morelli (6th, 7th) led the way for the visitors with each scoring a pair of goals.
Lehigh Valley (19-15-5) had its three-game win streak come to a close as they sustained just their second regulation loss in nine games in January (5-2-2). The Phantoms were opening a season-long five-game homestand that will include two more encounters with their rivals from Chocolatetown.
Hershey (27-8-5) struck first early in the opening period, but Hershey's lead lasted only 2:08 as two highly touted prospects traded blows for their respective clubs. Connor McMichael opened the scoring only 1:15 into the game after depositing the rebound of a Dylan McIlrath shot at 1:15.
Lehigh Valley drew even barely more than two minutes later as the Phantoms were rewarded for a strong offensive zone forecheck. Max Willman and Jordy Bellerive did yeoman's work beneath the goal line in Hershey's defensive zone to setup an open Elliot Desnoyers between the face-off circles. Desnoyers beat Bears goaltender Zach Fuale between the pillows, low to the ice for the equalizer. The tally marked Desnoyers' team-leading 14th goal of the season. Entering the contest, he was tied for the team-lead with Tyson Foerster at 13 goals apiece. Both young prospects celebrated their 21st birthday last week.
The Bears had just two shots on goal for the rest of the first period, a stretch of 18:45 in which the Phantoms largely dominated.
Tied 1-1 going into the second period, Samuel Ersson made a strong stop on Hershey's Ethen Frank with only nine seconds gone by in the new frame. The Phantoms remained under siege in their own end and Hershey recaptured a 2-1 lead on an ensuing power-play chance.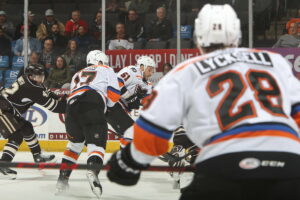 After a delay of game minor at 5:21, Joe Snively buried a drive on the back door from the right circle to finish a tic-tac-toe passing play into an open cage at 6:47. Henrik Borgstrom and Garrett Pilon earned the helpers on the go-ahead marker. But once again, Lehigh Valley responded to erase their skinny, one-goal deficit.
The goal ended Lehigh Valley's streak of 15 consecutive penalty kills.
A bouncing puck eluded Bears defender Aaron Ness, and Hayden Hodgson was ready to pounce. Hodgson took one quick stride after his steal and then sniped and roofed his second goal of the campaign at 13:44 into the middle frame. Hodgson's mini-breakaway marker past the glove of Fucale marked his first since the Phantoms' home opener on October 22 versus Cleveland.
But in the final period, Hershey grabbed their third and final lead en route to a 5-2 win. Joe Snively scored his second goal of the evening and fifth of the regular season only 60 seconds into the period on a snipe from the right dot to the far post past the shoulder of Sam Ersson.
The Bears later hit pay-dirt on another power play at 8:43 when Mason Morelli deflected a point shot from Connor McMichael to chop a bouncer down to the ice and between the pads of Ersson. Morelli scored a second time only 2:11 later from Vincent Iorio and Shane Gersich on a rebound off the end-boards that he knocked in from the right side of the cage for the three-goal margin.
The homestand continues on Friday against the Wilkes-Barre/Scranton Penguins on Flyers Night including an appearance by GRITTY and legendary P.A. announcer Lou Nolan. Fans are encouraged to wear white to the game and the Phantoms players could potentially be doing similar as well.
The Phantoms will rematch against the Hershey Bears on Saturday at PPL Center with meLVin Youth Winter Hats for the first 2,000 kids age 12 and under presented by our friends at Lehigh Valley Reilly Children's Hospital.
SCORING SUMMARY
1st – 1:15 – HER C. McMichael (9) (D. McIlrath, J. Snively) 0-1
1st – 3:23 – LV E. Desnoyers (14) (J. Bellerive, M. Willman) 1-1
2nd – 6:47 – HER J. Snively (4) (H. Borgstrom, G. Pilon) (PP) 1-2
2nd – 13:44 – LV H. Hodgson (2) (A. Brooks, K. Connauton) 2-2
3rd – 1:00 – HER J. Snively (5) (D. McIlrath, G. Carlsson) 2-3
3rd – 8:43 – HER M. Morelli (6) (C. McMichael, M. Vecchione) (PP) 2-4
3rd – 10:54 – HER M. Morelli (7) (V. Iorio, S. Gersich) 2-5
Shots:
LV 22 – HER 27
PP:
LV 0/1, HER 2/5
Goalies:
LV – Sam Ersson (L) (10-8-1) (22/27)
HER – Zach Fucale (W) (13-7-2) (20/22)
Records:
Lehigh Valley (19-15-5)
Hershey (27-8-5)
UPCOMING SCHEDULE
Friday, January 27 (7:05) vs. WILKES-BARRE/SCRANTON PENGUINS
Saturday, January 28 (7:05) vs. HERSHEY BEARS
Wednesday, February 1 (7:05) vs. HERSHEY BEARS
Friday, February 3 (7:05) vs. PROVIDENCE BRUINS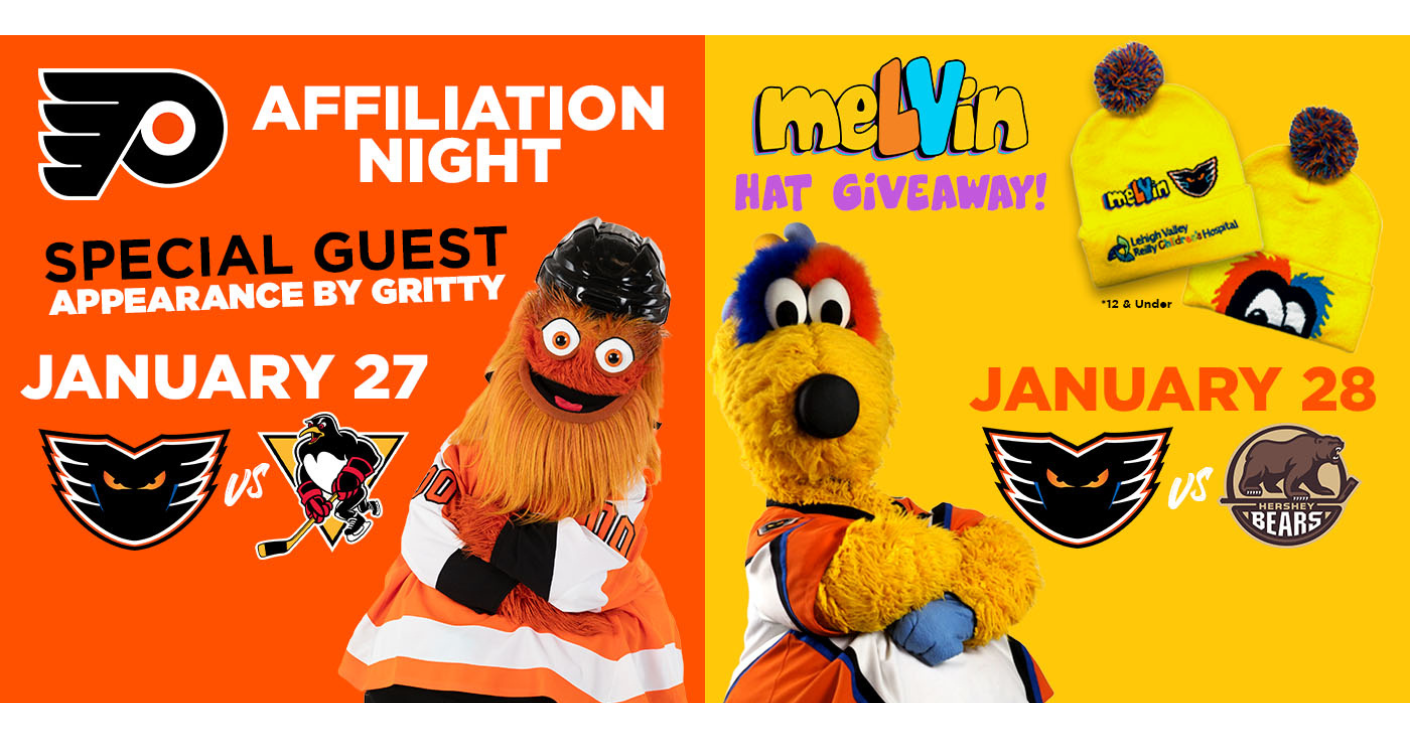 UPCOMING PROMOTIONS
Friday, January 27 (7:05) vs. Wilkes-Barre/Scranton Penguins – Flyers Night with Lou Nolan and GRITTY!!!
WHITEOUT – Wear white to the game!
Saturday, January 28 (7:05) vs. Hershey Bears – meLVin Youth Winter Hats presented by Lehigh Valley Reilly Children's Hospital (first 2,000 kids age 12 and younger)
Wednesday, February 1 (7:05) vs. Hershey Bears – Pregame Happy Hour. $2 Miller Lites and Yuenglings available until Puck Drop
Friday, February 3 (7:05) vs. Providence Bruins – Phantoms Premier Member Appreciation Night. Great Prizes! Berks $1 Hot Dogs