TONIGHT
It's a GAMEDAY presented by MassMutual with "Los Fantasmas de Lehigh Valley" hosting "Pingüinos de Wilkes-Barre/Scranton" to open Hockey Fiesta Weekend at PPL Center.
Lehigh Valley (22-27-11) is playing game 61 of the season and there are 16 remaining including tonight.
LAST TIME
The Phantoms surged out to a 2-0 lead at Belleville on goals by Garrett Wilson (13th) and Nick Lappin (4th) but the Senators rallied to equalize in the second period and eventually won in the fifth round of the shootout for a 3-2 decision last Saturday night in Belleville, Ontario. Pat Nagle made 35 saves in his first game back with the Phantoms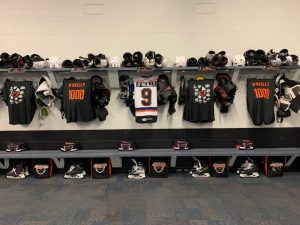 Mr. 1,000
The Phantoms will honor captain Cal O'Reilly tonight following his 1,000th pro game last Friday at Laval. The team surprised call with an array of "O'Reilly 1000" t-shirts before last Friday's milestone game. The shirts included the logos of all the teams that Cal had played for including the Phantoms, Iowa Wild, Rochester Americans, Utica Comets, Portland Pirates, Milwaukee Admirals, Wilkes-Barre/Scranton Penguins, Buffalo Sabres, Pittsburgh Penguins and more.
Cal O'Reilly was also sent out ahead of the team during pregame warm-ups to take a rookie lap.
Cal's 1,000 games included 809 contests in the AHL as well as 145 games in the NHL and 46 games in the KHL
RECENT TRANSACTIONS
Mar 28 – Add Will Riedell (D) – Signed PTO from Ohio State
Mar 28 – Add Darion Hanson (G) – Signed PTO from UConn
Mar 31 – Alex Kile (F) – Recalled from loan to Maine Mariners (ECHL)
Mar 31 – Brennan Saulnier (F) – Loaned to Reading Royals (ECHL)
Apr 1 – Max Willman (F) – Returned by Flyers on loan to Phantoms
Apr 1 – Felix Sandstrom (G) – Returned by Flyers on loan to Phantoms
Apr 1 – Adam Karashik (D) – Signed PTO 2021-22 season. AHL contract for 2022-23 season.
WILKES-BARRE/SCRANTON PENGUINS
Wilkes-Barre/Scranton (28-26-8) arrives to PPL Center for the Phantoms' first home game in three weeks. Seventh-rounder fron Finland, Valtteri Puustinen, leads the Pens with 18-17-35 with five goals against the Phantoms including an overtime winner at PPL Center in October. First-rounder Sam Poulin has scored 12-18-30. Lehigh Valley defenseman Adam Clendening has scored 2-9-11 against Wilkes-Barre/Scranton. The Phantoms are 4-4-1 against the Penguins. This is the 10th game out of 12 in the season series.
PHANTASTIC!
– Hayden Hodgson was recalled to the Flyers and made his NHL debut a memorable one with a goal and assist in a win at the St. Louis Blues. It's been an incredible season for the power-forward who went from AHL tryout and ECHL contract all the way to NHL contract in the same season.
– Five Phantoms players have made their NHL debuts this season: Max Willman, Felix Sandstrom, Linus Sandin, Isaac Ratcliffe, Hayden Hodgson
– Garrett Wilson has scored power-play goals in the first period in back-to-back games.
– Cal O'Reilly played in his 1,000th pro game last Friday at Laval. The Phantoms have special plans to acknowledge the captain's milestone at the team's next home game on Friday.
– Cal O'Reilly has 18 goals this season to equal a personal high. The 35-year-old captain of the Phantoms also had 18 goals in a season 15 years ago in the 2006-07 season when he was a 20-year-old rookie with the Milwaukee Admirals. Cal has five goals in his last five games including a pair of two-goal games.
– The Phantoms have played 60 games and have 16 remaining in the 2021-22 regular season.
Upcoming Schedule
Friday, April 1 vs. Wilkes-Barre/Scranton Penguins (7:05) (PPL CENTER) – Hockey Fiesta Weekend
Saturday, April 2 vs. Utica Comets (7:05) (PPL CENTER) – Hockey Fiesta Weekend
Sunday, April 3 at Bridgeport Islanders (3:00)
Wednesday, April 6 at Wilkes-Barres/Scranton Penguins (7:05)
Friday, April 8 vs. Hershey Bears (7:05) (PPL CENTER) – Postgame Skate, US Senior Open Night
Sunday, April 10 at Bridgeport Islanders (3:00)
Monday, April 11 at Providence Bruins (7:05)
Broadcast coverage of all Phantoms games, home and away, is available on the Phantoms 365 app and on 1470-WSAN. Fans can watch on AHLTV.com and can listen on their Smart Speakers at: "Play Phantoms Radio 24/7." Join Voice of the Phantoms, Bob Rotruck, for all the action!