G Branden Komm Loaned to Reading
February 21, 2019
Lehigh Valley, Pa. – The Philadelphia Flyers have announced today that they have loaned goaltender Mike McKenna to their American Hockey League affiliate, the Lehigh Valley Phantoms. In addition, the Lehigh Valley Phantoms have loaned goaltender Branden Komm to the Reading Royals of the ECHL.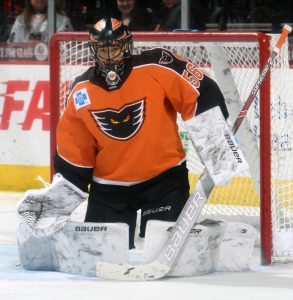 McKenna, 35, has played in three games for the Lehigh Valley Phantoms, going 2-1, most recently with a 33-save victory on February 10, 2019 against Hartford during a conditioning stint. McKenna played in 11 NHL games this season, including one with the Philadelphia Flyers on January 8, 2019 against the Washington Capitals. McKenna also appeared in 10 games for the Ottawa Senators this season, posting a 1-4-1 record with a 3.96 goals against average and a 0.897 save percentage. He
A native of St. Louis, Missouri, McKenna has been very well-traveled during his hockey career. Over his 14-year professional career, McKenna has spent time with seven different NHL teams and played for 13 different AHL cities. McKenna has a 3.60 GAA and 0.890 save percentage in 35 NHL games during his career.
The 6-foot-2 goaltender has backstopped his team to the Calder Cup Finals in each of the last two seasons. He went 14-8 with a 2.41 GAA and .927 save percentage for the Texas Stars in 2018 and had a 13-9 record with a 2.68 GAA and .911 save percentage for the Syracuse Crunch in 2017. He won the 2017-18 President's Award, which goes to an AHL player in recognition of his outstanding accomplishments. McKenna currently ranks 8th in AHL history in wins (228), 9th in shutouts (27), and 10th in games played by a goaltender (470).
Komm, 27, appeared in four games for the Phantoms this season and is 1-2 with a 3.28 goals against average and 0.901 save percentage. Komm made his AHL debut in Hartford on January 5, 2019. Komm earned his first AHL victory after making 34 saves on January 25, 2019 against the Laval Rocket.
The 6-foot-1 goaltender has played 15 games this season for the Reading Royals and holds a 5-6-1-1 record with a 2.81 goals-against average and a .911 save percentage in the ECHL this year.
A native of Williamsville, New York, Komm is in his fifth professional season after four years at Bentley University. He has played in 118 games in the ECHL during his career and owns a 52-44-10 record. Komm was traded to the Royals on February 13, 2018 from the Manchester Monarchs and signed a one-year AHL contract with the Phantoms on August 31.