The Kids are Alright! Young Talents Steal the Show
September 29, 2018
Lehigh Valley, Pa. – The Lehigh Valley Phantoms converted for three power-play goals in a 5-3 victory over the Charlotte Checkers in the team's third, and last, preseason game. And it appears the incoming rookie additions to the Phantoms are poised to make a potential immediate impact in the regular season.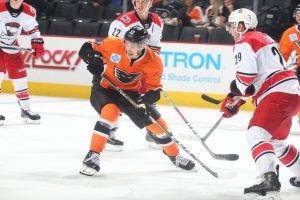 Young talents Carsen Twarynski and Mike Vecchione paced the offense with a goal and an assist apiece while rookie winger Connor Bunnman tacked on a pair of helpers. Returning Phantoms Nicolas Aube-Kubel, Alex Krushelnyski and Greg Carey also contributed goals for the win while goaltender Branden Komm turned aside 27 of 30 Checkers' drives to secure the victory.
The Phantoms concluded the preseason with a 2-1-0 record including back-to-back wins at home against Charlotte that followed a Thursday night setback at Wilkes-Barre.
The two highest scoring teams in the league from a season ago certainly didn't disappoint in the fast-paced affair. The last seven minutes of the second period saw a furious rally of five combined goals as the Phantoms built their lead from 2-1 all the way up to 5-3.
Mike Vecchione earned #1 Star of the Game honors with an assist on Greg Carey's power-play blast that followed his own goal that developed from a slick assist by Twarynski who seemed to have eyes in the back of his head as he connected across the slot for the backdoor strike. Both Vecchione and Twarynski scored in both preseason home games for the Phantoms.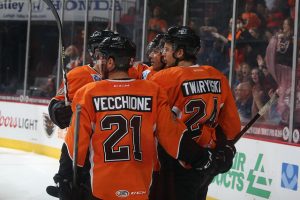 Some of Scott Gordon's talented, new forwards starred throughout the three preseason games with Twarynski, Bunnaman, German Rubtsov and David Kase all showing their talents and catching warranted attention.
"I think our rookies that are coming in this year are really going..I don't want to say it's going to be easy…but I think they all are going to acclimate to the pro game rather quickly," Gordon raved about his newcomers. "Whether it's one game or ten games I think we're going to get some production from those guys. Those are four players that we're excited about that should be able to make contributions. "
While the Phantoms were lighting it up with a 3-for-4 performance in the power play they also received outstanding performances on the other side with a perfect 4-for-4 penalty kill.
Nicolas Aube-Kubel left the game in the second period with an injury and did not return. No update on his status was available.
Earlier in the day, defenseman Philippe Myers was recalled to Philadelphia to play in the Flyers' last preseason game at Boston. The Phantoms training camp roster stands at 28 players but there will still more bodies to come from Philadelphia while the Phantoms will similarly send some of their players to the Reading Royals of the ECHL.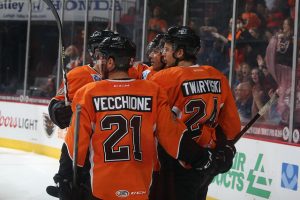 The Phantoms continue training camp and practices this week to gear up for Opening Night on Saturday, October 6 against the Bridgeport Sound Tigers. The game is strongly anticipated to be the fifth consecutive Opening night sellout for the Lehigh Valley Phantoms and also will feature a Rally Towel Giveaway for the fans. Tickets are available at PPLCenter.com
Charlotte Checkers 3 at Lehigh Valley Phantoms 5
Saturday, September 29, 2018 – PPL Center
Charlotte 1 2 0 – 3
Lehigh Valley 2 3 0 – 5
1st Period-1, Charlotte, Nastasiuk 1 (Bishop, Smallman), 7:03. 2, Lehigh Valley, Aube-Kubel 1 (Varone, Bunnaman), 12:27 (PP). 3, Lehigh Valley, Krushelnyski 1 (Goulbourne), 13:08. Penalties-Fora Cha (slashing), 10:35; Brennan Lv (slashing), 15:47.
2nd Period-4, Charlotte, Schilkey 1 (Gauthier, Poturalski), 13:11. 5, Lehigh Valley, Twarynski 2 (Bunnaman), 13:45. 6, Charlotte, Lorentz 1 (Geekie, Pu), 14:16. 7, Lehigh Valley, Vecchione 2 (Twarynski, Brennan), 16:46 (PP). 8, Lehigh Valley, Carey 1 (Vecchione), 18:51 (PP). Penalties-Aube-Kubel Lv (cross-checking), 2:24; Twarynski Lv (holding), 4:57; Bishop Cha (tripping), 15:05; Robertson Cha (holding), 17:33; Wesley Cha (tripping), 18:41; Bishop Cha (roughing), 19:40; Rubtsov Lv (roughing), 19:40.
3rd Period- No Scoring.Penalties-Brennan Lv (slashing), 11:27.
Shots on Goal-Charlotte 9-10-11-30. Lehigh Valley 10-9-5-24.
Power Play Opportunities-Charlotte 0 / 4; Lehigh Valley 3 / 4.
Goalies-Charlotte, Helvig 0-1-0 (19 shots-14 saves); Phillips 0-0-0 (5 shots-5 saves). Lehigh Valley, Komm 1-1-0 (30 shots-27 saves).
A-
Referees-Brandon Blandina (39), Jeremy Tufts (78).
Linesmen-Ryan Knapp (73), Jason Mandroc (17).
The fifth season of Lehigh Valley Phantoms hockey is coming soon! Season tickets offering a wide range of benefits as well as 20-Game and 12-Game plans are available by calling the Phantoms at 610-224-GOAL (4625).