Lehigh Valley Tops Charlotte 4-2 in PPL Center Season Debut
September 28, 2018
Lehigh Valley, Pa. – The defending Atlantic Division Champions provided their local fans a taste of the future in a 4-2 preseason victory over the visiting Charlotte Checkers in a preseason game on Friday night. The first home game for the Phantoms (1-1) was also their second of the preseason. Defenseman Zach Palmquist scored a goal and an assist and tryout goalie Jason Kasdorf opened eyes with a strong 32-save performance that included a couple of breakaway stops.
Carsen Twarynski, Mike Vecchione and Connor Bunnaman also lit the lamp for Lehigh Valley while Nic Aube-Kubel registered a pair of assists.
Charlotte received goals from Dan Renouf and Cliff Pu (shorthanded) while Callum Booth turned aside 20 shots in the losing effort. The Phantoms and Checkers will rematch on Saturday night at PPL Center to conclude preseason play.
A fast-paced and energetic opening period was a welcome site for area hockey fans who had not seen their Phantoms take the ice in game action since late May. The two highest scoring teams in the American Hockey League from a season ago traded quality chances in the entertaining first.
Renouf's score on a nice set up by Andrew Poturalski provided the visitors with the initial advantage at 8:40 into the game.
But Lehigh Valley would surge back to even the score less than two minutes later when defenseman Adam Larkin's shot hit off the pads of Booth allowing an activated Palmquist to capitalize on a rebound in the slot for a 1-1 tie.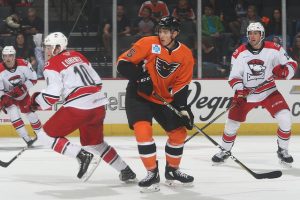 The 27-year-old former Iowa Wild blueliner is joining Lehigh Valley for his fourth pro season and certainly appears to be comfortable in his new surroundings. After a pair of assists at Wilkes-Barre on Thursday, Palmquist notched a couple more points as an encore while displaying his comfort level in his new environs.
"It's awesome," said the recent newlywed, Palmquist, who got married over the summer. "I'm loving every second of it. It's been about two-and-half weeks now and the guys have been great. Getting into a new environment and seeing how nice this place is and obviously seeing the crowd for the first time tonight really shows what a first-class organization this is."
Lehigh Valley extended its lead to 2-1 on a power play goal at 15:26 on a deflection at the net-front by rookie talent Carsen Twarynski off a shot by fourth-year captain Colin McDonald. Twarynski had just returned from the Philadelphia Flyers camp earlier in the day where he had earned high marks for his impressive showing. The 20-year-old winger from the Kelowna Rockets now welcomes his opportunity in the American Hockey League where he played in five games at the end of last season.
"I think the hardest part was the mental part when you get sent down," Twarynski said. "When you get sent down at that stage of camp it takes a little bit of a toll. But I just had to cool my mind down and reset. I got here and I was told that I was going to play. I can't sit around on the fact that I was sent down. There were a lot of positives in that camp with the Flyers. I'm going to take that and I'm going to work on myself down here and I'm going to help this team win."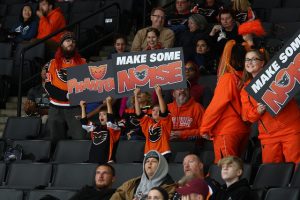 The Phantoms extended their lead just past the midway point of the game on Mike Vecchione's creative tally in the slot. Adam Larkin's pass from the right wing was a bit behind the team's leading rookie scorer from a season ago but Vecchione smoothly adjusted to bring the puck forward and then slid possession from his backhand to forehand offering an opening past the left skate of Booth. Aube-Kubel also assisted on the play that pushed the Phantoms out to a 3-1 margin.
Zach Palmquist left the game after a violent boarding collision from Charlotte's Aleks i Saarela who was assessed a game misconduct while the Phantoms went on a five-minute power play. Palmquist was okay and returned before the second period ended.
But the Phantoms lengthy man-advantage opportunity never really got going and the Checkers pushed back with a pair of shorthanded breakaways, the second of which was converted by Cliff Pu to bring the visitors back to within a goal at 3-2.
Charlotte continued its strong push at the beginning of the third. A pair of power play and some buzzing five-on-five had the Checkers racing out to a 9-0 shot advantage to open the final period but Kasdorf held strong and kept the Phantoms in front.
With under 5:00 left, Kasdorf made a pair of stops that resulted on a Steven Lorentz shorthanded breakway. And a minute later it was Josh Wesley exiting the penalty box completely in the clear but Kasdorf would shut the door again with barely more than 4:00 left with another big save.
Eventually, T.J. Brennan collected a puck in the corner while Charlotte was pushing with an extra attacker. The 29-year-old defenseman spotted an open Cole Bardreau down the ice who connected across the blue-line with rookie Connor Bunnaman for the final dagger in the form of an empty-netter.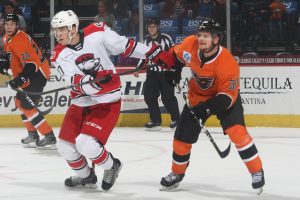 The 4-2 win for the Phantoms came despite a shots disadvantage of 34-24 but Kasdorf was the difference-maker. Charlotte was 0-for-4 on the power play with one shorthanded goal while the Phantoms went 1-for-6 on the man advantage.
The preseason wraps up Saturday night at PPL Center against the Charlotte Checkers at 7:05 p.m.
The Phantoms will officially commence play on their fifth season in the Lehigh Valley on Saturday, October 6 hosting the Bridgeport Sound Tigers on Opening Night presented by the Morning Call. A rally towel giveaway will help get the season started off in style for the defending Atlantic Division Champions.
Tickets for the upcoming preseason game and for Opening Night are available at PPLCenter.com
Charlotte Checkers 2 at Lehigh Valley Phantoms 4 – Status: Final
Friday, September 28, 2018 – PPL Center
Charlotte 1 1 0 – 2
Lehigh Valley 2 1 1 – 4
1st Period-1, Charlotte, Renouf 1 (Poturalski), 8:40. 2, Lehigh Valley, Palmquist 1 (Larkin, Aube-Kubel), 10:38. 3, Lehigh Valley, Twarynski 1 (McDonald, Palmquist), 15:26 (PP). Penalties-Vecchione Lv (hooking), 4:15; Bishop Cha (interference), 11:40; Lorentz Cha (slashing), 16:15; Fora Cha (hooking), 19:30.
2nd Period-4, Lehigh Valley, Vecchione 1 (Larkin, Aube-Kubel), 10:53. 5, Charlotte, Pu 1 (Lorentz), 15:55 (SH). Penalties-Gauthier Cha (interference), 0:23; Saarela Cha (major – boarding, game misconduct – boarding), 12:07; Conner Lv (tripping), 18:55.
3rd Period-6, Lehigh Valley, Bunnaman 1 (Bardreau, Brennan), 18:34 (EN). Penalties-Aube-Kubel Lv (cross-checking), 4:59; Twarynski Lv (boarding), 10:01; Wesley Cha (tripping), 13:34.
Shots on Goal-Charlotte 13-8-13-34. Lehigh Valley 12-7-5-24.
Power Play Opportunities-Charlotte 0 / 4; Lehigh Valley 1 / 6.
Goalies-Charlotte, Booth 0-1-0 (23 shots-20 saves). Lehigh Valley, Kasdorf 1-0-0 (34 shots-32 saves).
A-7,800
Referees-Mike Dietrich (15), Beaudry Halkidis (48).
Linesmen-Jesse Marquis (86), Bill Lyons (27).
The fifth season of Lehigh Valley Phantoms hockey is coming soon! Season tickets offering a wide range of benefits as well as 20-Game and 12-Game plans are available by calling the Phantoms at 610-224-GOAL (4625).