March 29, 2016
This Week
Friday, April 1 (6:00 p.m. local) – Lehigh Valley Phantoms @ St. John's IceCaps
Saturday, April 2 (6:00 p.m. local) – Lehigh Valley Phantoms @ St. John's IceCaps
Upcoming
Coming off a pair of wins at home over the weekend, the Lehigh Valley Phantoms (29-32-7, 65 pts., 7th Atlantic Division) prepare to hit the road this week as the team travels to St. John's for a weekend series with the IceCaps.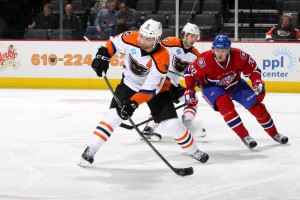 The two-game set between the Eastern Conference foes begins on Friday, April 1 and concludes the following evening. St. John's (29-29-11, 69 pts., 6th North Division) dropped two of three outings last week and enters the week having lost six of its last nine games overall (3-6-0). After a 6-5 setback at Rochester last Wednesday, the IceCaps exacted a little revenge two nights later with a 5-3 triumph over the Americans before closing the week with a 5-3 loss at the Toronto Marlies on Saturday. St. John's opens this week's action on Tuesday, March 29 in a rematch with the Marlies in Toronto before welcoming the Phantoms to town this Friday and Saturday.
This weekend's contests will mark the final meetings of the 2015-2016 regular season between the Phantoms and IceCaps after the two sides split the first two collisions. Lehigh Valley claimed the series opener with a convincing 5-1 win at PPL Center on October 28 before St. John's evened the season set with a 3-2 victory 48 hours later.
Be sure to catch all of this weekend's action on FOX 1470-AM, online at www.fox1470.com or via the iHeartRadio app beginning with "Countdown to Faceoff" at 5:20 p.m. locally. Puck drop for both nights is scheduled for 6:00 p.m. locally here in Lehigh Valley.
Phantoms By The Numbers
Winger Chris Conner enters the week first among all active Phantoms with 32 assists and 48 total points. The 32-year-old forward is just two points shy of his fourth career 50-point AHL campaign.
Winger Taylor Leier enters the week first among all Lehigh Valley skaters with 10 power play goals and tied for the team lead with 20 man-advantage points. The 22-year-old forward is third among all Phantoms in goals (18) and second overall in points (44).
First-year defenseman Samuel Morin enters the week as the only Phantoms player to have appeared in each of Lehigh Valley's 68 games to date. The 6'7″, 227-pound blueliner has produced three goals, 13 assists, 16 points and 88 penalty minutes this season.
With one-goal wins last Friday and Saturday, the Phantoms enter the week having won four of the team's last five one-goal games (4-0-1). Lehigh Valley is 13-11-7 overall in one-goal contests this year.
The Phantoms enter the week having enjoyed standing room-only sellouts in each of the team's last 11 straight games at PPL Center. With 22 capacity crowds this season, Lehigh Valley has now enjoyed 44 regular season sellouts since PPL Center opened its doors in the Fall of 2014. What's more, the Phantoms have now enjoyed as many standing room-only sellouts (22) as they did during the team's Inaugural Season at PPL Center.
Last Week
Wednesday, March 23: Hershey Bears 8 – Lehigh Valley Phantoms 0
The Lehigh Valley Phantoms saw their sellout streak reach nine straight games amidst their final regular season showdown with the Hershey Bears at PPL Center this year. Hershey spoiled the gathering of the 8,433 fans in attendance though with an 8-0 win in downtown Allentown. Chris Bourque (2 goals, assist) and Nathan Walker (goal, 2 assists) led the offensive charge for the Bears while Dan Ellis recorded the shutout with a 21-save performance.
Despite the setback, the Phantoms continue to lead the season series with a 6-5 mark head-to-head against Hershey.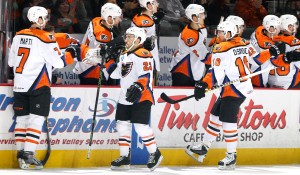 Friday, March 25: Providence Bruins 3 – Lehigh Valley Phantoms 4
Chris Conner scored twice (15th, 16th) and tallied three points overall as the Phantoms capped their regular season series with the Providence Bruins with a 4-3 triumph in front of 8,609 fans at PPL Center. Tim Brent (7th) and Davis Drewiske (4th) also scored for Lehigh Valley while Martin Ouellette backstopped the victory with 33 saves on 36 Providence shots.
With yet another capacity crowd on hand, the Phantoms stretched their sellout streak to 10 consecutive games. Lehigh Valley finished its season series with a 4-2 record against the Bruins.
Saturday, March 26: Hartford Wolf Pack 1 – Lehigh Valley Phantoms 2
Martin Ouellette turned in a stellar 38-save performance as Lehigh Valley capped its four-game home stand at PPL Center with a 2-1 win over the Hartford Wolf Pack. Davis Drewiske (5th) and Pavel Padakin (2nd) both scored for the Phantoms while Danick Martel, Petr Straka, Tyrell Goulbourne and Samuel Morin added assists in the winning effort. With the victory, Lehigh Valley finished its six-game regular season series against Hartford with a 2-3-1 overall mark.
With 8,677 fans on hand to enjoy the victory, the Phantoms extended their sellout streak to 11 consecutive games.
Broadcast Coverage
Service Electric's TV2 Sports will be broadcasting live all of the Phantoms' three remaining regular season home games. If you can't make it out to the rink, be sure to catch all the exciting action live in HD quality with Steve Degler, Peter Zingoni, Doug Heater and Kristi Fulkerson! Pre-game coverage begins with "Phantoms Front and Center" 30 minutes before puck drop. And don't miss "Phantoms – Breaking the Ice" every Monday from 7:00 – 7:30 p.m. throughout the season live at Chickie's & Pete's at PPL Center!
Be sure to also catch each and every Phantoms game this season live on Fox Sports 1470 AM, online at Fox1470.com or via the iHeartRadio app! Join Voice of the Phantoms, Bob Rotruck, for all of the heart-pumping action of Lehigh Valley Phantoms hockey whether the team is at home or on the road. "Countdown to Faceoff" begins 45 minutes prior to puck drop.
Ticket Information
Tickets for all of the Phantoms' three remaining regular season home games are available now online at pplcenter.com, by calling 610-347-TIXX [8499] or in-person at the Mealey's Furniture Box Office at PPL Center (7th & Hamilton).
RISE UP! Don't miss the action and fun of Lehigh Valley Phantoms hockey at PPL Center in downtown Allentown! Contact the Phantoms Front Office for information on season tickets and groups for the 2015-2016 season of Phantoms hockey by calling 610-224-GOAL [4625].
In the midst of their 20th season of operation, the Phantoms are coming off their Inaugural Season as the Lehigh Valley Phantoms playing at the state-of-the-art PPL Center. Established in 1996, the Philadelphia Phantoms spent their first 13 seasons at the Spectrum before re-locating to Glens Falls, New York in 2009 where the team spent the next five seasons as the Adirondack Phantoms. A new era of Phantoms hockey began in the fall of 2014 when the Lehigh Valley Phantoms began play at the state-of-the-art PPL Center. Through 18 incredibly successful campaigns, the Phantoms have captured two Calder Cup Championships (1998, 2005), two Conference Championships (1998, 2005), two Regular Season Titles (1996-97, 1997-98) and four Division Championships (1996-97, 1997-98, 1998-99, 2003-04).