Player's Collection Apparel Line Accompanies Newest Jersey
December 30, 2017
Lehigh Valley, PA – The Lehigh Valley Phantoms, proud AHL affiliate of the Philadelphia Flyers, are thrilled to unveil the team's new specialty Color Rush jerseys. The jerseys are modeled after the popular Color Rush uniforms donned by NFL teams during their Thursday evening games this season and will bring that unique design from the gridiron to the frozen surface. The slick new jerseys showcase one of Lehigh Valley's primary colors (orange) and will be augmented with orange pants and orange socks to be worn by the Phantoms during three select games.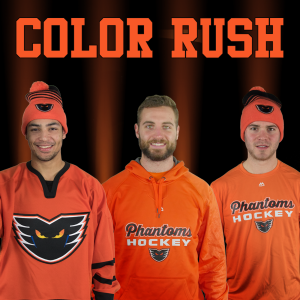 The Phantoms will debut their new Color Rush uniforms at PPL Center on Saturday, January 13 when they host the rival Hershey Bears in downtown Allentown. A limited number of tickets remain for the highly-anticipated rivalry showdown and can be purchased online HERE.
The Phantoms will then sport their sharp new jerseys a week later when Lehigh Valley faces off against the Bears in the 2018 Capital BlueCross Outdoor Classic at Hersheypark Stadium before they're worn for the final time on Saturday, March 31 back at PPL Center when they Phantoms host the Belleville Senators. The game-worn Color Rush jerseys will then be auctioned off in a post-game auction in The Morning Call Club following the March 31st showdown.
But the excitement surrounding the team's newest jersey doesn't stop there.
The Phantoms are excited to be launching an exclusive Player's Collection apparel line in conjunction with the team's new Color Rush jerseys. A brand-new winter hat, t-shirt and sweatshirt will be available at the Team Store beginning tonight during this evening's tilt at PPL Center between the Phantoms and Charlotte Checkers. The new apparel items will feature the same orange Color Rush theme as the jerseys and are the exact same Color Rush apparel items worn by Phantoms players.
A limited number of tickets remain for tonight's clash in downtown Allentown and can be purchased online HERE.
Reserve your group outings for the 2017-2018 season of Phantoms hockey. For more information on how to reserve your seat at PPL Center to the hottest ticket in town, call the Phantoms front office today at 610-224-GOAL [4625]!