The Lehigh Valley Phantoms face off against the North Division's Utica Comets on Friday, January 10, at 7:00 p.m. in Utica, New York.
Friday's game will represent the second, and final regular-season, meeting between the two teams this season. In the first meeting, the Phantoms saw Utica take a 4-2 victory inside PPL Center on December 28.
Phantoms @ Utica Comets
Phantoms Leading Scorers
Greg Carey (34 GP, 9G-9A, 18 PTS)
Cal O'Reilly (26 GP, 2G-13A, 15 PTS)
Morgan Frost (19 GP, 6G-8A, 14 PTS)
Mikhail Vorobyev (19 GP, 5G-9A, 14 PTS)
Andy Welinski (26 GP, 5G-8A, 13 PTS)
Comets Leading Scorers
Reid Boucher (32 GP, 21G-20A, 41 PTS)
Brogan Rafferty (37 GP, 5G-27A, 32 PTS)
Sven Baertschi (25 GP, 8G-23A, 31 PTS)
Nikolay Goldobin (31 GP, 13G-17A, 30 PTS)
Kole Lind (37 GP, 10G-20A, 30 PTS)
Phantoms Leading Goaltenders
Alex Lyon (8-11-2)
21 GP, 2.60 GAA, .914 Save Percentage
J-F Berube (5-7-3)
16 GP, 2.68 GAA, .902 Save Percentage
Comets Leading Goaltenders
Zane McIntyre (11-6-2)
19 GP, 3.00 GAA, .902 Save Percentage
Michael DiPietro (9-5-1)
17 GP, 2.72 GAA, .907 Save Percentage
Prior Meetings This Season
Dec. 28 — UTI 4, LV 2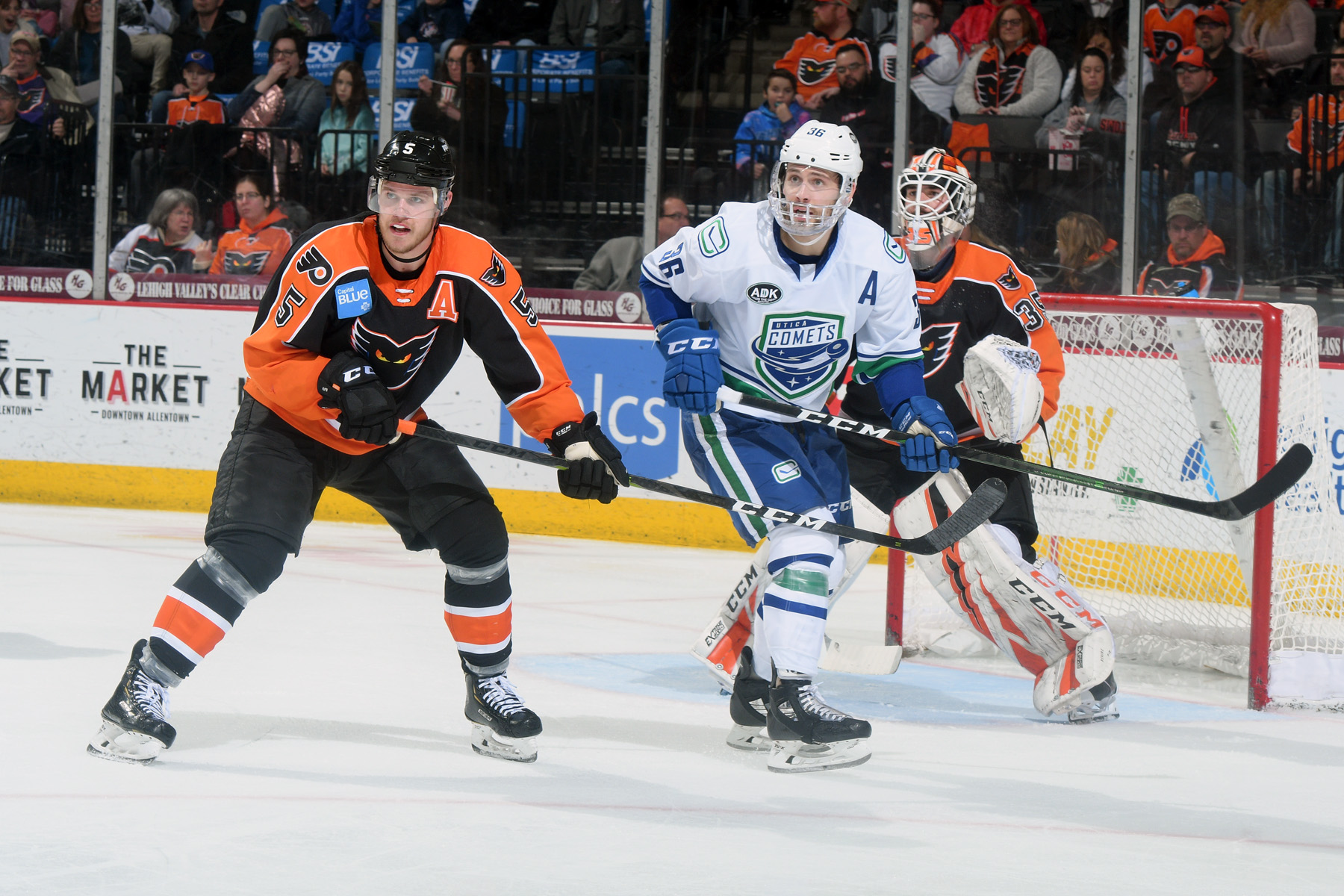 Snap Shots
Rookie Morgan Frost has now played three games since being loaned to the Phantoms on December 29.  The 20-year-old has a goal and an assist in those three games and is currently riding a two-game point streak.
Phantoms Co-Captain Cal O'Reilly is currently just four points away from hitting the 600-point mark in the American Hockey League.
Maksim Sushko recorded a plus-one rating the last time these two teams met.  The rookie forward currently boasts a team-high plus-11 in that category through 30 games this season.
Mikhail Vorobyev is slated to make his return to the Phantoms lineup for the first time since December 4.  Prior to his call up to the Flyers, the third-year pro had netted two goals and six assists for eight points in his last 10 games with Lehigh Valley.
Andy Andreoff has eight points (4G-4A) in just 14 contests with the Phantoms this season.  Lehigh Valley is 4-1-1 when Andreoff tallies a point of any kind during the contest.
Forward Greg Carey is just three goals away from having 100 goals scored as a member of the Lehigh Valley Phantoms.  Hitting the 100-goal mark will also move him into a tie for third place in franchise history with Kirby Law.
Players to Watch
Recent Transactions
January 8, 2020: The Philadelphia Flyers recalled from loan defenseman Mark Friedman from the Lehigh Valley Phantoms and returned on loan forward Andy Andreoff to the Phantoms.
January 8, 2020: The Lehigh Valley Phantoms recalled from loan defenseman James de Haas from the Reading Royals.
January 9, 2020: The Philadelphia Flyers recalled from loan forward David Kase from the Lehigh Valley Phantoms and returned on loan forward Mikhail Vorobyev to the Phantoms.
The Road Ahead
The Lehigh Valley Phantoms return home for two games this weekend beginning with a Saturday matchup against the Laval Rocket, at 7:05 p.m., followed by a Sunday afternoon game against the Cleveland Monsters at 3:05 p.m.  Sunday's game is also Star Wars Day where all of your favorite Star Wars characters will be on hand for photos on the concourse.  Plus, fans in attendance will also receive exclusive presale access to purchase tickets to the new Star Wars: A New Hope In Concert event coming to PPL Center on August 15.  Tickets are still available for both home contests this weekend, get yours online by clicking HERE.
Looking for a deal?  Ring in the New Year with the Lehigh Valley Phantoms thanks to this special 2020 deal!  Score a $20 ticket for the game on either January 11, when the Phantoms take on the Laval Rocket inside of PPL Center at 7:05 p.m, or January 12, at 3:05 p.m.  Secure your $20 seats today by heading over to the Special Tickets Promotions Page.