The Lehigh Valley Phantoms will wrap up their five-game home stand against the Toronto Marlies on Saturday, March 16, at 7:05 pm.  Saturday's match will mark the second and final meeting this season between the two teams and in their previous meeting, the Phantoms defeated the Marlies 5-2 at Coca-Cola Coliseum in Toronto on December 2.
Coming into Saturday night's contest, Lehigh Valley (30-27-3-3) is looking to pick up an-all important two points in the standings.  The team fell to the Providence Bruins last night at PPL Center 5-3 which allowed the Bruins to add two more points to their fourth-place cushion.  The Phantoms, however, could pull back within five points of the four seed with a win on Saturday, which would cement the series sweep of the Marlies this season.
Toronto (33-20-6-4) enters the game sitting comfortably in third place in the North Division standings.  They currently have a six-point lead over Belleville and an eight-point lead over fifth place Utica Comets.  The AHL affiliate of the Toronto Maple Leafs is coming off an overtime victory against the Hershey Bears on Friday night in which Marlies forward Jeremy Bracco lead the way with a goal and two assists. Bracco, a 21-year old from Freeport, New York, is having a breakout year for the Marlies, posting 18 goals and 47 assists for 65 points in 62 games. The second-year pro currently ranks third in the AHL in points.
When the two squads met up in December, Phantoms forward Greg Carey had himself a huge night.  The Phantoms' leading scorer collected three assists in the victory and the 28-year old ranks sixth in the AHL in scoring among active players with a slash line of 26/30/56 in 61 games for the Orange and Black this season.
Phantoms vs. Toronto Marlies
Phantoms Leading Scorers
Greg Carey (61 GP, 26G-30A, 56 PTS)
Chris Conner (59 GP, 12G-28A, 40 PTS)
T.J. Brennan (53 GP, 8G-32A, 40 PTS)
Mike Vecchione (63 GP, 15G-21A, 36 PTS)
Byron Froese (58 GP, 16G-17A, 33 PTS)
Marlies Leading Scorers
Jeremy Bracco (62 GP, 18G-47A, 65 PTS)
Chris Mueller (48 GP, 25G-28A, 53 PTS)
Calle Rosen (52 GP, 7G-37A, 44 PTS)
Dmytro Timashov (60 GP, 11G-32A, 39 PTS)
Michael Carcone (51 GP, 17G-21A, 38 PTS)
Prior Meetings This Season
Dec. 2 — LV 5, TOR 2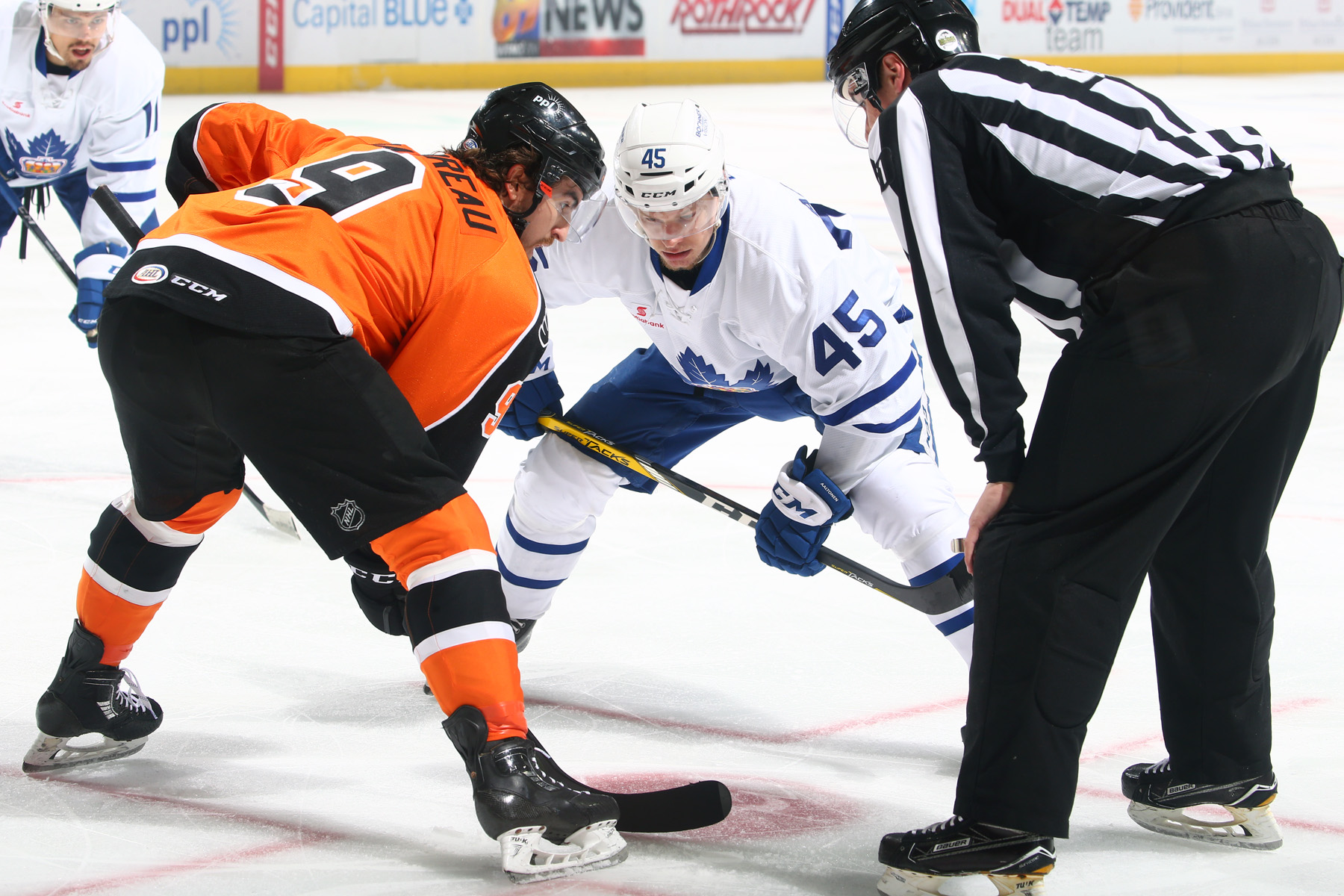 Snap Shots
In their December 2 match up, Lehigh Valley had four players who recorded multi-point games including: Greg Carey, David Kase, Chris Connor and Phil Varone.
Rookie forward Connor Bunnaman has now recorded a point in back-to-back games. The Guelph, Ontario, native has recorded 26 points (16G-10A) through the first 49 games of his pro hockey career.
If Phantoms goaltender Mike McKenna gets the start on Saturday night, it will be his first game against Toronto since last year's Calder Cup Final when he was a member of the Texas Stars.
Czech Republic native David Kase scored his first goal since November 10 on Friday night, since returning to the lineup for Lehigh Valley, the 22-year old has tallied four points (1G-3A) in seven games.
With their power-play goal on Friday night, the Phantoms' power play climbed up to 12th in the league, scoring at a 19.3 percent clip. Their penalty kill still ranks atop the league standings, killing penalties off at a 86.3 percent rate.
Both forward Greg Carey and defenseman T.J. Brennan garnered two points in Friday night's game, the two veterans have now tallied 13 multi-point games each this season.
Greg Carey is having a record-setting season; he has surpassed his previous career high in points by three and has blown past his previous high for assists in a season as well.  He is now just five goals away from tying his career high in that category as well.
Players to Watch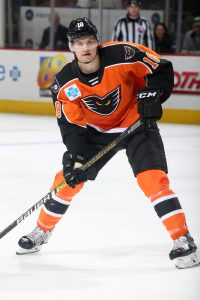 Byron Froese, who has played for the Marlies in three separate stints in his eight-year professional career, grabbed four points (2G-2A) in seven games against the Marlies this season before he was traded to Lehigh Valley from Laval. The former fourth-round pick has produced three points (2G-1A) in his last six games for the Phantoms.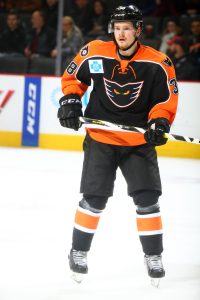 David Kase recorded two assists in the the Phantoms' victory over the Marlies on December 2. Playing in the top six and on the top power play unit since his return to the lineup, the 22-year old has produced four points (1G-3A) in seven games, bringing his slash line for the season up to 5/12/17 in 27 games.
Recent Transactions
March 14, 2019: The Philadelphia Flyers recalled from loan forward Justin Bailey from the Lehigh Valley Phantoms
March 15, 2019: The Philadelphia Flyers returned on loan forward Justin Bailey to the Lehigh Valley Phantoms
March 16, 2019: The Philadelphia Flyers recalled from loan forward Justin Bailey from the Lehigh Valley Phantoms
The Road Ahead
The Lehigh Valley Phantoms will hit the road for the first half of a home-and-home series against the rival Wilkes-Barre/Scranton Penguins on Friday, March 22, at 7:05 p.m. before returning home to PPL Center for the second half of the series on Saturday, March 23, also at 7:05 p.m.