Jerseys Available Starting Tomorrow; Debut January 16 at PPL Center
January 8, 2015
Lehigh Valley, PA – The Lehigh Valley Phantoms are about to take their Orange Outs to a whole new level.
After a series of Orange Outs with free orange shirts for all fans in attendance, the Phantoms players are getting into the act as well as the team is happy to unveil its orange third jerseys for the 2014-2015 season. The jerseys, which will make their debut next Friday, January 16 when Lehigh Valley welcomes the Albany Devils to PPL Center, will be available to fans starting tomorrow at the Phan Shop at PPL Center and online at www.shopphantomsarena.com.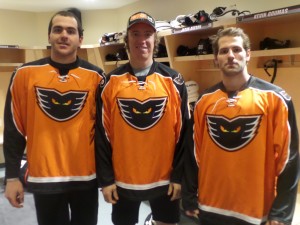 "We're pleased to unveil our third jersey for the 2014-15 season," said Phantoms executive vice president Chris Porreca. "These awesome orange jerseys put our intense, vibrant and ORANGE OUT philosophy directly in the hands of our players and fans. Not only will we be wearing these for the first time on January 16th, but we will continue to wear them on Friday nights for the rest of the season. What's more, fans will actually have the opportunity to don these awesome jerseys before the players as they'll be available a full week before these sweaters make their PPL Center debut."
Lehigh Valley's orange third jerseys will be available in sizes Small – 2XL and will be on sale starting tomorrow (Friday, January 9) when the Phan Shop (located just inside the Tim Horton's Gate at PPL Center) opens at 11 AM. The Phantoms Phan Shop is open Monday – Saturday from 11 AM – 5 PM, but will be closed this Saturday due to Disney on Ice performances. The orange third jerseys will also be available online at www.shopphantomsarena.com.
Following a sweep of the Norfolk Admirals last weekend, Lehigh Valley returns to action this weekend when the Phantoms head up to St. John's for Saturday and Sunday showdowns with the IceCaps.
Check it out! Group outings are a fun and affordable way to enjoy all the excitement of Phantoms hockey. For more information on group rates and fan experiences at PPL Center call the Phantoms front office today at 610-224-GOAL (4625)!
Upcoming Home Games:
Friday, January 16, 2015, Albany Devils vs. Lehigh Valley Phantoms, 7:05 PM
Saturday, January 17, 2015, Binghamton Senators Tigers vs. Lehigh Valley Phantoms, 7:05 PM
(Legends Night! Bobby Clarke, one of hockey's greatest legends and the architect of the Phantoms 1998 and 2005 Calder Cup championship teams, will be at the game! FREE Collector's Edition Poster for all fans!)
Wednesday, January 21, 2015 Hershey Bears vs. Lehigh Valley Phantoms, 7:05 PM
Saturday, January 24, 2015 St. John's IceCaps vs. Lehigh Valley Phantoms, 7:05 PM
(Free Shirt Giveaway for all fans in attendance! Specialty Jersey Night! Post-Game Jersey Auction! Inaugural Season Night!)
In their 19th season of operation, the Phantoms are currently in the midst of their Inaugural Season as the Lehigh Valley Phantoms playing at the brand-new PPL Center. Established in 1996, the Phantoms spent their first 13 seasons at the Spectrum before re-locating to Glens Falls, New York in 2009 where the team spent the next five seasons as the Adirondack Phantoms. A new era of Phantoms hockey began in the fall of 2014 when the Lehigh Valley Phantoms began play at the state-of-the-art PPL Center. Through 18 incredibly successful campaigns, the Phantoms have captured two Calder Cup Championships (1998, 2005), two Conference Championships (1998, 2005), two Regular Season Titles (1996-97, 1997-98) and four Division Championships (1996-97, 1997-98, 1998-99, 2003-04).