Phantoms Win 3rd Straight with 4-2 Victory at St. John's
January 10, 2015
St. John's, Newfoundland and Labrador, Canada – Andrew Gordon took several "Star of the Game" curtain calls last season at Mile One Centre when he scored 23 goals as a member of the Eastern Conference Champion St. John's IceCaps. So Saturday evening's post-game "3 Stars" was perhaps a somewhat familiar feeling for the veteran winger following his late tie-breaking goal with just 2:59 remaining in the third period which propelled the visiting Lehigh Valley Phantoms to a 4-2 win.
The Phantoms won their third straight game, all on the road. And continued their climb up the Eastern Conference standings while still holding several games-in-hand on the teams they are chasing.
Gordon's team-leading ninth lamplighter of the season came just three minutes after St. John's had evened the score at 2-2 on a shot from the right-wing boards by Kyle MacKinnon that had bounced off the upper-body of a Phantoms player for a deflection goal past winning netminder Rob Zepp. Nick Cousins set up the Gordon game-winner carrying the puck swiftly across the low-slot from left to right for a Gordon chip on the other side through rookie goalie Connor Hellebuyck of St. John's.
Andrew Gordon scored the game-winner in St. John's against his former team.Before the game, Gordon had commented that he would likely be especially motivated to play against his former team.
"It's true. It's a lot of familiar faces," Gordon said. "You always want to compete extra-hard against your buddies and you don't want them to get the upper-hand on you. I didn't do much in the first game we played against them (on November 22 at PPL Center) so I'm excited to get another crack at them!"
Suffice to say, Andrew Gordon is more satisfied with how things turned out for him in this one.
Ryan White proceeded to ice the IceCaps via an empty-net goal with just 7.5 seconds remaining at the end of a 6-on-4 penalty-kill. It was the first goal as a member of the Philadelphia Flyers organization for White who was playing in his fourth game with the Phantoms after beginning the year on the sidelines following off-season left pectoral surgery. White had initially won a valuable defensive-zone faceoff late in the game and Robert Hagg blocked two late shots to help push the Phantoms onto victory.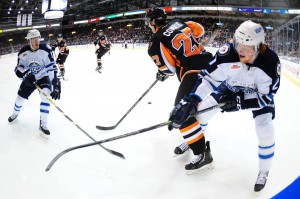 Hagg also scored in his first game back with the Phantoms. His third of the year came on a center-point power-play blast late in the first period. The 19-year-old Swedish prospect rejoined Lehigh Valley this week following a two-week stretch with the Sweden national team at the World Juniors Championships.
Brett Hextall contributed his third goal of the season pushing home a close-range offering from the left of the cage through the stick of Hellebuyck after Jason Akeson carried the puck in deep and then wide around to the other side to set up the tally. The Phantoms led 2-0 on the Hextall goal in the second period but Blair Riley converted for St. John's just 25 seconds after the Hextall goal to get the IceCaps on the board.
Rob Zepp didn't exactly rack up his highest save total as he turned away 29 IceCaps' drives. But his victory was a hard-earned one in a night featuring a number of very impressive stops including multiple point-blank drives from the Caps. Zepp made two of his best saves in the second period against St. John's veteran captain Jason Jaffray. First came a good looking slapper from the left-wing boards aiming far post but Zepp flashed out the left leg to deny the drive. Later came a top-of-the-crease chip on a give to the middle by Kyle MacKinnon and Jaffray's attempt to the far post appeared nearly perfect were it not for the quick right leg of Zepp.
Zepp's win against the affiliates of the Winnipeg Jets wasn't exactly the same as his history-making NHL win on December 21. But that one did happen to come on the road and was also against the Winnipeg Jets organization on a night when the 33-year-old became the oldest goalie to win his NHL debut since 1926.
Lehigh Valley's three-game win streak matches the team's longest of the season previously accomplished November 15 through November 21 when the Phantoms won three consecutive home games. The Phantoms improved to 17-12-5 overall while St. John's fell to 15-17-6.
The Phantoms have guaranteed themselves a winning record on their monster five-game road-trip with a 3-1-0 record so far in a stretch that has seen the team travel down south to Norfolk, Virginia and then all the way out to the North Atlantic in St. John's, Newfoundland. Lehigh Valley will try to win its fourth straight on Sunday afternoon while attempting to sweep the weekend series in a Sunday afternoon rematch at 2:30 eastern time. Broadcast coverage of the game can be heard beginning at 1:50 on 1470-AM in the Lehigh Valley and online at Fox1470.com .
St. John's outshot the Phantoms 31-28 in the game. Lehigh Valley was 1-for-4 on the power play while holding the IceCaps to 0-for-4 on the man-advantage which included the huge 6-on-4 kill at the end. The Phantoms are 1-1-0 against St. John's this season. After Sunday's game, the last meeting of the year between the two teams will take place on Saturday, January 24 at PPL Center in Allentown.
The Phantoms return to PPL Center next weekend for their first home games of 2015. Lehigh Valley hosts the Albany Devils on Friday, January 16 when the Phantoms will don their brand new orange jerseys for the first time. On Saturday, January 17 it's Legends Night featuring Bobby Clarke, one of hockey's all-time greats, when the Phantoms host the Binghamton Senators. Tickets for both games are going quickly and the team anticipates the possibility of securing their eighth and ninth sellouts at PPL Center. Purchase tickets in advance at PPLCenter.com or by calling 610-347-TIXX (8499) or in person at the Mealey's Furniture Box Office located at the Tim Horton's entrance of PPL Center.
Check it out! Group outings are a fun and affordable way to enjoy all the excitement of Phantoms hockey. For more information on group rates and fan experiences at PPL Center call the Phantoms front office today at 610-224-GOAL (4625)!
Lehigh Valley Phantoms 4 at St. John's IceCaps 2
Saturday, January 10, 2015 – Mile One Centre
Lehigh Valley 1 1 2 – 4
St. John's 0 1 1 – 2
1st Period-1, Lehigh Valley, Hagg 3 (Jones, Comrie), 14:52 (PP). Penalties-Delisle Lv (tripping), 1:43; Cornell Stj (roughing), 10:38; Brassard Stj (holding), 14:37; Flemming Lv (fighting), 18:54; Lipon Stj (fighting), 18:54; Alderson Lv (boarding), 19:27; Jones Lv (delay of game), 19:36; MacKinnon Stj (cross-checking), 19:36.
2nd Period-2, Lehigh Valley, Hextall 3 (Flemming, Akeson), 12:16. 3, St. John's, Riley 2 12:41. Penalties-Blanchard Stj (high-sticking), 1:41; White Lv (roughing, misconduct – continuing altercation), 4:49; Brouillette Stj (boarding), 4:49; Balisy Stj (hooking), 14:53; Jones Lv (tripping), 18:45.
3rd Period-4, St. John's, MacKinnon 3 (Hill), 13:59. 5, Lehigh Valley, Gordon 9 (Cousins), 17:01. 6, Lehigh Valley, White 1 19:52 (SH EN). Penalties-Manning Lv (cross-checking), 19:20.
Shots on Goal-Lehigh Valley 10-10-8-28. St. John's 10-12-9-31.
Power Play Opportunities-Lehigh Valley 1 / 4; St. John's 0 / 4.
Goalies-Lehigh Valley, Zepp 11-5-1 (31 shots-29 saves). St. John's, Hellebuyck 15-10-0 (27 shots-24 saves).
A-5,871
Referees-Ryan Murphy (5), David Banfield (77).
Linesmen-Sheldon Keough (63), Jim Vail (75).
Upcoming Home Games:
Friday, January 16, 2015, Albany Devils vs. Lehigh Valley Phantoms, 7:05 PM
Saturday, January 17, 2015, Binghamton Senators Tigers vs. Lehigh Valley Phantoms, 7:05 PM
(Legends Night! Bobby Clarke, one of hockey's greatest legends and the architect of the Phantoms 1998 and 2005 Calder Cup championship teams, will be at the game! FREE Collector's Edition Poster for all fans!)
Wednesday, January 21, 2015 Hershey Bears vs. Lehigh Valley Phantoms, 7:05 PM
Saturday, January 24, 2015 St. John's IceCaps vs. Lehigh Valley Phantoms, 7:05 PM
(Free Shirt Giveaway for all fans in attendance! Specialty Jersey Night! Post-Game Jersey Auction! Inaugural Season Night!)
In their 19th season of operation, the Phantoms are currently in the midst of their Inaugural Season as the Lehigh Valley Phantoms playing at the brand-new PPL Center. Established in 1996, the Phantoms spent their first 13 seasons at the Spectrum before re-locating to Glens Falls, New York in 2009 where the team spent the next five seasons as the Adirondack Phantoms. A new era of Phantoms hockey began in the fall of 2014 when the Lehigh Valley Phantoms began play at the state-of-the-art PPL Center. Through 18 incredibly successful campaigns, the Phantoms have captured two Calder Cup Championships (1998, 2005), two Conference Championships (1998, 2005), two Regular Season Titles (1996-97, 1997-98) and four Division Championships (1996-97, 1997-98, 1998-99, 2003-04).