Meet the Team Events & Theme Nights Highlight 4th Season at PPL Center
September 7, 2017
Lehigh Valley, PA – The Lehigh Valley Phantoms, proud AHL affiliate of the Philadelphia Flyers, are giving their fans the opportunity to get up close and personal with this year's team through a series of interactive post-game events, which were unveiled today as part of the club's jam-packed promotional schedule for the upcoming 2017-2018 season.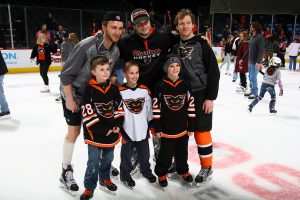 As part of the team's fourth campaign playing at the PPL Center, the Phantoms will host a post-game autograph session on Saturday, October 28 along with a post-game skate with the players on Wednesday, November 29 and a post-game photo session with the team on the ice on Wednesday, January 24.
"These special nights provide a wonderful opportunity for our players to connect with our great fans and for our fans to get to know our players better," said Executive Vice President Chris Porreca. "Our interactive post-game promotions are among our most popular events of the season and we're excited to continue to offer these engagement opportunities for our fans."
But that's just the beginning.
The Phantoms will also host a variety of theme nights this season offering fans a unique atmosphere at a number of home games this season. The fun begins with Country Night on Friday, October 20 with a special performance by Porter & Sayles and will quickly be followed by Wrestling Night on Saturday, November 25, which will feature a special appearance from the Legends of Wrestling. Less than a week later, the Phantoms will host Superhero Night on Friday, December 1 with special appearances from Batman, Wonder Woman and more!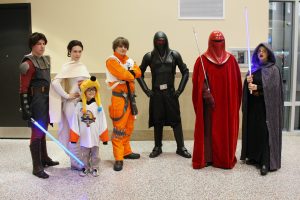 The Phantoms then turn back the clock on Saturday, December 30 when they celebrate the 1980s on Retro Night. The Force will then be strong with the Phantoms on Saturday, January 27 as they host Star Wars Night at PPL Center with a mini lightsaber giveaway for the first 2,000 kids 14 and under and special appearances from a host of characters from a galaxy far, far away. The team then caps its special theme nights with an Olympic celebration on Go For Gold Night on Saturday, February 17 followed by Spring Break Night on Friday, March 30.
"These theme nights will give our fans a series of unique settings to enjoy the excitement of Phantoms hockey," Porreca said. "When fans set foot into PPL Center on these nights, they'll instantly know it's a special night as the arena will look and feel like each of these nights."
This season will once again feature some great giveaways too beginning with Opening Night on Saturday, October 7 when the first 6,500 fans in attendance will all receive a free rally towel. Pink in the Rink on Sunday, November 5 will also feature a fun giveaway as the first 6,500 fans in attendance will receive a pink flashlight that will then be incorporated as part of that evening's festivities.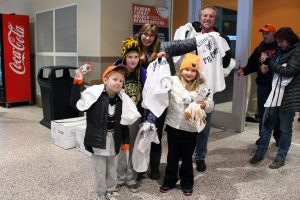 The first 6,500 fans in attendance on Military Appreciation Night on Wednesday, December 6 will be able to show their support when they receive a free mini flag before the first 6,500 fans on hand on Friday, January 12 receive a free Phantoms ball cap courtesy of Service Electric Cable TV & Communications. As part of Go Green Night on Friday, March 2, the first 6,500 fans in attendance will receive a Phantoms grocery tote and, as part of Fan Appreciation Night on Saturday, March 31, the first 6,500 fans through the doors will receive a Phantoms t-shirt.
Young Phantoms fans will also be treated to be some great giveaways this season, including fidget spinners (Saturday, October 14), a Youth Winter Hat presented by PPL Corporation (Friday, December 8), mini lightsabers (Saturday, January 27), a Phantoms pail and shovel set (Sunday, March 11) and a Phantoms Wall Cling presented by PSECU (Sunday, March 18).
Please see below a complete breakdown of the Lehigh Valley Phantoms 2017-18 promotional schedule.
October 7, 2017 — Opening Night/Rally Towel Giveaway*
October 14, 2017 — Youth Sports Night/Fidget Spinner Giveaway**
October 20, 2017 — Country Night with Performance by Porter & Sayles
October 28, 2017 — Post-Game Autographs with Phantoms Players
November 3, 2017 — 69 WFMZ-TV Coat Drive
November 5, 2017 — Pink in the Rink/Pink Flashlight Giveaway*
November 25, 2017 — Wrestling Night with Special Legends of Wrestling Appearance
November 29, 2017 — Post-Game Skate with Phantoms Players Presented by Big Woody's
December 1, 2017 — Superhero Night with Special Appearance from Batman, Wonder Woman, and more!
December 2, 2017 — Teddy Bear Toss Presented by Dan's Camera City/Boy Scout Night Presented by Vince's Cheesesteaks
December 6, 2017 — Military Appreciation Night/Mini Flag Giveaway*
December 8, 2017 — Youth Winter Hat Giveaway** Presented by PPL Corporation
December 16, 2017 — Light The Night
December 30, 2017 — Retro Night – Celebrate the '80s
January 12, 2018 — Phantoms Ball Cap Giveaway* Presented by Service Electric Cable TV & Communications
January 13, 2018 — Girl Scout Night
January 24, 2018 — Post-Game Photographs with Phantoms Players
January 27, 2018 — Star Wars Night/Mini Lightsaber Giveaway**
February 9, 2018 — Faith Night
February 17, 2018 — Go For Gold Night
February 18, 2018 — Sunday FunDay/meLVin's Birthday Bash
March 2, 2018 — Go Green Night/Grocery Tote Giveaway*
March 9, 2018 — Community Night
March 11, 2018 — Sunday FunDay/Pail & Shovel Giveaway**
March 18, 2018 — Sunday FunDay/Wall Cling Giveaway** Presented by PSECU
March 30, 2018 — Spring Break Night
March 31, 2018 — Fan Appreciation Night/T-Shirt Giveaway*
April 13, 2018 — Canned Food Drive Presented by GIANT Food Stores
*FREE for first 6,500 fans in attendance
**FREE for first 2,000 kids 14 and under
The Phantoms are coming off an incredible 2016-17 season in which they finished second among all AHL clubs in wins (48) and tied for second in standings points (101). What's more, Lehigh Valley paced all 30 AHL teams in scoring (3.42 goals/game) en route to the franchise's 11th postseason berth.
Another thrilling season of Lehigh Valley Phantoms hockey at PPL Center will be here before you know it with the Home Opener for the 2017-2018 regular season set for Saturday, October 7. And fans can catch their first glimpse of the 2017-18 Phantoms during a pair of preseason games at PPL Center on Friday, September 29 and Saturday, September 30 against the Charlotte Checkers. Tickets for both Friday and Saturday's preseason tilts are available now and can be purchased online at pplcenter.com, by calling 610-347-TIXX [8499] or in-person at the PPL Center Box Office [701 Hamilton Street].