Springfield Thunderbirds Win 7-0 in Home-and-Home Weekend Series Opener
October 12, 2018
Lehigh Valley, Pa. – The Lehigh Valley Phantoms took their first loss of the season on Friday night as the Springfield Thunderbirds scored two goals in the first period and never looked back en route to a 7-0 decision. T-Birds goalie Samuel Montembeault was on top of his game with 35 saves as the second-year pro posted his third career shutout. Lehigh Valley actually out shot Springfield in the game 35-30 but Montembeault made the big stops when the game was close while the Thunderbirds benefited from some sharp snipes and screens.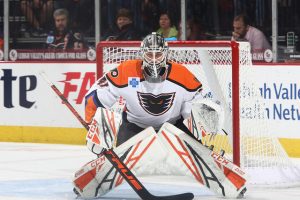 The two teams will rematch on Saturday night in Springfield's home opener in an evening that will likely feature a significantly motivated Phantoms contingent ready to do battle.
Last year, Springfield pinned one of the more humbling PPL Center losses on the Phantoms in January in a 6-2 decision that ultimately sparked a 12-game home point streak for the Phantoms and a 19-1-2 run at PPL Center. Perhaps this result against the Thunderbirds will yield similar results for a team that had the best home record in the league last year at 27-6-5.
Carter Hart allowed four goals in about a half-game for the Phantoms before making way for Anthony Stolarz in relief. Stolarz took the ice as a Phantom at PPL Center for the first time since April 7, 2018. It was just the second Phantoms game for Stolarz since his knee injury on April 12, 2017. His 18-months with very little game-action came as a result of his recovery on two different knee surgeries.
Ludwig Bystrom paced the Thunderbirds attack with two goals and one assist while first-rounder Henrik Borgstrom also recorded a three-point night on one goal and two helpers.
Springfield's power play went 5-for-7 in the game and was a huge key for their success. The five power-play goals represented the most ever allowed by Lehigh Valley who previously had surrendered four in a road game at Wilkes-Barre/Scranton on October 17, 2015.
As strange as it may first sound, the quality of the game was not entirely reflected by the final margin.
"It's hard. I don't think we played seven-nothing bad" said reigning AHL Most Valuable Player (Les Cunningham Award) Phil Varone. "Our P.K. wasn't very good. A couple tough bounces on goals. I just don't think we were hard enough. In front of their net, on the forecheck, in front of our net. It's hard to explain because I felt like we had the puck a lot. I felt like we were in their zone and their goalie made some big stops. But I just don't think we made it hard enough on them."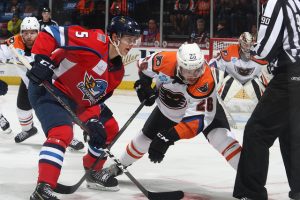 Patrick Bajkov opened the scoring against his former Juniors teammate with a power-play blast from the right circle for his first career professional goal at 7:05 into the game. Bajkov notched a record 100 points with the Everett Silvertips last year while Carter Hart was winning MVP honors on his way to culminating his historically good career.
Paul Thompson rushed up the right wing and scored from a sharp angle with just five seconds left in the period for a 2-0 advantage.
The second period is where Springfield would put the game away with four straight tallies. Anthony Greco on the back-door on the power play blasted a right circle strike to the far post past Hart for a 3-0 lead at 5:21. Then Bystrom's shot from center point found its way through Hart who was screened and contacted by a Springfield player just before the goal. As the game reached a 4-0 margin, head coach Scott Gordon opted to pull Hart in favor of Stolarz.
Bystrom scored his second of the game at 13:44 of the second period for a 5-0 lead on the power play. And Borgstrom culminated a 2-on-1 with Joel Lowry for an even-strength goal to make it 6-0 before the second break.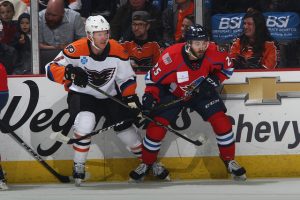 Julian Melchiori's high-slot power-play blast directly off a faceoff win capped the scoring for the Thunderbirds on their historically successful night to finish off the 7-0 win.
Lehigh Valley and Springfield meet again on Saturday night in Western Mass. The Phantoms are back at PPL Center on Friday, October 19 against the Wilkes-Barre/Scranton Penguins on "Hat Trick or Treat" Night featuring a Halloween Theme for some spooky-good times as well as a ball-cap giveaway courtesy of Service Electric. Tickets are available at the WFMZ-69 Box Office at PPL Center and online at PPLCenter.com
Springfield Thunderbirds 7 at Lehigh Valley Phantoms 0
Friday, October 12, 2018 – PPL Center
Springfield 2 4 1 – 7
Lehigh Valley 0 0 0 – 0
1st Period-1, Springfield, Bajkov 1 (Mangene, Thompson), 7:05 (PP). 2, Springfield, Thompson 2 (Zolnierczyk, Hunt), 19:55. Penalties-Melchiori Spr (cross-checking), 1:31; Vecchione Lv (slashing), 6:20; Horton Spr (hooking), 13:55; Vecchione Lv (high-sticking), 15:26.
2nd Period-3, Springfield, Greco 1 (Borgstrom, Byron), 5:21 (PP). 4, Springfield, Bystrom 1 (Borgstrom, Byron), 7:19 (PP). 5, Springfield, Bystrom 2 (Greco), 13:44 (PP). 6, Springfield, Borgstrom 1 (Lowry), 16:35. Penalties-de Haas Lv (tripping), 3:46; Hunt Spr (roughing), 5:30; Aube-Kubel Lv (roughing, charging), 5:30; McCoshen Spr (interference), 8:56; Friedman Lv (slashing), 12:59.
3rd Period-7, Springfield, Melchiori 1 (Lowry, Horton), 7:17 (PP). Penalties-Friedman Lv (high-sticking), 5:37; Hunt Spr (high-sticking), 8:26; Friedman Lv (high-sticking), 18:40.
Shots on Goal-Springfield 10-10-12-32. Lehigh Valley 13-14-8-35.
Power Play Opportunities-Springfield 5 / 7; Lehigh Valley 0 / 4.
Goalies-Springfield, Montembeault 1-0-0 (35 shots-35 saves). Lehigh Valley, Hart 1-1-0 (16 shots-12 saves); Stolarz 0-0-0 (16 shots-13 saves).
A-6,845
Referees-Reid Anderson (49), Alex Ross (7).
Linesmen-Bob Goodman (90), Jason Mandroc (17).
Ticket Information
Tickets for each and every Phantoms home game throughout the 2018-19 season are available online at pplcenter.com, by calling 610-347-TIXX [8499] or in-person at the QNB Box Office [7th & Hamilton].
Season tickets offering a wide range of benefits as well as 20-Game and 12-Game plans and 10-game Flex-Voucher Packs are available by calling the Phantoms at 610-224-GOAL (4625).